The World Cinema Project (WCP) preserves and restores neglected films from around the world. To date, 50 films from Africa, Asia, Eastern Europe, Central America, South America, and the Middle East have been restored, preserved and exhibited for a global audience. The WCP also supports educational programs, including Restoration Film Schools; intensive, results-oriented workshops allowing students and professionals worldwide to learn the art and science of film restoration and preservation. All WCP titles are available for exhibition rental by clicking "Book This Film."
---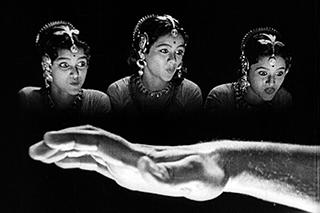 INDIA | 1948
KALPANA
Director: Uday Shankar
WRITTEN BY: Uday Shankar, Amritlal Nagar
EDITING: N.K. Gopal
DIRECTOR OF PHOTOGRAPHY: K. Ramnoth
FROM: National Film Archive of India
STARRING: Uday Shankar (Udayan & Writer), Amala Uday Shankar (Uma), Lakhmt Kanta (Kamini), Dr. G.V. Subbarao (Drawing Master), Brijo Behari Banerji (Uma's Father)
COUNTRY OF PRODUCTION: India
LANGUAGE: Hindi
COLOR INFO: Black and White
RUNNING TIME: 155 minutes
PRODUCTION COMPANY: Uday Shankar Production
SET DESIGNER: K.R. Sharma
Restored in 2008 by Cineteca di Bologna/L'Immagine Ritrovata, in association with The Film Foundation's World Cinema Project, the family of Uday Shankar, the National Film Archive of India, and Dungarpur Films. Restoration funded by Doha Film Institute.
A great work of hallucinatory, homemade expressionism and ecstatic beauty, Uday Shankar's Kalpana (Imagination) is one of the enduring classics of Indian cinema. Shankar, the brother of the great Ravi Shankar, was one of the central figures in the history of Indian dance, fusing Indian classical forms with western techniques. In the late 30s, he established his own dance academy in the Himalayas, whose students included his brother Ravi and future filmmaker Guru Dutt (who worked as an assistant on Kalpana). After the closure of the academy in the early 40s, Shankar started preparations on his one and only film, many years in the making.
Kalpana, with an autobiographical narrative of a dancer who dreams of establishing his own academy (starring Uday Shankar and his wife, the great Amala Shankar – the film also marks the debut of Padmini, who was 17 years old at the time), is one of the few real "dance films" – in other words, a film that doesn't just include dance sequences, but whose primary physical vocabulary is dance. A commercial failure when it was released, the film is now regarded, justifiably, as a creative peak in the history of independent Indian filmmaking.
NOTES ON THE RESTORATION:
Kalpana has been digitally restored by the World Cinema Foundation at Cineteca di Bologna/L'Immagine Ritrovata laboratory using a combined dupe negative and a positive print held at the National Film Archive of India.
The combined dupe negative was badly damaged and marked by lines, tears, dirt, dust, white marks and poor definition. The restoration required a considerable amount of both physical and digital repair in order to recover the beauty of faces, movements and costumes, and to reduce the aforementioned issues. The original sound was digitally transferred from the combined dupe negative. Digital cleaning and background noise reduction was applied.
The restoration has generated a duplicate negative, new optical soundtrack negative for preservation as well as a complete back-up of all the files produced by the digital restoration.
Image: © Courtesy of National Film Archive of India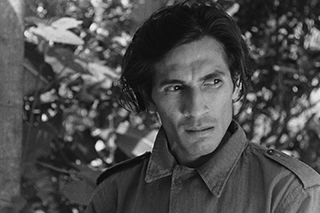 INDONESIA | 1954
AFTER THE CURFEW
LEWAT DJAM MALAM
Director: Usmar Ismail
WRITTEN BY: Usmar Ismail, Asrul Sani
EDITING: Sumardjono
DIRECTOR OF PHOTOGRAPHY: Max Tera
MUSICAL DIRECTOR: G.R.W. Sinsu
SOUND: B. Saltzmann
FROM: Sinematek Indonesia
PRODUCTION DESIGN: Persari, Perfini
STARRING: A.N. Alcaff (Iskandar), Netty Herawaty (Norma), R.D. Ismail (Gunawan)
COUNTRY OF PRODUCTION: Indonesia
LANGUAGE: Indonesian
COLOR INFO: Black and White
RUNNING TIME: 101
SET DESIGNER: Abdul Chalid
Restored in 2012 by the National Museum of Singapore and Cineteca di Bologna/L'Immagine Ritrovata laboratory, in association with The Film Foundation's World Cinema Project, Konfiden Foundation, Kineforum of the Jakarta Arts Council, and the family of Usmar Ismail Estate. Restoration funded by Doha Film Institute.
Lewat Djam Malam (After the Curfew) is a passionate work looking directly at a crucial moment of conflict in Indonesian history: the aftermath of the four-year Republican revolution which brought an end to Dutch rule. This is a visually and dramatically potent film about anger and disillusionment, about the dream of a new society cheapened and misshapen by government repression on the one hand and bourgeois complacency on the other.
The film's director, Usmar Ismail, is generally considered to be the father of Indonesian cinema, and his entire body of work was directly engaged with ongoing evolution of Indonesian society. He began as a playwright and founder of Maya, a drama collective that began during the years of Japanese occupation. And it was during this period when Ismail developed an interest in filmmaking. He began making films for Andjar Asmara in the late 40s and then started Perfini (Perusahaan Film Nasional Indonesian) in 1950, which he considered his real beginning as a filmmaker. Lewat Djam Malam, a co-production between Perfini and Djamaluddin Malik's company Persari, was perhaps Ismail's greatest critical and commercial success.
NOTES ON THE RESTORATION:
Lewat Djam Malam has been digitally restored using the original 35mm camera & sound negatives, interpositive, and positive prints preserved at the Sinematek Indonesia. The original camera negative was scanned at 4K resolution.
The digital restoration began by focusing on fixing instability and flicker followed by the meticulous work of dirt removal, carried out both by automatic tools and by a long manual process of digitally cleaning each image (frame by frame). The film also suffered from signs of mould and vinegar syndrome –the laboratory took great pains to address these problems without damaging the definition of the photographic output, specifically with regards to details and faces.
The original sound was digitally restored using the 35 mm original soundtrack negative. Two reels were missing from the soundtrack negative, and were therefore taken from the combined interpositive. The last 2 minutes of reel 5 were missing from all available elements, but were recovered from a positive copy. The soundtrack has been scanned using laser technology at 2K definition. The core of the digital sound restoration consists on several phases of manual editing, high resolution de-clicker & de-crackle, and multiple layers of fully automated noise reduction.
The restoration was completed at L'immagine Ritrovata laboratory on March 2012.
Image: © Courtesy of the Usmar Estate