The World Cinema Project (WCP) preserves and restores neglected films from around the world. To date, 50 films from Africa, Asia, Eastern Europe, Central America, South America, and the Middle East have been restored, preserved and exhibited for a global audience. The WCP also supports educational programs, including Restoration Film Schools; intensive, results-oriented workshops allowing students and professionals worldwide to learn the art and science of film restoration and preservation. All WCP titles are available for exhibition rental by clicking "Book This Film."
---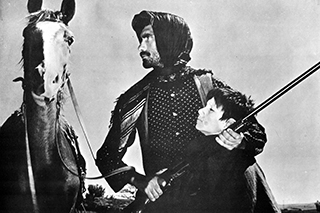 TURKEY | 1966
LAW OF THE BORDER
HUDUTLARIN KANUNU
Director: Lüfti Ö. Akad
WRITTEN BY: Lüfti Akad, Yilmaz G Üney
EDITING: Ali Ün
DIRECTOR OF PHOTOGRAPHY: Ali Uğur
PRODUCER: Dadaş Film, shot in Yildiz Film Studios
MUSICAL DIRECTOR: Ali Uğur
FROM: Dadaş Film
STARRING: Yilmaz Güney (Hidir), Pervin Par (Ayse, the teacher), Hikmet Olgun (Yusuf), Erol Taş (Ali Cello), Tuncel Kurtiz (Bekir), Osman Alyanak (Dervis Aga), Aydemir Akbas (Abuzer), Atilla Erg ün (Zeki, first lieutenant)
COUNTRY OF PRODUCTION: Turkey
LANGUAGE: Turkish with French and English subtitles
COLOR INFO: Black and White
RUNNING TIME: 74 minutes
PRODUCER: Dadaş Film, shot in Yildiz Film Studios
Restored in 2013 by Cineteca di Bologna/L'Immagine Ritrovata laboratory, in association with The Film Foundation's World Cinema Project, Dadaş Films, and the Turkish Ministry of Culture. Restoration funded by Doha Film Institute.
Turkish cinema in sixties took place in a dream world. The movies of that era refused to look directly at Turkish society. Hudutların Kanunu, on which Yılmaz Güney met director Lütfi Ömer Akad, is one of the movies that changed this state of affairs. Akad's genuine creative vision influenced Güney's style as an actor: one can easily see the difference in Güney's acting before and after Hudutların Kanunu. Akad's influence was a positive one. . .
Güney's natural performance marked a change in Turkish Cinema. This was the beginning of what would later be called "New Cinema" in Turkey. With its powerful cinematography and its direct and realistic depiction of social problems, Hudutların Kanunu is one of the early milestones of Turkish cinema. Given the manner of storytelling and the style of photography, one might almost say that Akad's film is a Western.
Hudutların Kanunu depicts vital problems in the society of South East Turkey. Lack of education, no agriculture, and unemployment compelled people to live by the "law of the border" (Hudutların Kanunu) – in other words, smuggling. Hudutların Kanunu underlines the importance of education, which is the crucial element of socio-economical progress in third world countries. It also helps us to understand the reasons behind the ongoing, veiled war along Turkey's South East border. Forty five years ago, Lütfi Ömer Akad was alerting Turkish society of the likely consequences if preventive measures are not taken in time. He alerted us with a great and lasting film, Hudutların Kanunu.
(Fatih Akin, May 2011)
Ömer Lüfti Akad's Hudutların Kanunu comes as a revelation to first-time viewers – a work of great visual and dramatic force, of terrific purity and ferocity. It was made during the year that its star and co-screenwriter, Yilmaz Güney, made his own directing debut. And it's not surprising for first time viewers to learn that this stunning collaboration marked a shift in Turkish cinema, and ushered in what became known as "the director generation." Once again, the World Cinema Foundation's advisory board member Fatih Akin has brought us a great and inspirational film.
(Kent Jones, May 2011)
NOTES ON THE RESTORATION:
The restoration of Hudutlarin Kanunu was made possible through the use a positive print provided by Nil Gurpinar, daughter of the film's producer, and held by the Turkish Ministry of Culture.
As this print is the only known copy to survive the Turkish Coup d'Etat in 1980 – all other film sources were seized and destroyed – the restoration required a considerable amount of both physical and digital repair. The surviving print was extremely dirty, scratched, filled with mid-frame splices and sadly missing several frames. Although the film was shot in black and white, it was also printed on color stock resulting in significant decay. The restoration work produced a new 35mm dupe negative.
The World Cinema Foundation would like to specially thank Fatih Akin for recommending this title, and Ali Akdeniz and Nurhan Sekerci for facilitating the restoration process.
Image: © Courtesy of Nil Gurpinar - Dadaş Films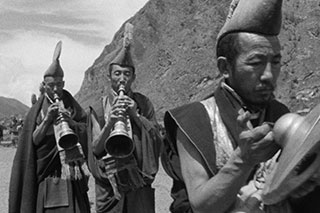 UK | 1966
RAID INTO TIBET
Director: Adrian Cowell
DIRECTOR OF PHOTOGRAPHY: Chris Menges
PRODUCER: George Patterson
COUNTRY OF PRODUCTION: UK
LANGUAGE: English/Tibetan with English subtitles
COLOR INFO: Black-and-White
RUNNING TIME: 28 minutes
PRODUCER: George Patterson
Restored by The Film Foundation's World Cinema Project at Cineric Inc. laboratory in association with the Tibet Film Archive. Special thanks to the Cowell family.
In May 1964, three British filmmakers traveled with the Khampa guerrillas over a 20,000-foot pass into occupied Tibet from the remote Tsum region of Nepal and captured dramatic footage of an ambush on a Chinese military convoy. The footage was smuggled out and edited two years later in London, and officially released in 1966 to critical acclaim. Shot by Oscar-winning cinematographer Chris Menges (THE READER, LOCAL HERO, THE KILLING FIELDS), this documentary short is an important historical artifact, representing the only known footage of armed Tibetan resistance fighters in combat with the Chinese.
NOTES ON THE RESTORATION:
Restoration work was completed at Cineric in New York. The original 16mm camera negative was cleaned, repaired, then wet-gate scanned at 4K to eliminate scratches and other minor defects in the emulsion. The image was subsequently stabilized and digitally cleaned to remove dust, deep scratches, and other visible marks. Because of the extreme conditions in Tibet during the filming, Cineric implemented exposure compensation at the initial scanning of the raw material. Grading was performed by colorist Paul Ensby and supervised by Chris Menges at Technicolor London.

The original sound negative was also scanned and digitally cleaned to reduce background noise and remove clicks and pops. A new 35mm internegative with sound has been made for preservation, along with 35mm prints for conservation and access. In addition, a new HD master and DCP will be produced for digital screenings.