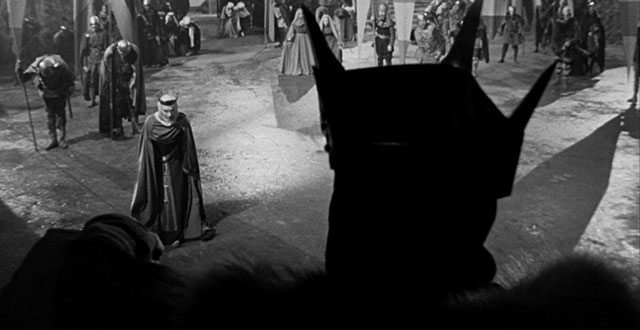 NOTES ON FILM & RESTORATION
01/25/2022
It's astonishing to go back and revisit the films that Orson Welles made in Hollywood, and to realize just how far he was from that world. John Ford's simple, lucid observation about Jean Renoir—"He's not one of us"—applies equally to Welles. The majority of the many great films that came out of the studio system were dances with the many rules and restrictions imposed by the Production Code, as well as the unwritten but tacitly understood rules that resulted in a general squeamishness about the roles of money and spirituality in people's lives, as well as an anxiety about maintaining a sufficiently high standard of presentation: nothing could look too untended. Regarding the question of money… I can think of many well-documented reasons for the butchering of The Magnificent Ambersons, but one of them is the film's absolute frankness about the predatory downside of "progress." The same can be said for The Lady from Shanghai, whose collection of avaricious monsters resembles a school of bloodthirsty sharks, as Welles' character observes in one of the film's greatest scenes.
Welles' stark, hallucinatory Macbeth, shot at Republic Studios on bargain basement sets with barely functional costuming, was his most "abnormal" Hollywood film (made right after his most "normal," The Stranger). He made it in 23 days for $200,000, standard conditions for B-moviemaking. Within the context of the business itself, this was interpreted as a "demotion," and Macbeth would be Welles' last Hollywood film until Touch of Evil a decade later.
Apart from the minimal sets and props and advance rehearsal time, how was Welles able to make his film on such a schedule? It's easy to think of many reasons.
He had staged the play before, in Harlem in 1936, with an all-black cast under the banner of the Negro Theatre Unit of the Federal Theatre Project. "By all odds my great success in my life was that play," Welles said in 1982. "When the play ended there were so many curtain calls that finally they left the curtain open, and the audience came up on the stage to congratulate the actors. And that was magical."
He knew Shakespeare inside and out.
He worked with actors who knew their way around Shakespeare, including the formidable Jeanette Nolan as Lady Macbeth, the Irish actor Dan O'Herlihy (making his American film debut) as Macduff, and Mercury Theater members Edgar Barrier as Banquo and William Alland (the reporter in Citizen Kane) as one of the murderers. (Also in the cast: Welles' daughter Christopher as Macduff's child, and Jerry Farber, nephew of the film critic Manny Farber, as Fleance.)
He had the actors pre-record their dialogue, a practice that he had planned for The Magnificent Ambersons and then quickly abandoned.
The pre-recording and the rehearsing led to the employment of extraordinarily lengthy and fluid takes shot from a crane, planned and executed by Welles with a great DP, John L. Russell. One of those takes runs the length of an entire ten-minute reel.
The most important reason of all: Orson Welles was a genius.
As it happened with every Welles film made in Hollywood apart from the first and most famous, Macbeth was artistically violated in the name of money-driven panic. It was cut (of course) and the cast's voices were re-recorded without their original thick Scottish brogues. In 1980, UCLA's Bob Gitt found a dupe negative of the complete version, which had been shown in Europe, and some fine-grain master elements, and he did the first photochemical restoration. In 2006, The Film Foundation provided Gitt with the funds for another round of restoration that made use of digital technology. It's interesting to take a look at the Welles in light of Joel Coen's new version. But then, whatever the pretext, it's always a good idea to revisit an Orson Welles movie. See above, Reason 6.
- Kent Jones
Follow us on Instagram, and Twitter!
https://www.youtube.com/watch?v=2oQPJfabpPI
https://www.youtube.com/watch?v=jb10g9BD9ZI
https://www.youtube.com/watch?v=VJ6v7GHYDbM
MACBETH (1948, d. Orson Welles)
Preserved by UCLA Film & Television Archive in cooperation with Paramount Pictures with funding provided by the Hollywood Foreign Press Association and The Film Foundation.
The Film Foundation
---