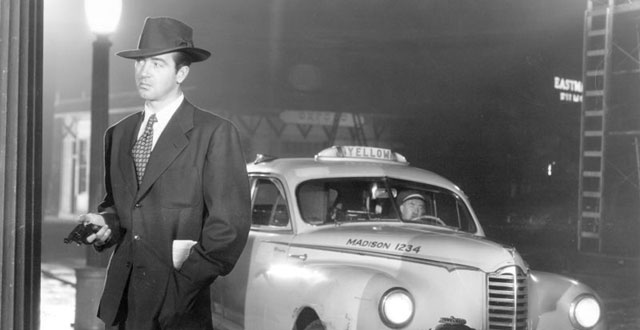 2019 UCLA Festival of Preservation offers a weekend of cinematic rarities and surprises
Kenneth Turan 02/12/2019
Can you improve on the best? Can you make the most anticipated event on the calendars of discerning cinephiles even more fun and festive? The UCLA Film & Television Archive is about to try.
The occasion in question is the beloved UCLA Festival of Preservation, the 19th edition of which is filled, as always, with a deeply satisfying cornucopia of films, forgotten gems and rarely revived classics that never fail to both astonish in their diversity and dazzle in their newly restored glory.
But while previous iterations of the festival have spread their riches over a month of screenings, this year's celebration, which opens Friday at the Hammer Museum's Billy Wilder Theater in Westwood, is going to fit its offerings into one very busy and exciting weekend.
For the first time, the festival's 23 programs are going to run consecutively, starting at 9 a.m. Friday and lasting until midnight and beyond all three days.
You can buy tickets to individual programs or, if you are feeling especially festive, you can splurge for a $50 pass that lets you experience every last one of them, which at about $2 per event is quite the bargain for those with the necessary stamina.
Once again, the variety of films and television, all restored by UCLA, is astonishing, running the gamut from the antics of Laurel and Hardy to austere independent gems like Christopher Munch's "The Hours and Times" to one of a kind programs such as "U.S. Presidents In the Hearst Newsreels," going from William McKinley to Lyndon Johnson with lots of folks in between.
Classics of various genres also get their due, including 1958's original television version of "Days of Wine and Roses" with Piper Laurie and Cliff Robertson as the protagonists.
"The Mortal Storm" directed by Frank Borzage in 1940, was one of Hollywood's most prescient films, starring Margaret Sullavan, James Stewart and Robert Young in the story of a Jewish family destroyed by the Nazi party, which is said to be one of the reasons American films came to be banned in Germany.
A splendid work of a very different type is 1946's Mexican standout "Enamorda," a tale of the Mexican Revolution inspired by Shakespeare's "The Taming of the Shrew." Starring María Félix and directed by Emilio Fernández, it benefits from the gorgeous cinematography of Gabriel Figueroa.
One of least known films in the festival, 1933's "My Lips Betray," is a lighter-than-air piece of fluff that starts the weekend off.
"Lips" stars the charming Lilian Harvey, one of Germany's most popular stars who had a brief Hollywood moment, as a singer who captures the heart of a king. Look for a cameo by Mickey Mouse.
As a fan of the brooding film noir genre, it's a pleasure to report that UCLA has restored several features that fit that description. Best of these are two from 1949: "The Crooked Way" and "Trapped."
Starring John Payne as a World War II vet with amnesia who shows up in L.A. and discovers his criminal past, "The Crooked Way" benefits from the cinematography of the legendary John Alton.
Perhaps the greatest of noir cinematographers, Alton gives a master class in the creation of ominous, engulfing shadows, breathing life into noir staples like rain-slicked streets, deserted warehouses and sinister window blinds.
Also excellent is "Trapped," starring Lloyd Bridges in his pre-"Sea Hunt" days as a counterfeiter who tries to play both ends against the middle. Also a visual treat, this Richard Fleischer-directed film has a crackling conclusion shot in a long-gone Red Car depot in downtown L.A.
Ready for more noir? Also benefiting from fine acting and a great location is 1951's "The Man Who Cheated Himself," starring Jane Wyatt a long way from "Father Knows Best" and a gruff Lee J. Cobb in a tale that twists and turns all the way to San Francisco's iconic Fort Point.
Almost unclassifiable is Delmer Daves' 1947 "The Red House," half-psychological drama, half-thriller, that boasts an unnerving Miklos Rozsa score and a disturbing performance by Edward G. Robinson as a man who says things such as "you can't run away from a scream."
The preservation festival items that surprised me the most this year were silent, starting with two hours of "Preserved Silent Shorts and Fragments."
This program showcases ultra-rare work from 1910 through 1916, when short films were top of the heap, and gives us a glimpse of what the world looked like physically as well as story-wise a full century ago.
The one silent feature in the festival, 1925's "Smouldering Fires," is as unusual as its title. Directed by Clarence Brown, later Greta Garbo's director of choice, it stars Pauline Frederick in a serious, sophisticated piece of work about love, age and power dynamics. It's not at all what you might expect, which is just what the Festival of Preservation is all about.
-------------
2019 UCLA Festival of Preservation
Where: Billy Wilder Theater, Hammer Museum, 10899 Wilshire Blvd, Westwood. cinema.ucla.edu
When: Feb. 15-17
Cost: $8-$10; festival pass, $50
Feb. 15: "My Lips Betray," 9 a.m.; "Voice In The Wind," 10:41 a.m.; Selling L.A. Television: Local Kinescopes and Film Fragments, 1:40 p.m.; "The Crooked Way," 3:15 p.m.; "El Fantasma del Convento," 5 p.m.; "The Mortal Storm," 7:30 p.m.; "Trapped," 9:47 p.m.; "The Man Who Cheated Himself," 11:20 p.m.
Feb. 16: "Playhouse 90: Days of Wine and Roses," 9 a.m.; Preserved Silent Shorts and Fragments, 11:05 a.m.; Selections From TV's "Stars of Jazz," 2:08 p.m.; "The Killing Floor," 3:43 p.m.; "Enamorada," 6:46 p.m.; "Smouldering Fires," 8:40 p.m.; "The Red House," 10:20 p.m.
Feb. 17: "Alibi," 9 a.m., Newly Restored Animation, 10:50 a.m.; Laurel and Hardy: Fugues of Destruction, 1:11 p.m.; U.S. Presidents in Hearst Newsreels, 2:53 p.m.; "Operation Bootstrap," 5:08 p.m.; "Gay USA," 7:36 p.m.; "The Hours and Times," 8:59 p.m.; "A Boy And His Dog," 10:11 p.m.
Los Angeles Times
---