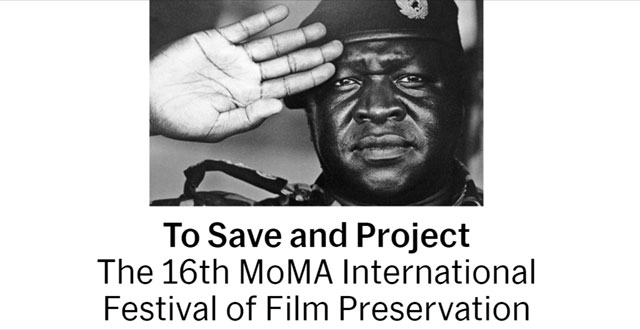 TO SAVE AND PROJECT, MoMA'S 16TH ANNUAL INTERNATIONAL FESTIVAL OF FILM PRESERVATION, PRESENTS NEWLY RESTORED MASTERWORKS AND CINEMATIC REDISCOVERIES FROM AROUND THE WORLD
12/06/2018
Barbet Schroeder Opens the Festival with a Full Retrospective of His Documentaries, and Filmmaker Guests Also Include Peggy Ahwesh, George Griffin, Yvonne Rainer, and Arturo Ripstein
Festival Features Classics by Chantal Akerman, Ha Gil-jong, Ernst Lubitsch, Ida Lupino, Márta Mészáros, F. W. Murnau, Doris Wishman, and Many Others
To Save and Project: The 16th MoMA International Festival of Film Preservation January 4–31, 2019 The Roy and Niuta Titus Theaters
NEW YORK, December 6, 2018—The Museum of Modern Art announces the 16th annual edition of To Save and Project, a festival dedicated to celebrating newly preserved and restored films from archives, studios, distributors, foundations, and independent filmmakers around the world. Running from January 4 to 31, 2019, this year's festival includes more than 50 newly preserved features and shorts from Asia, Europe, Africa, Latin America, and the United States—virtually all of them North American or New York premieres—by filmmakers as diverse as Fernando de Fuentes, André de Toth, Safi Faye, Ha Gil-jong, F. W. Murnau, and Doris Wishman. Many of these films are receiving their first American screening since their original release; others will be shown in meticulously restored versions that recapture the long-lost sound and image quality of their initial release; and some will be publicly screened for the first time ever in New York. To Save and Project is organized by Joshua Siegel, Curator, Department of Film, The Museum of Modern Art.
To Save and Project opens with a tribute to Barbet Schroeder through all of his documentaries. Schroeder, who is also celebrated for fiction films like Tricheurs, Reversal of Fortune, Barfly, and Single White Female, will present his self-described "trilogy of evil": General Idi Amin Dada: A Self Portrait (1974), Terror's Advocate (2007), and the New York premiere theatrical run, from January 4 to 10, of The Venerable W. (2017). He will also introduce new digital preservations of Koko: A Talking Gorilla (1978), The Charles Bukowski Tapes (1985), and three rarely screened anthropological shorts made in 1971 in Papua, New Guinea during the shooting of his fiction film The Valley (Obscured by Clouds).
Other highlights include special guest appearances by Peggy Ahwesh, Wolf-Eckart Bühler, George Griffin, Barbara Hammer, Yvonne Rainer, and Arturo Ripstein; "The Great Victorian Moving Picture Show"—two illustrated lectures of astonishing large-format 68mm Mutoscope and Biograph shorts from the late 19th century—as well as an illustrated lecture on color innovations in British silent cinema; Michael Anderson's spy thr 2 35mm print struck from the original camera negative, together with two merciless (auto-)portraits of the film's leading actor, Sterling Hayden, made at the end of his life; and the North American premiere of MoMA's own restoration of Ernst Lubitsch's Forbidden Paradise (1924), in association with The Film Foundation. The festival concludes with the world premiere theatrical run, from January 25 to 31, of MoMA's new restoration of Ida Lupino's melodrama Never Fear (The Young Lovers) (1950).
Other highlights include:
Spotlight on Female Filmmakers. Female filmmakers are represented in depth through narrative and documentary features by Chantal Akerman, Safi Faye, Ida Lupino, Márta Mészáros, Wanda Tuchock, and Doris Wishman, as well as avant-garde work by Peggy Ahwesh, Barbara Hammer, Jenni Olson, and Yvonne Rainer. Included are new restorations of Belgian filmmaker Chantal Akerman's Histoires d'Amérique: Food, Family and Philosophy (1989), the Senegalese-French filmmaker Safi Faye's Fad'jal (1979), the Hungarian Márta Mészáros' Ők Ketten (The Two of Them) (1979), and MoMA's new restoration of Yvonne Rainer's Journeys from Berlin/1971, which is presented in memory of the film's "star" (scholar Annette Michelson, who died this past September), with the American artist and choreographer Rainer present to introduce. Also included are Doris Wishman's recently preserved Nude on the Moon (1961); Peggy Ahwesh's The Color of Love (1994); Wanda Tuchock and George Nicholls's Finishing School (1934), a late pre-Code melodrama starring Ginger Rogers and Frances Dee; and a weeklong run (January 24 to 31) of MoMA's new restoration of Ida Lupino's Never Fear (The Young Lovers) (1950).

Rediscovering African American and LGBTQ Independent Cinema. To Save and Project presents underappreciated independent African American and LGBTQ filmmakers, including the New York premiere of writer-director Horace Jenkins' Cane River (1982), a film championed by Richard Pryor. The festival highlights the brief but astonishing film career of Edward Owens with three experimental films from the late 1960s: Private Imaginings and Narrative Facts, Remembrance: A Portrait Study, and Tomorrow's Promise. Owens was marginalized for decades as a gay African American artist.

For a special Martin Luther King Day celebration on January 21, the annual "Orphans at MoMA" program presents rarities of African American and LGBTQ cinema. The screening opens with Something Good—Negro Kiss (Selig Polyscope Co., 1898), a burlesque of Thomas Edison's John C. Rice-May Irwin Kiss (1896), starring the black performers Saint Suttle and Gertie Brown, newly preserved by the University of Southern California Hugh M. Hefner Moving Image Archive. Orphans at MoMA also includes Cab Calloway's home movies, early television kinescopes, and vernacular films from the Washington, DC, community, all newly preserved by the National Museum of African American History and Culture; a rare 1966 TV newsfilm of Martin Luther King Jr. on voting, from the University of South Carolina; and Nikolai Ursin's remarkably candid 1967 portrait of an African American trans woman, Behind Every Good Man . . . , a 16mm preservation through the Outfest UCLA Legacy Project. Orphans at MoMA also showcases the American filmmaker Barbara Hammer through some of her earliest Super 8 works in their original small-gauge format: the abstract Contribution to Light (1968), her psychodrama Death of a Marriage (1968), and Aldebaran Sees (1969). These films heralded one of Queer Cinema's most radical and questioning artists. 3 50 years of LGBTQ independent cinema is further represented with New Queer Cinema pioneer Curtis Harrington's thriller Night Tide (1961), starring Dennis Hopper, in a meticulous new digital restoration from the original camera negative and a finegrain master, carried out by Cinema Preservation Alliance for byNWR. Also included are Frameline's new digital preservations of Jenni Olson's short Blue Diary (1998) and Arthur J. Bressan Jr.'s Buddies (1985).

Classics and Rediscoveries of Mexico and South Korea. Mexican writer-director Arturo Ripstein will present a new restoration of his overlooked melodrama La mujer del porto (The Woman of the Port) (1991), a tawdry tale of the docks adapted from a short story by Guy de Maupassant and told from three perspectives. Ripstein also presents the Filmoteca UNAM's preservation of the original Woman of the Port (1934), a masterwork of expressionistic Mexican popular cinema by Arcady Boytler, who wrote, directed, and starred in films in his native Russia, associating with Sergei Eisenstein, before moving to Mexico. Classic Mexican cinema is also represented with the world premiere of UCLA Film & Television Archive and The Film Foundation's newly restored El fantasma del convento (The Phantom of the Monastery) (1934), Fernando de Fuentes' pioneering work of Mexican gothic horror. Though widely admired as one of the great films of 1970s Korean cinema, Ha Giljong's Babodeuli haengjin (The March of Fools) (1975) was violently cut by censors before its theatrical release. Thanks to the Korean Film Archive, Ha's dark comedy can be seen in its original Director's Cut, painting an even more claustrophobic picture of Korea's lost generation during the dictatorial regime of Park Chung-hee.

Silent Cinema. In addition to MoMA's restoration of Ernst Lubitsch's Forbidden Paradise, this year's To Save and Project includes two other significant restoration premieres from the silent era: the Munich Filmmuseum's restoration of F. W. Murnau's Faust (1926), presented for the first time with celebrated novelist Gerhart Hauptmann's original intertitles; and the brand-new restoration of Fridrikh Ermler's intense psychological drama Fragment of an Empire (1929), a masterpiece of Soviet cinema, in a collaborative effort of EYE Filmmuseum, Gosfilmofund of Russia, and the San Francisco Silent Film Festival.

On January 12 and 13, To Save and Project presents three illustrated lectures on astonishing innovations in silent cinema. In the first of two companion programs titled "The Great Victorian Moving Picture Show," BFI curator Bryony Dixon introduces some of Britain's earliest and most spectacular films, documenting current events and personalities of the late Victorian era with astonishing clarity on large-format 68mm film. In the second program, archivist and historian Paul Spehr and MoMA archivist James Layton present an illustrated lecture on early film pioneer W. K. L. Dickson, with an emphasis on the remarkable cinematic advancements he made with the American Mutoscope and Biograph Company at the turn of the 20th century. This program features 68mm shorts from The Museum of Modern Art's Biograph collection. On January 13, Bryony Dixon presents "Changing Hues: Color Innovations in British Silent Cinema," a beguiling journey through early color experiments and innovations in British silent cinema, featuring a wide gamut of screen color techniques from hand coloring to "natural" color processes like Kinemacolor and Biocolour. 4

A Spectrum of Projection Formats, from Small Gauge to Cutting-Edge Digital. This year's festival encompasses a wide range of projection formats, from small gauge to the latest technological advancements in digital restoration. On January 21, Barbara Hammer presents a rare screening of some of her earliest Super 8 films in their original format. On January 12, "The Great Victorian Moving Picture Show" features astonishing large-format 68mm Biograph films, which can be justly described as the IMAX of turn-of-the century cinema. Throughout To Save and Project are 4K digital restorations that have successfully rescued severely damaged or decomposing negatives and prints through cutting-edge technologies, recapturing the long-lost image and sound quality of their initial release.
See accompanying screening schedule for full program details and guest appearance dates.
Special thanks to Cindi Rowell, Olivia Priedite, and Julia Mettenleiter.
SPONSORSHIP: Support for the exhibition is provided by the Annual Film Fund. Leadership support for the Annual Film Fund is provided by the Kate W. Cassidy Foundation and Steven Tisch, with major contributions from Jo Carole and Ronald S. Lauder, Association of Independent Commercial Producers (AICP), Yuval Brisker Charitable Foundation, The Brown Foundation, Inc., of Houston, Marlene Hess and James D. Zirin, Karen and Gary Winnick, and The Junior Associates of The Museum of Modern Art. Electronic subtitling provided by Sub-Ti Ltd.
Press Contacts:
Sara Beth Walsh: sarabeth_walsh@moma.org
Stephanie Davidson: stephanie@frankpublicity.com
For downloadable high-resolution images, register at moma.org/press.
Public Information: The Museum of Modern Art, 11 West 53 Street, New York, NY 10019, (212) 708-9400, moma.org. Hours: Saturday–Thursday, 10:30 a.m.–5:30 p.m., Friday, 10:30 a.m.–8:00 p.m. Museum admission: $25 adults; $18 seniors, 65 years and over with I.D.; $14 full-time students with current ID; free, members and children 16 and under (includes admittance to Museum galleries and film programs). Free admission during Uniqlo Free Friday Nights: Fridays, 4:00–8:00 p.m. No service charge for tickets ordered on moma.org. Tickets purchased online can be printed out and presented at the Museum without waiting in line (includes admittance to Museum galleries and film programs). Film and after-hours program admission: $12
Press Release
---