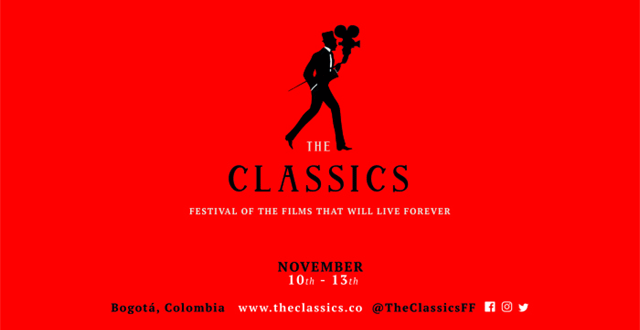 Classics Film Fest Unspools in Colombia
Anna Marie De La Fuente 10/19/2017
With Sean Baker, Trey Edwards, Chris Newman, Ed Lachman, Peter Webber and Mike Hausman among its board members, a new film festival of classic films will unspool from Nov. 10 -13 in Bogota, Colombia.
Dubbed The Classics – Festival of the Films That Will Live Forever, the new film fest is founded by producer Ivonne Torres and Juan Carvajal, co-founder and artistic director of the three-year old Bogota Independent Film Festival, IndieBo.
Buoyed by sell-out crowds at IndieBo last July when the festival screened restored classics via a new pact with Martin Scorsese's Film Foundation, Carvajal said: "I saw how these movie gems – rescued and restored with the support of the Film Foundation – deserved nothing better than to be enjoyed where they belong: the big screen."
For many moviegoers in Bogota, it was the first time to see such classics as Joseph L. Mankiewicz's "All About Eve," Elia Kazan's "On the Waterfront," and Nicholas Ray's "Rebel Without a Cause" in the cinema.
Webber concurred: "How inspiring and thrilling in this age of instant gratification and throwaway entertainment to have a festival that pays homage to the timeless classics of cinema and offers us the opportunity to see them anew with an audience on the big screen as their directors intended."
"I'm so happy to be part of the Classics; a festival that celebrates the history of cinema. Our young audiences deserve to see these films. And with proper restoration and presentation, they will not soon be forgotten," said Baker.
The inaugural line-up includes Billy Wilder's "Some Like It Hot," Woody Allen's "Manhattan," Luis Bunuel's "Belle de Jour" and Alfred Hitchcock's "Vertigo."
"We want to eventually make it a roving film festival in Colombia and elsewhere," said Carvajal, adding, "As Lachman said: 'Cinema reinvented itself by looking back to look forward.'
The Classics Film Fest is backed by the Film Foundation, Park Circus, Cine Colombia and Delta Airlines.
Said Margaret Bodde, executive director of The Film Foundation: "The Film Foundation is thrilled that two TFF-supported restorations will be screened in Bogota as part of The Classics. Film is a truly universal language and presenting these cinematic treasures in theatres inspires, educates, and entertains moviegoers of all ages. We are grateful to The Classics for their incredible commitment to keeping alive the theatrical experience."
HONORARY BOARD
Ed Lachman ("Carol," "The Virgin Suicides,") , Sean Baker ("Tangerine," "The Florida Project"), Felipe Aljure ("La Gente de la Universal"), Trey Edwards ("Krisha," "It Comes at Night"), Mike Hausman ("The Godfather," "Amadeus"), Chris Newman("The Exorcist," "The English Patient"), Ciro Guerra ("Embrace of the Serpent"), Peter Webber ("Girl with a Pearl Earring," "The Medusa") Warrington Hudlin ("Boomerang," "Katrina") as well as execs Assemble Media president of production Scott Veltri and Munir Falah, CEO of Cine Colombia.
MAIN LINEUP:
"Sansho the Bailiff" (Kenji Mizoguchi, Japan)
"Belle de Jour" (Luis Buñuel, Spain, France)
"Vertigo" (Alfred Hitchcock, U.S.)
"Amadeus" (Milos Forman, U.S.)
"The Age of Innocence" (Martin Scorsese, U.S.)
"Some Like It Hot" (Billy Wilder, U.S.)
"Manhattan" (Woody Allen, U.S.)
"The Sacrifice" (Andrei Tarkovsky, Sweden)
"Night of the Living Dead" (George Romero, U.S.)
Special Event:
"Lucky" (John Carroll Lynch, U.S.)
Family Classics 3D:
"Beauty and the Beast"
"The Lion King"
Shorts:
"Rabbit Rider"
"I Tawt I Taw a Puddy Tat"
Re-Release – Anniversary:
"Close Encounters of the Third Kind" (Steven Spielberg, U.S.)
"Predator" (John McTiernan, U.S.)
Variety.com
---
News Archive
2021
2020
2019
2018
2017
2016
2015
2014
2013
2012
2011
2010
2009
2008
2007
2006
2005
2004
2003
2002
2001
1999
1998
1995
1990
---
---
Back to News