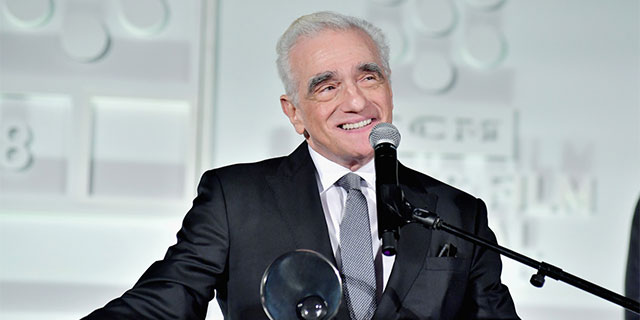 The Importance of Film Preservation and The Film Foundation
Kim Luperi 10/08/2020
"You react against the devaluation of cinema and movies by showing up," Martin Scorsese remarked after accepting the inaugural Robert Osborne Award at the 2018 TCM Classic Film Festival. Scorsese's nonprofit organization, The Film Foundation (TFF), has been showing up by promoting the preservation of our cinematic heritage for 30 years. This month, TCM salutes that anniversary by showcasing five evenings of TFF-supported restorations. Recently, I had the opportunity to ask the TFF team about their history and some of the unique programs and projects they've created and participated in throughout the years.
TFF officially launched in 1990, but the idea formed years before, evolving from studio meetings Scorsese took in the late 1980s with UCLA Film & Television Archive director Robert Rosen to advocate for protecting studios' libraries "title by title." Once TFF opened its doors, Scorsese and various board members (including filmmakers such as Francis Ford Coppola and George Lucas), hit the ground running to secure funds and foster projects between studios and archives.
TFF worked to spread the word about the importance of preservation early on, collaborating on events like AMC's 1993 on-air Film Preservation Festival, which featured interviews with archivists and showcased restorations like BECKY SHARP ('35), the first feature shot in three-strip Technicolor.
Technology now allows for photochemical and digital restoration practices, both of which TFF supports. It seems as if each project has its own tale, from TFF's first digital restoration, in 2006, of Michael Powell and Emeric Pressburger's THE RED SHOES ('48), a Technicolor film so damaged that it couldn't have been corrected without digital tools, to Barbara Loden's directorial debut and swansong WANDA ('70), for which the original 16mm camera negative was triumphantly saved from a lab in the process of closing, one day away from being destroyed.
With so many movies out there, it's impossible to save them all. So, how are TFF's projects chosen? While some archives suggest culturally essential titles in need of attention, other little-known titles are proposed by Scorsese or board members. TFF facilitates and promotes the resulting restorations, which are funded and carried out by studios and various rightsholders.
One project the team highlighted was Marcel Ophüls' 1976 historic 278-minute documentary THE MEMORY OF JUSTICE, restored in partnership with the Academy Film Archive and Paramount Pictures. The 10-year process remains unprecedented in TFF's history, and it involved a vast amount of rights clearances for exhibition purposes – a total of 386 clips and 24 music cues! Furthermore, when the original French, German and English recordings were located, Ophüls wanted to use them for the restoration instead of the English dubbing that viewers heard in 1976; thus, subtitles in all three languages were crafted, which the team said gave the film "new power and authenticity."
TCM's salute, spotlighting classics such as DODSWORTH ('36) and DETOUR ('45), represents a small percentage of TFF's work. The organization's goal stretches far and wide. In 30 years, they've aided in the restoration of over 850 silent and sound features, shorts, documentaries, avant-garde, independent and home movies from around the globe. In seeking to save work from underrepresented genres and filmmakers, TFF has supported the restoration of independent movies like Bill Gunn's GANJA & HESS ('73), while also creating and funding the Avant-Garde Masters Grant in 2003 in partnership with the National Film Preservation Foundation to save experimental works that might otherwise fly under the radar, like several from women and LBGTQ+ directors.
With a worldwide lens, Scorsese started the World Cinema Project (WCP) in 2007 to help preserve film heritage in countries with limited archival resources, where movies face a higher risk of being lost forever. So far, the initiative has helped restore 42 films from 25 countries, and their exhibition and distribution, whether at global film festivals, on DVD or streaming, give these pictures new life by allowing audiences the opportunity to discover them. "It's difficult for a movie to be any part of film history when it is unknown," the team explained.
TFF's most recent World Cinema Project restoration, in partnership with Cineteca di Bologna, was Mohammad Reza Aslani's long thought lost Iranian film CHESS OF THE WIND ('76). The Islamic regime banned Aslani's picture after its sole screening at the Tehran International Film Festival, but luckily, the original negatives were uncovered in a Tehran shop in 2015 and returned to the director, who helped oversee the restoration with his daughter. After being suppressed for so many years, the film has acquired new admirers at festivals worldwide thanks to this restoration.
In addition to salvaging gems from our cinematic heritage, TFF also supports a variety of educational initiatives. Not only has the organization presented preservation and restoration workshops around the globe, but they've also helped instill a respect for cinema through their free cross-curricular educational program The Story of Movies, established in 2005. As the first series crafted by film professionals in conjunction with educators, The Story of Movies not only teaches the cultural and historic importance of the medium but also guides students on how to apply critical thinking skills and "read" a film. In having reached about 10 million students across the nation (and with an international program in China), The Story of Movies continues to enrich learners' minds and enlighten future filmmakers and scholars.
At year 30, The Film Foundation remains fiercely passionate about its purpose and intimately in touch with the challenges the industry faces. As preservation is a constant process, the team looks ahead with resolve and confidence, confiding in me that they're "up for the challenge and excited to continue to discover great films that were feared lost."
Turner Classic Movies
---