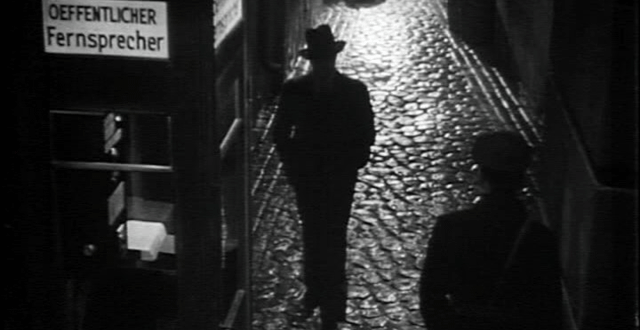 COMMEMORATING 30 YEARS OF TFF
07/01/2020
So Ends Our Night, directed by John Cromwell, is based on the 1939 novel Flotsam by Erich Maria Remarque. It was shot in 1940 and released by United Artists in early 1941. Like Christian Petzold's recent Transit, it is about the particular plight of the refugee. What is it like to be stateless, wrenched away from everything familiar, permanently unsettled, and under the constant threat of absolute crushing force? Those are the questions that shadow every moment, every second, every frame. The characters played by Fredric March, Margaret Sullavan, a very young Glenn Ford, Leonid Kinskey (the bartender in a more famous refugee film, Casablanca) and Alexander Granach who meet up along the European trail of displaced persons, the trail taken by Arthur Koestler and Walter Benjamin, warm themselves with the elemental gifts of life: a roast chicken, a bottle of wine, laughter, and each other's company. And every moment of camaraderie and good cheer is haunted by the memory of home and loved ones lost or scattered. The film builds to an extraordinary passage in which you can really feel the presence of production designer William Cameron Menzies. March's character returns to Vienna and wants to say a fugitive goodbye to his wife, played by Frances Dee. They take alternate routes to a designated spot, turning corners and making their way through crowds, and the sequence reaches a visual and emotional crescendo as they each get one last look at each other in a breathless succession of close-ups before they part forever.
So Ends Our Night, which was restored by George Eastman House (and now needs further attention), was independently produced by David Loew and Albert Lewin. No major studio would have touched it at the time. Hollywood was painstakingly careful, to a point well beyond moral cowardice and until the last possible moment, to neither offend German audiences nor advocate for American intervention in Europe. Films like Confessions of a Nazi Spy (Warner Brothers) and The Mortal Storm (MGM) were extremely rare exceptions to the rule. So Ends our Night is a courageous film, and it's sad to think that some of the people who made it would later face the horrors of the Red Scare (March was hounded by HUAC early on and Cromwell was blacklisted through most of the 50s). It's also a film that moves me deeply because, like The Big Country, it manages a rare feat: to dramatize and truly embody the good in people.
- Kent Jones
Follow us on Facebook, Instagram, and Twitter!
SO ENDS OUR NIGHT (1941, d. John Cromwell)
Preserved by George Eastman Museum with funding provided by The Film Foundation.
THE BIG COUNTRY (1958, d. William Wyler)
Restored by Academy Film Archive with funding provided by The Film Foundation.
The Film Foundation
---