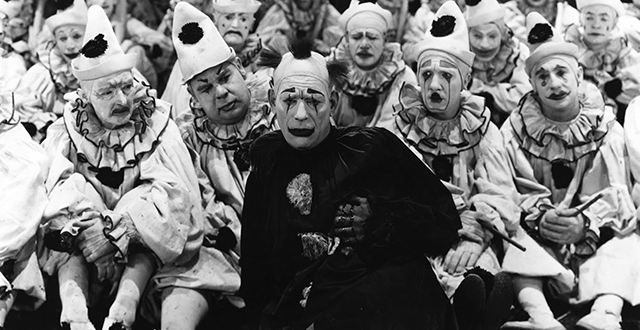 COMMEMORATING 30 YEARS OF TFF
08/19/2020
Back in the 90s, there was a stunning series of MGM silents programmed by Bruce Goldstein at Film Forum here in New York—one remarkable film after another, from Stroheim's Merry Widow to Rex Ingram's Mare Nostrum and The Four Horsemen of the Apocalypse to what was for me the great revelation of that series, He Who Gets Slapped, later restored by the George Eastman Museum with the help of The Film Foundation. This was the very first MGM film to go into production (but not the first release) and the first title to feature the MGM lion in its logo, the first film under Irving Thalberg's supervision, and most importantly of all the American debut of the great Swedish director Victor Sjöström. I vividly remember the powerful gravitational sway of He Who Gets Slapped, based on a play by Leonid Andreyev (known for a time in this country as "the Russian Edgar Allen Poe"). It's an unusually potent melodrama of male humiliation and degradation, one of many in the early 20th century, and it has a dramatic starkness and a visual purity that are hair-raising. What did Sjöström and his great star Lon Chaney, brought to MGM from Universal by Thalberg, find together? How did they harmonize to the point where they seemed creatively conjoined? Such a thing can't really be explained, just seen, absorbed, marveled at. Sjöström found the same kind of relationship with Lillian Gish in the two great films they made together, The Scarlet Letter and The Wind, and three decades later Ingmar Bergman found it with Sjöström as an actor in Wild Strawberries.
It is possible to see He Who Gets Slapped. There's a Warner Archive DVD and you can find it on a few streaming platforms. But to discover it on the big screen is far less likely than it was in the 90s. Repertory cinema has been in a fragile state for a long time, but right now it's more vulnerable than ever—Film Forum, which I mentioned before, has been closed since March and is still awaiting guidance on reopening. 35mm prints are now as rare as Grecian urns. A majority of titles are now "owned" by corporate entities for which the very question of cultural patrimony seems either irrelevant, inadmissible or unheard of—hard to say which. We've never been able to take the ongoing availability of cinema for granted. Now, on about six different fronts, we all have to fight for it as if our lives depended on it.
- Kent Jones
Follow us on Facebook, Instagram, and Twitter!

HE WHO GETS SLAPPED (1924, d. Victor Sjostrom)
Preserved by the George Eastman Museum with funding provided by The Film Foundation.
The Film Foundation
---