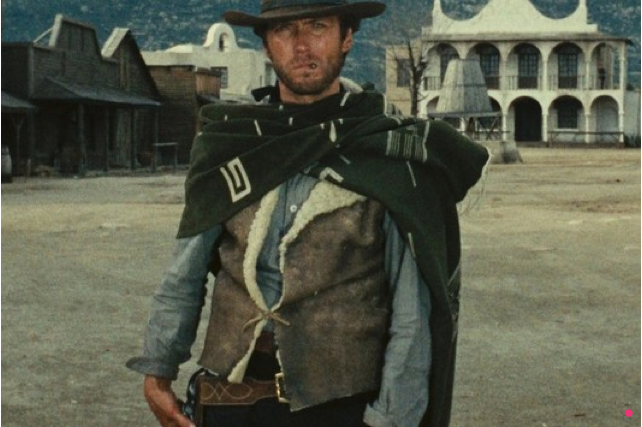 Seven classic restored films to show at Abu Dhabi Film Festival 2014
Ben East 10/20/2014
It's one of the classic scenes in cinema history. Clint Eastwood strolls down the main street of a Mexican border town, determined to win his Fistful of ­Dollars.
With eyes fixed firmly ahead, The Man With No Name murmurs to the undertaker: "Get three coffins ready." But A Fistful of Dollars is now half a century old. The coffins, indeed, might be a neat metaphor for the original film stock, which is decaying fast.
And yet on November 1, the film will be shown at the Abu Dhabi Film Festival (ADFF) in stunning clarity, thanks to a restoration supported by Martin Scorsese's The Film Foundation (TFF), an organisation dedicated to protecting, preserving and presenting motion pictures.
The collaboration with ADFF – which will include a film-preservation workshop – came about after one of the festival's programmers with a special interest in the field, Mohammed Khawja, met Scorsese in Cannes a few years ago. After watching the progress of the foundation's international wing, the World Cinema Project (WCP) – which helps countries that lack the resources to preserve their own film heritage – a more formal partnership was agreed for this year's festival.
Sergio Leone's spaghetti Western rounds up an impressive programme of films restored by TFF being screened at ADFF, that also includes Rebel Without a Cause, The Life and Death of Colonel Blimp, Mary Poppins, the Beatles movie A Hard Day's Night and two WCP movies, Sergei Parajanov's The Color of Pomegranates (1968) and Lino Brocka's Manila in the Claws of Light (1975).
As TFF's executive director Margaret Bodde explains, it is all the culmination of 25 years of hard work.
"The Film Foundation really grew out of Marty [Scorsese] being among this great group of filmmakers – [Steven] Spielberg, [George] Lucas, [Stanley] Kubrick, [Robert] Redford, [Sidney] Pollack – who really valued what cinema meant culturally and how it inspired their own creativity," she says.
"But none of the major studios had preservation programmes in place in 1990. Film is a fragile medium and you can't just assume that it's always going to be around if you don't take care of it. So they felt there was a need to preserve the great creative works of our times – simply ­because they are an expression of our humanity."
TFF also came along at just the right time – as projection technology improved, it became obvious that the existing film stocks were not good enough. Commercially, too, someone buying a DVD re-release was not going to be satisfied with a scratchy transfer from a poor-quality film print.
The spin-off, says Bodde, is that these re-released films – usually restored by a process of scanning each frame, removing damage and dirt digitally and then colour correcting – became a window into culture and history around the world. Which is where, in 2007, the WCP ­entered the picture.
"A lot of the WCP films aren't widely known," says Cecilia Cenciarelli, its archival and restoration manager. "But that doesn't mean they aren't really important.
"Sometimes an archive might suggest a film to be restored, sometimes it's a filmmaker who grew up as a cinephile in, say, Egypt, and thinks it needs preserving. So we discuss which films we'd like to work on, and then we always try to do the laboratory work in the country where the film was made."
Carefully restoring classic movies might sound like a lovely job, but as Cenciarelli explains, it gets considerably more stressful when they find out there is only one print that survives. "And that can be down to everything from political turmoil to mould," she says.
The main benefit for the WCP films is that TFF gets distribution rights, which means movies that might never have been seen beyond the borders of the country in which they were made can now be seen all over the world.
Manila in the Claws of Light was briefly famous in its native Philippines and was a hit at the 1978 Cannes Film Festival but the director, Brocka, had died in a car crash and the negative was literally torn. The restoration of the film, about life under the dictator Marcos, has now been seen in cinemas around the globe – as have 23 other WCP films, including many from the Middle East.
"We've always had an interest in restoring Middle Eastern work, simply because it's such a diverse, rich and fascinating region," says Cenciarelli. "Shadi Abdel Salam's Al Momia is one of the masterpieces of Egyptian cinema, so it was great to restore that in 2009.
"We'll continue to explore the area's films for more projects like that one."
• For more information about the work of TFF and WCP, visit www.film-foundation.org
• For more information on the festival, which runs from October 23 to November 1, go to www.abudhabifilm­festival.ae
The National
---
News Archive
2021
2020
2019
2018
2017
2016
2015
2014
2013
2012
2011
2010
2009
2008
2007
2006
2005
2004
2003
2002
2001
1999
1998
1995
1990
---
---
Back to News