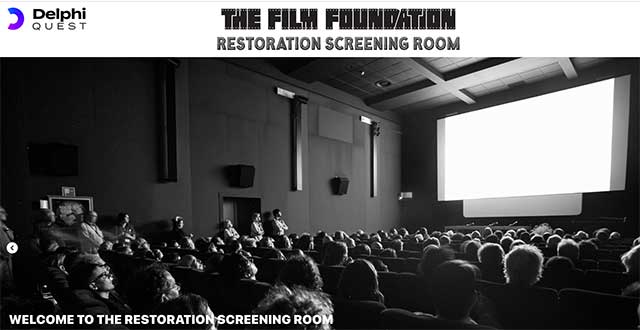 MARTIN SCORSESE'S THE FILM FOUNDATION LAUNCHES "RESTORATION SCREENING ROOM"
04/22/2022
[April 22 / NY, NY] The Film Foundation, the non-profit organization created in 1990 by Martin Scorsese, is launching The Film Foundation Restoration Screening Room to showcase films restored with support from the foundation and its partners. The Film Foundation Restoration Screening Room will be available free of charge, starting on Monday, May 9th, with additional feature presentations debuting on the second Monday of each month. The first presentation will be I KNOW WHERE I'M GOING! (1945, directed by Michael Powell and Emeric Pressburger), restored by The Film Foundation and BFI National Archive, in association with ITV and Park Circus available for a 24 hour window.
Viewers will experience the excitement of a live event, with introductions and conversations with filmmakers and archivists, providing an inside look at the restoration process. The Film Foundation Restoration Screening Room will be "appointment viewing," with screenings starting at a set time, and available for a limited period, distinguishing it from other streaming options. The Film Foundation Restoration Screening Room will celebrate the collaborative nature of film preservation by highlighting the work of archives and studios.
"We're looking forward to making these beautiful restorations available to a wide audience," said Martin Scorsese, The Film Foundation founder and chair. "Many of these presentations will feature restorations that are rarely seen, with myself and other filmmakers sharing why these films are important, how they have impacted our lives, and why it's crucial that they be preserved."
"We're grateful to Oracle and DelphiQuest for making this possible, and we're thrilled to share these restorations with new audiences," said Margaret Bodde, the Executive Director of The Film Foundation. "The Restoration Screening Room aligns perfectly with the foundation's mission, and we're eager to connect with people around the world who love cinema."
The screening of I KNOW WHERE I'M GOING! on May 9th is co-presented by the BFI National Archive, Janus Films, ITV and Park Circus. This restoration of the classic romance, which received its world premiere at Cannes Classics last year and UK Premiere at the BFI London Film Festival last October, was selected by Martin Scorsese and Kent Jones, who are co-curating the Restoration Screening Room. I KNOW WHERE I'M GOING! will be introduced by Scorsese, and include interviews with Thelma Schoonmaker Powell, Joanna Hogg, Tilda Swinton, and Kevin Macdonald; all of whom count the film among their favorites. Restoration funding for I KNOW WHERE I'M GOING! was provided by the Hobson/Lucas Family Foundation with additional support provided by Matt Spick.
The Film Foundation is partnering with Oracle and DelphiQuest to create and power the platform, which will be available online at film-foundation.org/restoration-screening-room. The programming will showcase a broad range of restorations, including classic, avant-garde, independent, documentary, silent and short films from every era, genre, and region of the world. Upcoming monthly presentations include LA STRADA (1954, d. Federico Fellini), KUMMATTY (India, 1979, d. G. Aravindan), a film noir double feature of DETOUR (1945, d. Edgar G. Ulmer) and THE CHASE (1946, d. Arthur D. Ripley), SAMBIZANGA (Angola, 1972, d. Sarah Maldoror), ONE-EYED JACKS (1961, d. Marlon Brando), MOULIN ROUGE (1952, d. John Huston), LOST LOST LOST (1976, d. Jonas Mekas), and others to be announced.

About The Film Foundation:
The Film Foundation is a nonprofit organization created by Martin Scorsese in 1990 to protect and preserve motion picture history. By working in partnership with archives and studios, the foundation has helped to restore over 925 films, which are made accessible to the public through programming at festivals, museums, and educational institutions world-wide. The Film Foundation's World Cinema Project has restored 47 films from 27 countries to date, representing the rich diversity of cinema from around the globe. The foundation's free educational curriculum, The Story of Movies, teaches young people - over 10 million to date - about film language and history.
https://www.film-foundation.org
Twitter: @Film_Foundation
Instagram: @thefilmfoundation_official

About the BFI:
We are a cultural charity, a National Lottery distributor, and the UK's lead organisation for film and the moving image.
Our mission is:
● To support creativity and actively seek out the next generation of UK storytellers
● To grow and care for the BFI National Archive, the world's largest film and television archive
● To offer the widest range of UK and international moving image culture through our programmes and festivals - delivered online and in venue
● To use our knowledge to educate and deepen public appreciation and understanding of film and the moving image
● To work with Government and industry to ensure the continued growth of the UK's screen industries
Founded in 1933, the BFI is a registered charity governed by Royal Charter. The BFI Board of Governors is chaired by Tim Richards.


Press Release
---