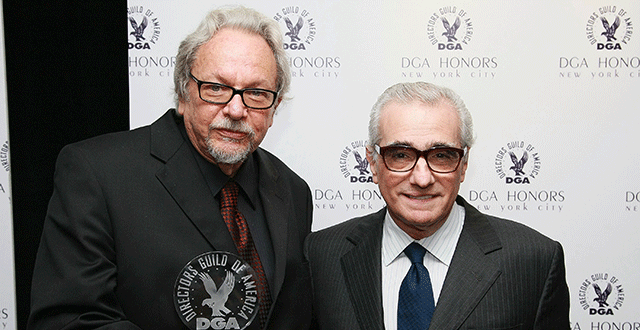 TFF PRESENTS ROBERT ROSEN WITH JOHN HUSTON AWARD AT THE 2008 DGA HONORS
The Film Foundation 10/16/2008
Robert Rosen, Dean of the UCLA School of Theater, Film and Television received The Film Foundation's John Huston Award for his significant contributions and commitment to film preservation and restoration. Rosen, who serves as Chair of The Film Foundation's Archivists Advisory Council, accepted this prestigious award from Film Foundation Founder and Chair Martin Scorsese as part of the 2008 Directors Guild of America Honors held in New York City on October 16th.
Scorsese spoke fondly of Rosen, citing him as one of the key figures in the 1990 creation of the foundation. He added that Rosen "was essential in making The Film Foundation a reality. 18 years later, The Film Foundation has contributed to the restoration of over 500 titles and counting, the studios and the archives are working together, and every major studio except one has a restoration/preservation program. Without Bob, I don't know where we'd be."
Rosen has spent more than 30 years guiding the growth of the UCLA Film & Television Archive from a small study collection to the world's largest university-based holding of original film and television materials. He has held many leadership roles including: Founding Director of the National Center for Film and Video Preservation at the American Film Institute; Executive Committee Member of the International Federation of Film Archives; Member of the National Film Preservation Board of the Library of Congress; Board Member of the Stanford Theatre Foundation; and Board Member of the Geffen Playhouse.
The John Huston Award was created to honor those with an extraordinary commitment to defending the rights of filmmakers and, by extension, the rights of filmmakers to have their art preserved in its original, intended state. Previous honorees are Bertrand Tavernier, Curtis Hanson, Elliot Silverstein, Sydney Pollack, Tom Cruise, Miloš Forman, Martin Scorsese, Steven Spielberg, and Fred Zinnemann.
DGA Honors began in 1999 as an event that would celebrate the intersection of film and television production with labor, business and politics. "At DGA Honors, we celebrate those who have committed themselves to bringing about positive changes in society, whether it be through film or television production, advocacy or humanitarian work," said DGA National Vice President Steven Soderbergh. "All of our honorees have left their mark on our industry in an indelible way."
Mr. Rosen was among 5 honorees including Miloš Forman, Director; Dick Wolf, Creator/Producer; Irwin Young, Chair of DuArt Film Laboratories; and Congressman John Conyers Jr. (D-MI). The awards were presented at the DGA Theater on West 57th Street, followed by a VIP after party at Nobu 57.
Press Release
---