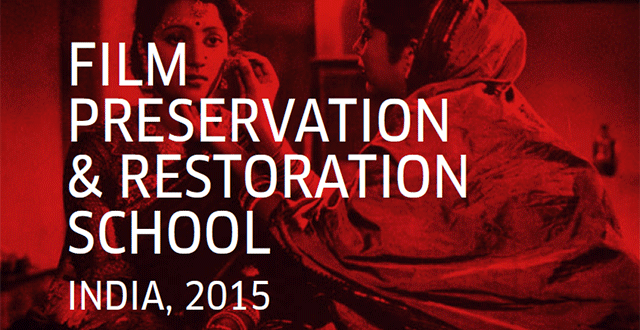 What Martin Scorsese's Doing to Preserve India's Film Archive
The Wall Street Journal India 02/23/2015
India has one of the world's most-prolific film industries but preserving its output for future generations of filmgoers is proving difficult.
"We have lost a colossal amount of our film heritage and we continue to lose some everyday," says Shivendra Singh Dungarpur, award winning filmmaker and founder of the Mumbai-based Film Heritage Foundation. He has teamed up with Hollywood director Martin Scorsese's nonprofit The Film Foundation and a film restoration laboratory based in Italy, to launch India's first film restoration school.
"Cinema is an art form and a part of our cultural heritage that needs to be preserved. The aim of the school is to create passionate future archivists," says Mr. Dungarpur.
The school opened on Sunday, with a week-long course with students from India, Bhutan, Nepal and Sri Lanka. "The reason we wanted to include these countries is because they all have film legacies that have been terribly neglected and will be lost to the world if they don't start preserving their cinema," says Mr. Dungarpur who has restored the film "Kalpana" and Sri Lankan film "Nidhaniya" in collaboration with the Scorcese foundation. The course will be organized in the Films Division headquarters in Mumbai as a pilot.
Lectures, presentations and practical classes on film preservation and restoration that will be conducted by leading international experts in the field.
There will also be daily screenings of a restored classic preceded by a talk on the restoration of the footage. "Each of the students will be given a film to be restored. One need not have technical knowledge of cinema for this, just the passion for it," Mr. Dungarpur added.
The international faculty for the course includes Andrea Kalas, vice-president of the Paramount Pictures Archive, Lee Kline and Ryan Hullings who are working on the restoration of Satyajit Ray's "Apu Trilogy," Maciej Molewski who has restored some of Poland's best-loved classics and Professor Ray Jiing, who started the film preservation movement in Taiwan.
Part of the idea behind the film preservation school is that movie preservation restoration in India is abysmal.
From the silent movie era, there are just five or six films available today.
"We have only one archive: the NFAI, Pune," Mr. Dungarpur adds. "This serves the largest and one of the most diverse film industries in the world."
But in a country where on an average 2,000 films are made a year, it is a mammoth task for any archive to preserve them all. "Add to that lack of funding, trained personnel and resources, and it becomes unmanageable," he said.
In the recent past, most film laboratories in India have shut down their photochemical facilities along with the storage areas where some producers have traditionally kept their prints and negatives after release.
Mr. Dungarpur believes that a film represents an era, a period in history, time and space and the people who lived then and old movies are part of the future of the industry.
"The only way to move forward is by looking back," he states.
---
News Archive
2021
2020
2019
2018
2017
2016
2015
2014
2013
2012
2011
2010
2009
2008
2007
2006
2005
2004
2003
2002
2001
1999
1998
1995
1990
---
---
Back to News