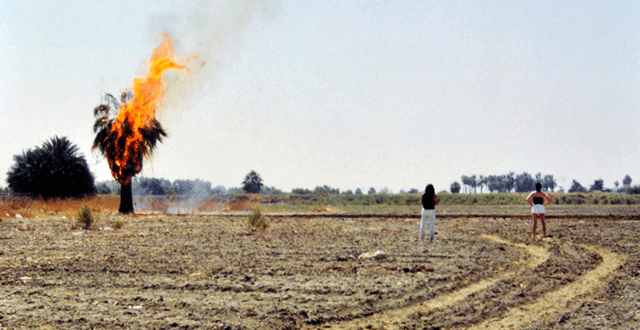 EXCLUSIVE: Nina Menkes' QUEEN OF DIAMONDS Restoration Gets A New Trailer From Arbelos
J Hurtado 04/19/2019
A new distributor on the block is making big waves with their acquisition and restorations of classic film from around the world. From the ashes of Cinelicious Pics has risen Arbelos, who've already worked on stunning restorations of Dennis Hopper's The Last Movie and Bela Tarr's Satantango, and among their many exciting upcoming projects we now have Nina Menkes' '90s feminist touchstone, Queen of Diamonds to look forward to.
Queen of Diamonds will open with a run at BAM in New York on April 26th, followed by an LA opening on June 15th. Both locations will have opportunities to engage with Menkes in the form of Q&A's as well as the chance to attend Menkes' Sex and Power: The Visual Language of Oppression talk on select dates. This is a unique opportunity that anyone within driving distance of these events should definitely put on their calendar.
Arbelos has given us an exclusive first look at the restoration trailer, you will find it below along with a couple of sample stills from the film.
Nina Menkes' QUEEN OF DIAMONDS New 4K Restoration
Opens NYC on 4/26 at BAM
Opens LA on 6/15 at UCLA Film & Television Archive
An Arbelos release and co-presented with the Eos World Fund. New restoration by the The Academy Film Archive and The Film Foundation, with funding provided by the George Lucas Family Foundation.
From Friday, April 26 through Thursday, May 2, BAM presents a brand new restoration of Nina Menkes' radical, feminist feature, Queen of Diamonds (1991). Menkes will appear in person following the 7pm screening on April 26; she will also present her celebrated talk Sex and Power: The Visual Language of Oppression, followed by a Q&A, on April 27.
In one of the most jarringly original independent films of the 1990s, a disaffected blackjack dealer, (played by the director's sister Tinka Menkes), drifts through a neon-soaked dream vision of Las Vegas and experiences a series of encounters alternately mundane, surreal, and menacing, while death and violence hover ever-present in the margins. Awash in lush, hallucinatory images, Queen of Diamonds is a haunting study of female alienation with intellectual heft and formal rigor, from a filmmaker whose work can be compared to Akerman, Fassbinder, and Lynch, but with a unique, singular vision all her own.
Queen of Diamonds will also be presented, along with Menkes's nightmarish true-crime feature The Bloody Child, by the UCLA Film & Television Archive at the Billy Wilder Theater in Los Angeles on June 15th.
Based on her viral Filmmaker Magazine article "The Visual Language of Oppression: Harvey Weinstein Wasn't Working in a Vacuum," Menkes' Sex and Power examines the ways formal shot design is gendered. Analyzing a series of film clips by major filmmakers—including Scorsese, Welles, Spike Lee, and many others—Menkes shows how traditional cinematic language underlies and supports sexual assault, harassment, and employment discrimination against women. The presentation has appeared at Sundance, Cannes, and the AFI International Film Festival, and is currently being made into a feature length documentary. Maria Giese, who instigated the historic ACLU and EEOC investigations against the Hollywood studios' Title VII violations, will moderate a discussion following the talk.
Nina Menkes is the writer, director, and cinematographer of six feature films, including Magdalena Viraga (1986), Phantom Love (2007) and Dissolution (2012). Her films have shown widely at major festivals, including Sundance, Locarno, the Berlinale and she has had retrospectives internationally. Menkes has received American Film Institute and Guggenheim Fellowships, and was an artist-in-residence under the DAAD Artists-in-Berlin Program. She is currently a faculty member at California Institute of the Arts, and developing two new projects: Minotaur Rex, a horror-drama about the Israeli-Palestinian conflict, (produced by Eos World Fund), and Heatstroke a psychological thriller about two sisters set in Cairo and LA (produced by Marginalia Pictures).
"Nina Menkes is one of the most provocative and challenging artists in film today."
Kevin Thomas, Los Angeles Times
"Queen of Diamonds may become for America in the 90's what Jeanne Dielman was for Europe in the 70's: a cult classic using rigorous visual composition to penetrate the innermost recesses of the soul."
-Berenice Reynaud, The Chicago Reader
ScreenAnarchy
---