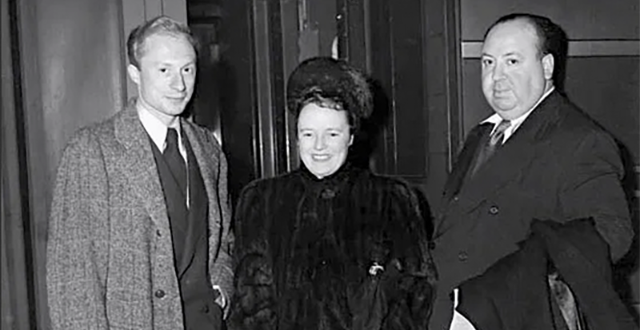 NOTES ON FILM & RESTORATION
05/21/2021
When I got the news that Norman Lloyd had passed away at the age of 106, I called my friend Bruce Goldstein. Bruce and Norman had become close over the years, and they talked once a week on the phone. "How much longer can he go on, I wondered," said Bruce. "But still, I'm very sad."
I was sad because Norman lived through all of that history and was ready, willing and absolutely able to transmit it to the very end. I have a photo from eight years ago of Norman, 97 at the time, standing with my son Andrézj, who was 15. We were backstage at the Chinese Theater on Hollywood Boulevard, where Norman was going to do an onstage conversation before a screening of Hitchcock's Saboteur at the TCM Film Festival. In the photo, Norman looks like he's in his 70s. And when he spoke, it was like listening to someone in their 60s. His answers were clear and concise, and he was as sharp as a razor. Here was a man who had no time for misty nostalgic wandering—he was still alive and there was too much to experience.
Norman Lloyd saw Babe Ruth play at Yankee Stadium. He acted with Eva Le Gallienne and Joseph Losey at the Theater of Action and the Federal Theater Project, which led to Orson Welles' Mercury Theatre Company, where he played Cinna the Poet in the company's 1936 production of Julius Caesar in fascist dress. He was cast as Fry, the villainous saboteur in Saboteur, which began a long working relationship with Alfred Hitchcock, and it was Hitchcock who brought an end to Norman's "gray list" period in the 50s when he hired him as an Associate Producer on Alfred Hitchcock Presents. Norman worked with Jean Renoir and for Chaplin, and became close friends with both. He produced the first staging of Brecht's Galileo. He directed the lovely Mr. Lincoln for television and hired Stanley Kubrick to direct 2nd unit. He acted right up to the end, in television and in films.
One final word, about Saboteur, restored by the Library of Congress with help from The Film Foundation. I wrote a little about that film last November, around the time of Norman's 106th birthday, and I find myself going back to it a lot. The film seems richer every time I look at it, and so does Norman's performance as Fry, a great joint creation between director and actor: a quietly contemptuous Fifth Columnist who nonchalantly starts a blazing inferno in a California airplane factory, fights tooth and nail to sabotage a battleship in the Brooklyn Navy Yard, wolfishly responds to Priscilla Lane's phony come-on at the top of the Statue of Liberty (I love his reading of the line, "Sounds cozy…"), and then elicits our sympathy as he hangs onto Robert Cummings hand and watches the stitches of his jacket pop one by one. What an amazing resourceful actor he was.
And what a life he led.
- Kent Jones
Follow us on Instagram, and Twitter!
SABOTEUR (1942, d. Alfred Hitchcock)
Preserved by the Library of Congress with funding provided by the Hollywood Foreign Press Foundation and The Film Foundation.
The Film Foundation
---