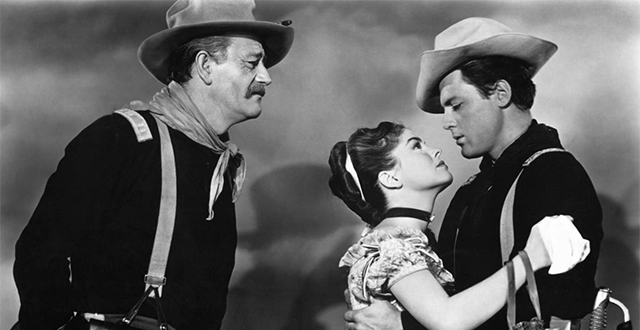 classics return to the screen at celluloid celebration
Steve Dollar, The Wall Street Journal 05/27/2015
If digital technology has made old-fashioned 35mm movie exhibition obsolete, it is news to Jed Rapfogel. The film programmer at Anthology Film Archives in the East Village suggests that celluloid's apparent sunset could also be a golden age—at least for New York audiences.
"Paradoxically, as digital is taking over and film is fading away, we're getting these very beautiful prints from the studios and archives," said Mr. Rapfogel. "You're more aware of the beauty as you realize these prints have become rarer."
Anthology shows why those films are worth saving, and savoring, in a continuing series it launches this weekend called "This Is Celluloid," a showcase not only for 35mm—a format the venue screens regularly—but for some of the best-looking prints available. Those include classics, such as John Ford's 1949 Technicolor Western "She Wore a Yellow Ribbon," but also films that are rarely shown in any format, like Francis Ford Coppola's monochrome reverie "Rumble Fish" and the forgotten English glam-rock musical "Never Too Young to Rock."
"It's just fun to have a context in which to show something like that," said Mr. Rapfogel, who also booked such cinematic indulgences as John Boorman's 1981 Arthurian epic "Excalibur." "It flirts with ridiculousness," he said. "but I find it sublime in the end."
Several other New York film institutions regularly show 35mm prints, including the Film Society of Lincoln Center, Film Forum, BAMcinematek, Museum of the Moving Image and the Museum of Modern Art, which celebrates the centennial of Technicolor with a two-month series starting June 5. Even in suburban Yonkers, the Alamo Drafthouse multiplex offers 35mm shows of cult and classic films alongside summer blockbusters—a standard feature in many of the Texas-based chain's theaters.
Preserving and showcasing physical film prints is a core mission for Anthology, which holds one of the world's most extensive collections of avant-garde films on not just 35mm, but on 16mm, and Super-8mm film as well.
Their increasing rarity stems from the perishable nature of film stock and a lack of regard for preservation in the earlier decades of the form, Mr. Rapfogel said. Some half of all films made before 1950 have been lost, according to the Film Foundation, the nonprofit organization founded by Martin Scorcese to preserve and restore film. Enemies include extreme temperatures, humidity and improper storage; until 1952, film stock was nitrate-based, which made it a fire hazard, said Margaret Bodde, the foundation's executive director.
"We're losing that moment where everyone wanted everything to look perfect," said Ms. Bodde. "Now there is a reappreciation. Even if a film print has flaws, it has this quality that's hard to replicate in digital."
Digital lacks the organic quality—the pulse—of film, Mr. Rapfogel said. "When you watch a film print, you are seeing a physical object with a certain amount of character and texture being transmuted into something on-screen."
Some major contemporary filmmakers agree. Paul Thomas Anderson, Wes Anderson, Christopher Nolan and Quentin Tarantino all shoot on film. Mr. Scorsese has returned to it for his new feature "Silence." J.J. Abrams is using film for the next phase of the "Star Wars" franchise. "There's a sense of 'let's try to keep that as a choice,' " Ms. Bodde said.
"You get lulled into this reverie when you're watching film that you never do with anything on digital, no matter how good it looks," said David Spencer, senior curator at the film school of the University of North Carolina School of the Arts in Winston-Salem, N.C., where he oversees a print archive of 15,000 films.
The archive, which has ramped up its loan program in recent years, is lending Anthology its Technicolor prints of "Never Too Young to Rock" and the Fleischer brothers' 1941 animated feature "Hoppity Goes to Town." In the latter film, "there's a jazz jitterbug sequence where the characters are dancing around after being electrocuted that is just phenomenal," said Mr. Spencer. "The mid-1940s were ahead of their time."
Gina Telaroli, a New York-based filmmaker, used to liken classic 35mm films to paintings. "Now I think the analogy of going to see a 35mm print is like going to see someone in concert," she said. "If you love the Rolling Stones, they're going to die soon, so you better go see them."
That might seem dire, but Ms. Telaroli framed her thoughts as a cinephile mission statement: "We need to have a living culture of people that know what these films look like," she said.
John Wayne, Joanne Dru and John Agar in 'She Wore a Yellow Ribbon,' part of the 'This Is Celluloid' series at Anthology Film Archives in the East Village. Photo: EVERETT COLLECTION
The Wall Street Journal
---