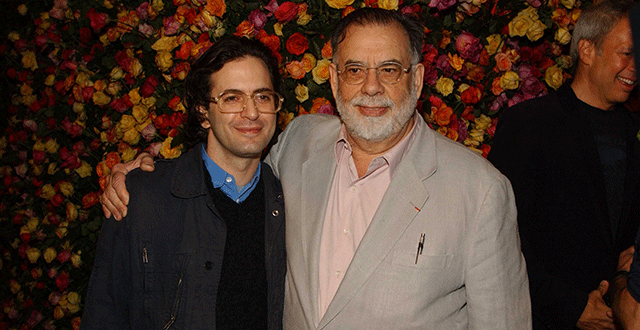 MARC JACOBS MAKES A SPLASH IN L.A.
Booth Moore 05/19/2005
He may be a New York boy, but Marc Jacobs is no fish out of water in L.A. On Thursday he opened his first store here on Melrose Place with a bash for 400 of his closest friends. The street was closed off and tented for his Technicolor and Fairydust-themed benefit for the Film Foundation for film preservation. By 8:30 p.m., the scheduled start time, the party was already nearing capacity and the fire marshal was griping about the throngs trying to get in. Some gave up and went home.
Inside, it was a scene out of Studio 54. Marilyn Manson and fiancee Dita Von Teese, Winona Ryder, Selma Blair, Sean Hayes, Jeremy Piven and Owen Wilson cavorted with fairylike dancers with cellophane wings, nude except for strategically placed leaves, pasties and body glitter. On the swirl-painted dance floor, guests sported Day-Glo pants, shirts and helmets festooned with flowers. Others waited in line to have pictures taken against a painted backdrop of a field of poppies.
Later, Perry Farrell took the stage to sing a few songs, including a cover of Bad Company's "Feel Like Makin' Love," chosen, he said, "to show Jacobs how much the West Coast loves him." The Jane's Addiction frontman enigmatically told the crowd, "In 2005 Marc is going to open a satellite store in heaven and I plan to sing for that one too."
For most of the time, Jacobs stood under an arch of 600,000 roses greeting his guests, along with Robert Duffy, his business partner and company president. "Who are all these people?" Jacobs said. He did recognize Raquel Welch, who wore one of his gowns, which she bought off the rack at Barneys, to the Golden Globes. "You looked so amazing in that dress!" he told her.
She fawned over him too.
"What's funny is that Sofia Coppola wore the same dress when she won the Academy Award for 'Lost in Translation,' " Jacobs later explained. "When it came over the Internet I said, 'No way that Sofia Coppola with the most boyish nothing of a figure and Raquel Welch who is the complete opposite wore the same dress.' I e-mailed Sofia the next day and told her I had her on the same page as Raquel Welch in my celebrity scrapbook."
The designer also joked about Welch paying retail. "That's got to be a first -- a celebrity actually paying for a dress," he said. "Doesn't she know she can call in 50 dresses, never wear any of them, and keep them all?"
Jacobs traveled to L.A. for the first time years ago for a store appearance while he was head designer at Perry Ellis. It was the 1980s and he had designed an L.A.-inspired collection "with the lowriders of East L.A., Malibu, Hollywood and Beverly Hills ... all the cliches were there," he said.
He remembers getting a certificate from the mayor in recognition. "I called it my key to the city."
Although Jacobs is close to Sofia Coppola and her dad, Francis Ford Coppola, who was at the party, he isn't ready to go into the movie biz just yet. "I'm very happy designing clothes," he said. Duffy, on the other hand, said he is working on producing a small film project with a friend.
During his trip, Jacobs has a busy schedule of R&R. He took in the Eli Broad contemporary art collection during the day Thursday, and visited the Gagosian, Regan Projects and A.C.E. galleries. He saw friend Anna Sui on Wednesday night at an event she did with Samsung phones at Fred Segal. And this weekend, he plans to dine with Vogue editor Anna Wintour, who is in town for the Walk of Style award Sunday and has vowed to attend at least one show at Los Angeles Fashion Week.
Speaking of which, those in charge of the shows at Smashbox Studios were none too happy with the timing of the big fish's party, which led to three show cancellations.
Picture: TFF Board Member Francis Ford Coppola (right) with designer Marc Jacobs.
LA Times
---