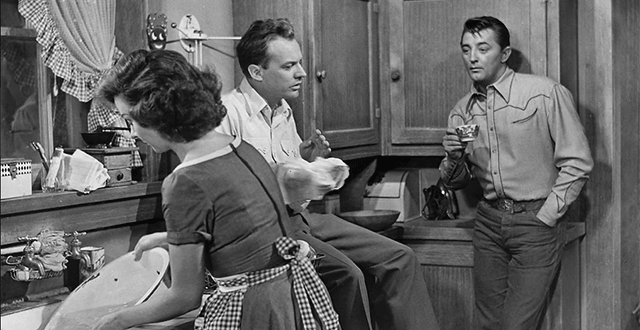 COMMEMORATING 30 YEARS OF TFF
07/15/2020
When I was young and going deeper and deeper into movies, Bogart was my first hero and Nick Ray was my second. Where I grew up it wasn't so easy to find Ray's films, even on TV, so I read about a lot of them before I had the chance to actually see them. Jean Luc Godard's writings in particular were so immediate and impassioned that they were themselves like movies, and the spirit of his words soon took cinematic form in his own films. Godard in turn inspired Wim Wenders, as did Ray. When Wenders made The American Friend, he took two Patricia Highsmith novels and crafted a transcontinental narrative in which Europe and America endlessly reflected back at each other, a dark mirror image of what happened during the great awakening of cinema culture in the 50s and 60s. Wenders cast Ray in a pivotal role, and he followed up with the hybrid film called Lightning Over Water, co-signed by Ray, a semi-fictionalized version of Ray's last days before his death from cancer. There's a scene in that film where Wenders and Ray, at that point skin and bone, sit outside an auditorium during a public screening of The Lusty Men and reflect on a scene at the beginning of that film (to which Wenders paid homage in his Kings of the Road) where Robert Mitchum's banged up rodeo rider returns to his family's dilapidated old house for the first time in years and reaches under the crawlspace and through the cobwebs to find the relics of his childhood right where he'd left them. "It's the most beautiful scene I know about going home," remarks Wenders. There are many more such moments of piercing, homely intimacy in this spectacularly mistitled movie about the nomadic life on the rodeo circuit. The Film Foundation has participated in the restorations of five Ray movies, including his first (They Live By Night), his last (the wildly experimental and improbably touching We Can't Go Home Again) and his most famous (Rebel without a Cause). For me, The Lusty Men looms larger with every passing year, and to see Warner Brothers' restoration for the first time was a thrilling experience: the light falling on every autumnal landscape, the texture of every embroidered western shirt and every dusty arena, were alive in a way I'd never experienced. (Here it's worth recalling that Ray admired the great DP Lee Garmes' "loiny" cinematography on the film.) Like They Live By Night, In a Lonely Place and On Dangerous Ground, The Lusty Men is identifiably a studio movie in its outward trappings but, in the end, a world apart in its emotional orientation and its ground level engagement with multiple variations of loneliness, hurt and yearning for connection.
- Kent Jones
Follow us on Facebook, Instagram, and Twitter!
THEY LIVE BY NIGHT (1949, d. Nicholas Ray)
Restored by Warner Bros. in association with The Film Foundation and The Nicholas Ray Foundation.
WE CAN'T GO HOME AGAIN (1976, d. Nicholas Ray)
Restoration produced by The Nicholas Ray Foundation with EYE Film Institute Netherlands and The Academy Film Archive, with additional support from RAI, Gucci, The Film Foundation, The Gulbenkian Foundation, La Cinematheque Francaise, and Museo Internazionale del Cinema.
REBEL WITHOUT A CAUSE (1955, d. Nicholas Ray)
Restored by Warner Bros. in collaboration with The Film Foundation. Restoration funding provided by Warner Bros, Gucci, and The Film Foundation.
THE LUSTY MEN (1952, d. Nicholas Ray)
Restored by Warner Bros. in collaboration with The Film Foundation and The Nicholas Ray Foundation.
The Film Foundation
---