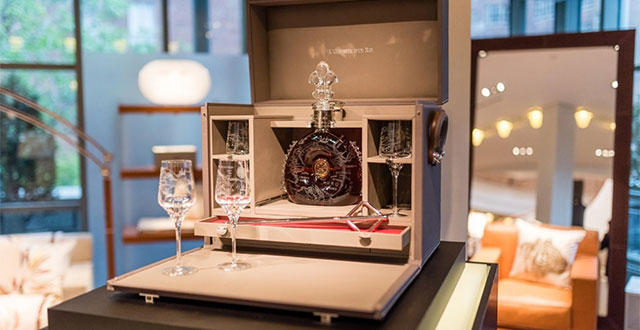 LOUIS XIII Fetches Record Price of US$ 558,000 for Three LOUIS XIII L'ODYSSÉE D'UN ROI Limited Editions Auctioned by Sotheby's
Press Release 11/16/2016
PARIS, November 16, 2016 /PRNewswire/
All profits from these LOUIS XIII masterpieces designed by Hermès, Puiforcat and Saint-Louis, will benefit The Film Foundation founded by Martin Scorsese
Each decanter of LOUIS XIII takes four generations of cellar masters over 100 years to craft. It is a unique blend of up to 1,200 eaux-de-vie, the youngest of which is at least 40 years old. A veritable journey through time, it has been present at every milestone in the history of luxury travel. In tribute to this odyssey, LOUIS XIII joined with three of the most prestigious French luxury houses - Hermès, Puiforcat and Saint-Louis - to create three unique masterpieces. To crown their rarity, the LOUIS XIII cognac they house is a tailor-made coupe enriched with a selection of one of the oldest Grande Champagne eaux-de-vie, set aside over the decades by the Cellar Masters.
Inspired by the iconic LOUIS XIII journeys, these objets-d'art have toured the globe, exhibiting their history and savoir-faire at Hermès boutiques, prestige museums and select venues in cultural capitals: Beijing, Shanghai, Hong Kong, New York, Singapore, Paris and London... For one year, LOUIS XIII shared its ode to adventure with the world.
To close this exciting tour, each decanter has been auctioned by Sotheby's. In New York, the Americas edition topped the record for sale of a LOUIS XIII decanter; in Hong Kong in October, the Asia decanter surpassed that total; and at the final sale in London on November 16, the Europe decanter fetched US$ 235,000, bringing the full total to US$ 558,000. The proceeds will benefit The Film Foundation, created by Martin Scorsese in 1990 to restore and preserve cinematic heritage. As part of this unique partnership between Louis XIII and The Film Foundation, several short films were produced, directed by Kent Jones and featuring Scorsese, Wes Anderson, and Ang Lee, who serve on the board of the foundation.
"LOUIS XIII and The Film Foundation are both committed to preserving a cultural legacy, honoring the past while ensuring that films survive into the future. The work of the foundation has helped to restore over 700 films, from the 1880s onward, encompassing well over 100 years of this extraordinary art form. We are grateful for our partnership with LOUIS XIII, and its generous and continuous support for the foundation's mission," said Martin Scorsese.
"We chose to support The Film Foundation in honour of the expertise it takes to create a cultural masterpiece and maintain a savoir-faire over the ages," said Ludovic du Plessis, Global Executive Director of LOUIS XIII.
"Sotheby's was delighted to help raise funds for The Film Foundation through this unique series of auctions, each in our major sales locations," said Jamie Ritchie, Worldwide Head of Sotheby's Wine.
With each Cellar Master passing their legacy on to the next, the LOUIS XIII odyssey continues.
ALCOHOL ABUSE CAN DAMAGE YOUR HEALTH - PLEASE DRINK RESPONSIBLY
PR Newswire
---