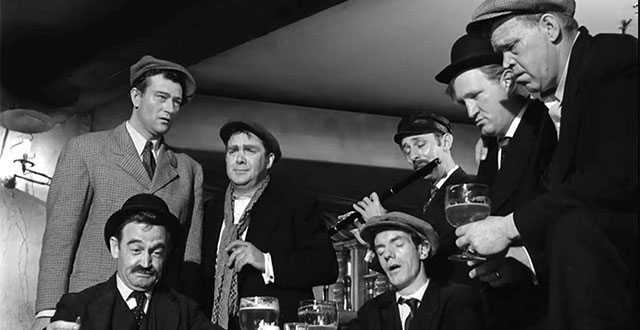 NOTES ON FILM & RESTORATION
12/08/2021
From time to time, it has been fashionable to downgrade, dismiss, attack and even outright condemn John Ford. His films are too slow and lace-curtain Irish. He trades in myth and glorifies the military. He's a racist. He's a fascist. And so on. You don't really hear sweeping judgments of Ford anymore for the simple reason that fewer and fewer people know who he was or have seen his films. Many years ago, I remember indulging in such rhetoric myself for a brief moment, my love for several of Ford's films aside. It was my old friend, the leftwing filmmaker John Gianvito, who gently re-oriented my thinking.
The rhetoric about John Ford is several worlds away from the work itself. But it is best to put it simply: if you're drawn to the art of cinema, then you will either come to or return to John Ford's work. Ford is as fundamental as Hitchcock or Rossellini. His greatest films—there are many of them—have a concentrated energy that makes almost everything around them seem laborious in comparison. They certainly do reflect an earlier moment in American history, albeit with far greater complexity and circumspection than is often acknowledged.
The Film Foundation has participated in the restorations of 12 Ford films, in collaboration with MoMA, UCLA and the Academy Film Archive. The Long Voyage Home is one of the most recent. Like several of Ford's films, it was made independently, with the producer Walter Wanger (Ford and Merian C. Cooper set up a new company for the project, Argosy). It is based on four of Eugene O'Neill's pre-WWI sea plays—The Moon of the Caribees, Bound East for Cardiff, The Zone and The Long Voyage Home—updated by Ford and his screenwriter Dudley Nichols to reflect contemporary conditions for merchant seamen, right before WWII. Ford and his DP Gregg Toland took light, shadow and the play of visual textures to an almost hair-raising level. Joseph McBride beautifully describes Ford's cinematic poem of deep, sustained longing in his essential biography: "An almost abstract exercise in the creation of a doom-laden mood with deep pools of light and shadow, filmed largely on cramped studio sets, this adaptation of four sea-plays by Eugene O'Neill is one of the most avant garde films ever made in Hollywood." O'Neill himself loved the film, and he reportedly had a 16mm print made for himself, which he showed often to friends and guests.
If anyone reading this is just starting to get interested in the cinema, I will come out and say that no matter how odd they might seem at first glance, no matter how distant from contemporary image-making, you owe it to yourself to watch the work of John Ford, just as Orson Welles and Ingmar Bergman and Jean-Marie Straub & Danielle Huillet and Martin Scorsese and so many others did before you. You might be tempted to dismiss him out of hand, but you'll be doing it at your own peril. To paraphrase Peter Brook on Shakespeare, John Ford is always ahead of us.
- Kent Jones
Follow us on Instagram, and Twitter!
THE LONG VOYAGE HOME (1940, d. John Ford)
Restored by the UCLA Film & Television Archive. Restoration funding provided by the Hollywood Foreign Press Association and The Film Foundation.

https://www.thenedscottarchive.com/hollywood/films/the-long-voyage-home.html
https://www.youtube.com/watch?v=2P2fY75Qlxs
https://www.youtube.com/watch?v=YJAMf21uNH4
https://www.youtube.com/watch?v=DfUw4SN1Nig
The Film Foundation
---