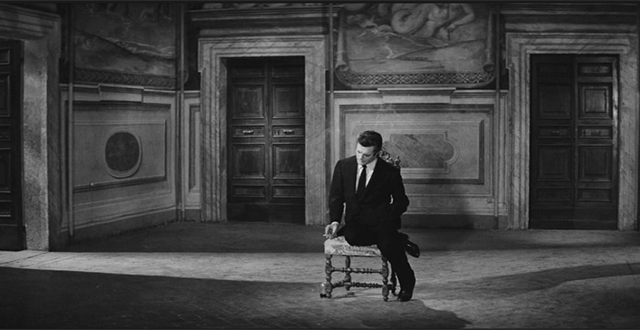 NOTES ON FILM & RESTORATION
01/06/2021
In a 1965 television interview with the European correspondent Irving R. Levine, Federico Fellini spoke of attempting through his work to orient his viewers in the direction of "inner liberation." In the commercialized debasement of his own moment of peak popularity, this endeavor (for lack of a better word) was obscured by the tendency to sell the outer trappings of the films, and to sell Fellini himself as a grand showman or ringmaster, an amalgamation of La Dolce Vita's Marcello riding on a young woman's back at the orgy that never quite gels, 8 ½'s Guido wielding a bullwhip to subdue his fantasized harem, and perhaps the kindly onscreen narrator in Amarcord. In the late 60s and early 70s, Fellini was conjoined with Stanley Kubrick (who he greatly admired) and filmmakers as various as Nicolas Roeg, Ken Russell, Alexander Jodorowsky and Kenneth Anger as masters of cinema as mass hypnosis, film-as-acid-trip. But the inner liberation that Fellini discusses in the Levine interview is precisely the opposite of mind-expanding drug use or unbridled sexual freedom. Fellini's films radiate a spiritual impulse that is closer to the writings of Thomas Merton than the pronouncements of Timothy Leary or Wilhelm Reich. In more than one film, he actually managed to describe a series of all-too-human, self-destructive delusions in the most generous terms imaginable, and maintained a fairly miraculous balance between the bewitching spectacle and pageantry of human chaos and the sadness and desperation beneath the surface.
In the last few days, my wife and I have gone through many of the titles in Criterion's magnificent new Essential Fellini box set. It's been a revelatory experience for both of us. Last night we looked at La Dolce Vita, which was restored by the Cineteca di Bologna in collaboration with The Film Foundation and funding by Gucci. This was the Fellini film that took the world by storm (and that actually coined the term "paparazzi"). La Strada and 8 ½ may be the greater films, but La Dolce Vita is a powerfully moving experience, a pageant of delusions playing out in the heady landscape of Rome at the end of the 50s that today seems more sad and deeply soulful than spectacular.
As I write these last words, masses of Americans suffering from a very different type of delusion are storming the Capitol building. One day, years from now, when someone makes fiction out of this chilling moment, let's hope that it's a filmmaker with the artistry and the soul and the sensitivity of Federico Fellini.
- Kent Jones
Follow us on Instagram, and Twitter!

LA DOLCE VITA (1960, d. Federico Fellini)
Restored by Cineteca di Bologna at L'Immagine Ritrovata Laboratory in association with The Film Foundation, Centro Sperimentale di Cinematografia-Cineteca Nazionale, Pathé, Fondation Jérôme Seydoux-Pathé, Mediaset-Medusa, Paramount Pictures and Cinecittà Luce. Restoration funding provided by Gucci and The Film Foundation.
LA STRADA (1954, d. Federico Fellini)
Restored in 4K resolution by the Criterion Collection and The Film Foundation at Cineteca di Bologna's L'Immagine Ritrovata laboratory from a 35mm dupe negative preserved by Beta Film GmbH. Restoration funding provided by the Hollywood Foreign Press Association.
The Film Foundation
---