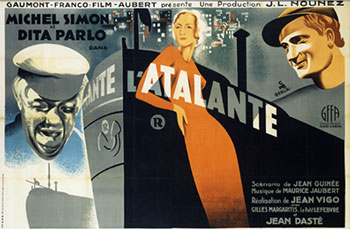 Gaumont, La Cinematheque Francaise And The Film Foundation Partner To Restore L'ATALANTE By Jean Vigo
05/03/2017
Gaumont, La Cinematheque Francaise, and Martin Scorsese's non-profit organization, The Film Foundation, have collaborated for the first time to restore Jean Vigo's masterpiece, L'ATALANTE. For this ambitious project, the partners enlisted scholar Bernard Eisenschitz, who had previously worked on two earlier restorations of L'ATALANTE. The director's daughter, Luce Vigo, also provided invaluable assistance.
This is the first 4K digital restoration of the film and the goal was to stay true to the director's original work, referencing vintage prints, earlier photochemical restorations and negatives. The restoration was carried out by L'Immagine Ritrovata in Bologna and Paris.
Thanks to the collaboration of numerous cinematheques (La Cinematheque Francaise, Cineteca Italiana in Milan, BFI National Film Archive, Cinémathèque Royale de Belgique) that loaned their prints, a frame-by-frame comparison from several different versions was completed to note scene variations. Using the edge codes, the film stocks were dated to choose the earliest and best version for the 4K scan.
The same workflow was utilized for the sound restoration; comparison of all the elements to obtain the best audio quality. It was especially important to respect the integrity of the original score by Maurice Jaubert.
With this restoration, Gaumont, Luce Vigo, who passed away on February 12th, and Bernard Eisenschitz, completed many years of research on the existing film material, writings, documents, and testimonies, always staying faithful to the intentions of Jean Vigo.
The restored version of L'ATALANTE, will be screened as part of this year's Cannes Classics. In addition, Gaumont and The Film Foundation are joining forces to restore three other Vigo titles (ZERO DE CONDUITE, A PROPOS DE NICE, TARIS).
Press Release
---
News Archive
2021
2020
2019
2018
2017
2016
2015
2014
2013
2012
2011
2010
2009
2008
2007
2006
2005
2004
2003
2002
2001
1999
1998
1995
1990
---
---
Back to News