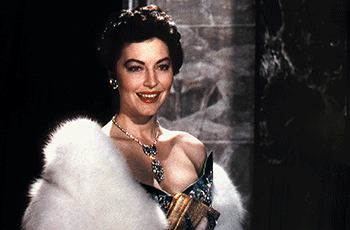 LACMA's '20th Anniversary Tribute' a Treat for Film Fans
Kenneth Turan 10/07/2010
Its title may lack sizzle, but "20th Anniversary Tribute to the Film Foundation" is in fact the most exciting and impressive repertory series in Los Angeles in quite some time.
Beginning Friday with a dynamite film noir double bill of "The Big Combo" and "They Made Me a Fugitive," this wide-ranging series features stunning prints of significant films rarely presented on the big screen. This is what the art of film is all about, which makes its setting — the Los Angeles County Museum of Art — more than a little ironic.
As L.A. film fans know too well, LACMA came within a hair of closing its invaluable program last year. But if you read between the lines of a recent Times interview with the museum's president, it's clear the institution would still dismember the program in a heartbeat if it felt it could get away with it.
So if you care about seeing great films in great surroundings like LACMA's 600-seat Bing Theater, and you'd like to prove to LACMA's minions that you care about this kind of programming, this is your chance to take out two birds with one stone. Vigilance is going to be the price of LACMA screenings for some time to come.
Though its name is not well-known, the Film Foundation has provided an invaluable service in its two decades of existence. Founded by Martin Scorsese and other filmmakers, the nonprofit has partnered with archives around the world to help fund the preservation and restoration of more than 500 films, including the features in this series.
To highlight restorations the Foundation has assisted in financing, LACMA has selected gorgeous films by some of the greatest directors of photography ever. These include "The Red Shoes" and "The Barefoot Contessa" shot by that acknowledged master of classic three-strip Technicolor, Jack Cardiff.
"The Red Shoes," screening Saturday, is Michael Powell and Emeric Pressburger's emotional story of the demands that art makes on life. Set in the world of ballet, it showcases deep, vivid hues that will leave viewers gasping.
"The Barefoot Contessa," on Oct. 15, is a prime example not only of Cardiff's ability to make color come electrically alive but also of the considerable talents of writer-director Joseph L. Mankiewicz. Featuring Humphrey Bogart as a cynical director and Ava Gardner as a reluctant star, the 1954 film retains the zing of Mankiewicz's exemplary language more than half a century later.
Less frequently screened but no less gorgeous are two other color films, showing Oct. 16: the Luchino Visconti-directed "Senso" and John Stahl's "Leave Her to Heaven."
"Senso" is a triumph of heightened visual style and operatic emotions. Set in 1866 during the last months of Austrian rule over Italy, it stars Alida Valli as a fiery Italian countess who gets unwisely infatuated with Farley Granger's seductive Austrian officer. This tale of mad passion in tumultuous times fully validated Visconti's feeling that melodrama was "situated right on the border between life and theater."
Speaking of melodrama, it doesn't get much more melodramatic than "Leave Her to Heaven," reportedly Fox's top moneymaker of the 1940s and memorable for its Technicolor version of New Mexico décor. Part film noir, part three-hanky extravaganza, it stars Gene Tierney as a woman who doesn't hold back when it comes to love and Cornel Wilde as the writer she becomes infatuated with. The plot is overwrought and not completely rational, but when you get right down to it, that's the whole point.
Also not to be missed is another color gem, Elia Kazan's "Wild River," showing at the Academy of Motion Picture Arts and Sciences' Samuel Goldwyn Theater. As "East of Eden" demonstrates, Kazan was expert in working with widescreen cinematography, and he deploys a fine cast including Montgomery Clift, Lee Remick and Jo Van Fleet in a still timely New Deal-era story of the Tennessee Valley Authority's conflicts with local landowners.
Just because there is so much color in this series doesn't mean it neglects black and white. Screening are Alfred Hitchcock's unnerving "Shadow of a Doubt," 1928's silent "Beggars of Life" (the last American feature for Louise Brooks), and a rare chance to see a pristine print of Fritz Lang's "Cloak and Dagger." Especially satisfying is Satyajit Ray's "Pather Panchali," a treasure of world cinema resurrected after its original negative was destroyed by fire.
Los Angeles Times
---
News Archive
2021
2020
2019
2018
2017
2016
2015
2014
2013
2012
2011
2010
2009
2008
2007
2006
2005
2004
2003
2002
2001
1999
1998
1995
1990
---
---
Back to News