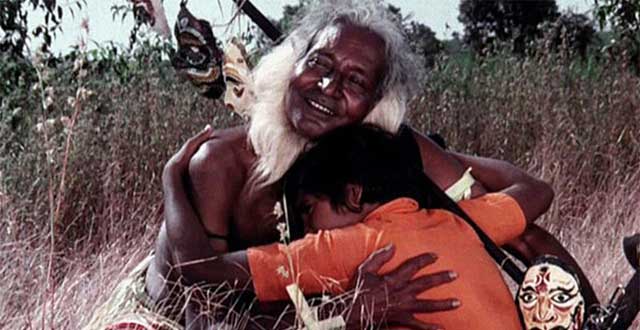 The Film Foundation, Film Heritage Foundation and Cineteca di Bologna to restore G. Aravindan's KUMMATTY
07/17/2021
The Film Foundation's World Cinema Project, a program created by Martin Scorsese in 2007, Film Heritage Foundation and Cineteca di Bologna are pleased to announce a collaboration to restore legendary Indian filmmaker G. Aravindan's classic Malayalam film "Kummatty" (1979). The film will be restored at the L'Immagine Ritrovata laboratory in Bologna, Italy and will have its world restoration premiere at the Il Cinema Ritrovato festival in late July.
"I'm thrilled to be working with Shivendra Singh Dungarpur once again to preserve and restore director G. Aravindan's extraordinary film, 'Kummatty,'" said TFF founder and chair Martin Scorsese. "Aravindan was a visionary director and 'Kummatty' is considered among his greatest work. The Film Foundation's World Cinema Project will share this film with the wider audience it deserves, making it a true cinematic discovery. Thanks to Olivia Harrison and her Material World Foundation for making this restoration possible."
"Ever since I first worked with The Film Foundation on the restoration of Uday Shankar's 'Kalpana' (1948) in 2012, I have seen how beautifully and respectfully they have been restoring films from around the world and giving these films a new life," said Shivendra Singh Dungarpur, Director of the Film Heritage Foundation. "Every time I watch a beautifully restored film, I think of so many landmark films of Indian cinema that are crying out to be preserved, restored and showcased in their original beauty once again to the public to be appreciated. Aravindan's films have been on the top of the list not just because he is a master, but one who I feel has not gotten the recognition he deserves and whose films sadly are not in circulation. It broke my heart when I learned that all the original camera negatives of his films are lost and all we have are prints, not in the best condition."
"I was delighted when The Film Foundation's World Cinema Project agreed to restore 'Kummatty.' I travelled to Kollam in Kerala to meet Mr. K. Ravindranathan Nair of General Pictures, the producer of five of Aravindan's films including 'Kummatty.' He very graciously agreed to give permission for the restoration and for us to access the prints from the NFAI. The NFAI gave us both prints for the lab to check the elements. Fortunately, one of the prints did not contain subtitles."
"'Kummatty' is a film that combines poetry, landscape, nature and folk tale through stunning visuals and an unbelievable use of music and sound design. I regard Aravindan as one of the most poetic filmmakers in the world. He is a poet who writes in the language of cinema and silence. Watching his films is like a meditative experience. I am honoured to be a part of this project and we hope to restore his acclaimed film 'Thampu' in the near future."
Cecilia Cenciarelli of Fondazione Cineteca di Bologna said, "Restoring 'Kummatty' reminded us once again of the core mission that The Film Foundation and Cineteca di Bologna embrace through the World Cinema Project; to give a new life to masterpieces, shed a light on obscure cinematic gems, and expand the canon of world cinema in multiple directions. Only two 35mm prints (one with photographed English subtitles) of 'Kummatty' survive and are the result of a not-so-distant past when film negatives were copied and then discarded, sometimes leaving behind only projection prints. The two copies were naturally worn-out, very dirty and deeply scratched, one containing a consistent vertical green line on the right-hand side of the image, which required painstaking frame-by-frame work to remove."
"The film's natural environment, which could be considered one of the main characters of the film, was lit by master cinematographer Shaji N. Karun and had completely lost its rich palette that illuminated the skies, grass, foliage and fields, becoming instead a homogeneous magenta. Thanks to Shivendra Singh Dungarpur, L'Immagine Ritrovata laboratory was able to be in contact with G. Aravindan's son, Ramu Aravindan, and Shaji N. Karun who helped recapture, as much as possible, the original aesthetics as well as the magical dimensions of the film."
About G. Aravindan
Govindan Aravindan was one of India's greatest filmmakers and a leading light of the New Indian Malayalam cinema of the 1970s and '80s. He was a man of many talents – painter, cartoonist, musician, theatre director, and filmmaker. An autodidact, his films were marked by an entirely original approach to cinema. He has been described as a poet-philosopher with a vision, and he made mystical, transcendental films that showed deep compassion for the eccentric, the marginalized, and the alienated. In a career spanning from 1974 to 1991, he made 11 films and 10 documentaries with almost all of his films receiving national or state awards.
KUMMATTY (1979) (English title: THE BOGEYMAN)
Tadao Sato, one of Japan's foremost film scholars and critics, described "Kummatty" as a masterpiece and stated that he had not seen a more beautiful film in his whole life. The Malayalam film, written and directed by G. Aravindan, was produced by Ravindranathan Nair under the banner of General Pictures.
"Kummatty" tells the story of a Pied Piper-like character of Malabar folklore called Kummatty. Part myth part magician, he's the bogeyman of a grandmother's tale who materializes one day mingling with the children and weaving a spell of carefree abandon. He casts a spell and turns the children into animals. One boy, Chindan, is transformed into a dog, but misses the moment when the other children are turned back to human form and has to wait a year for Kummatty to reverse the spell. Chindan's life as a dog and his return to a human state is a journey through which he realizes that life is a gift and freedom is precious. Kummatty is not an evil spirit summoned to coax children into obedience, but a genial if mysterious companion who transports them into a world of fun and frolic. "Kummatty" won the Kerala State Film Award for the Best Children's Film in 1979.
THE FILM FOUNDATION
Created in 1990 by Martin Scorsese, The Film Foundation (TFF) is dedicated to protecting and preserving motion picture history. By working in partnership with archives and studios, the foundation has helped to restore over 900 films, which are made accessible to the public through programming at festivals, museums, and educational institutions around the world. TFF's World Cinema Project, created in 2007, has restored 46 films from 27 different countries, representing the rich diversity of world cinema. The foundation's free educational curriculum, The Story of Movies, teaches young people – over 10 million to date – about film language and history.
FILM HERITAGE FOUNDATION
Film Heritage Foundation is a not-for-profit organization set up by Shivendra Singh Dungarpur in 2014. It is dedicated to supporting the conservation, preservation, and restoration of the moving image and to developing interdisciplinary programmes to create awareness about the language of cinema. A member of the International Federation of Film Archives (FIAF) since 2015, Film Heritage Foundation is the only non-governmental organization in the country working in the field of film preservation. The advisory council is comprised of such stalwarts as Kamal Haasan, Girish Kasaravalli, Gulzar, Gian Luca Farinelli, Jaya Bachchan, Krzysztof Zanussi, Shyam Benegal, Mark Cousins, and Kumar Shahani.
FONDAZIONE CINETECA DI BOLOGNA
Fondazione Cineteca di Bologna is an internationally recognized FIAF film archive with a multi-faceted mission ranging from film preservation and dissemination, training, research and publishing. In 2007 Cineteca organised the first FIAF Restoration School in Bologna, where it has regularly taken place every other year since then with participants from over 70 countries. Its annual festival Il Cinema Ritrovato is one of the most awaited venues for film historians, scholars and cinephiles all over the world. In the late 1990s, in partnership with the Chaplin Estate, Cineteca began the long process of restoring all of Chaplin's short, medium and long features – more than 80 titles overall. Over the last 20 years, Cineteca's laboratory, L'Immagine Ritrovata, has grown to be one of the leading centers for film restoration, with two international branches in Hong-Kong and Paris.
Cineteca di Bologna and L'Immagine Ritrovata have worked in partnership with entities and organizations world-wide, including the Academy Film Archive, Pathé, Gaumont, Sony, Institut Lumière – just to name a few – and completed over 800 restorations, including films by Pasolini, Renoir, Fellini, Visconti, De Sica, Leone, Rossellini, Vigo, Keaton. Cineteca's long-standing collaboration with The Film Foundation and its World Cinema Project has lead to the restoration of masterpieces from Turkey, Indonesia, Morocco, Egypt, India, Argentina, Kazakhstan, Taiwan, Cuba, Mexico, Senegal, the Philippines and more.
Press Release
---