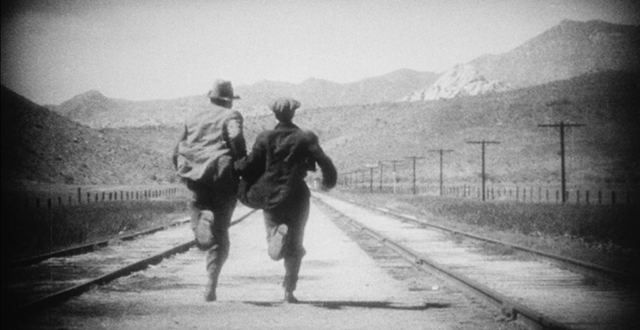 COMMEMORATING 30 YEARS OF TFF
10/21/2020
William Wellman directed just short of 80 movies between 1923 and 1958, of all kinds. Some are renowned classics. Some are genuinely terrible. Some are ambitious and some are lightweight entertainments. And many of his films—like most of his astonishing pre-code output at Warner Brothers (17 movies in three years)—are bursts of pure cinematic energy. The Film Foundation has helped to restore three of Wellman's films, with the Academy, the AFI, UCLA and the George Eastman Museum. Beggars of Life, a late silent and partial talkie (the sound sequences are lost) made at Paramount in 1928, throbs with the energy between Richard Arlen and Louise Brooks. The scene where they meet for the first time is a wonder. Brooks is a farm girl who has just murdered her abusive stepfather in self-defense. Arlen, a hobo, wanders into the house in search of food, sizes up the situation and immediately understands that she needs a protector, and they take to the road together. The freshness and pure beauty of their presences, the wordless exchange of emotions, the sudden shift into action and flight, make for one of the most beautiful entries into a movie that I know, and their physical and emotional journey—they meet up with a pack of potentially dangerous hobos led by Wallace Beery—is rough and vivid and lyrical. There is a real kinship with certain Jean Renoir films from the 30s, Toni and The Lower Depths in particular, albeit in a bright, brash American key. It's interesting to note that both Wellman and Renoir were flyers in the First World War.
In the 40s, Wellman made one of the very few films about war that really feels like it was made by someone who went to war. The Story of G.I. Joe, based on the frontline dispatches of war correspondent Ernie Pyle, portrays the camaraderie and above all the fatigue of war so beautifully and eloquently. Like Beggars of Life, but in a far more sombre key, it pulses with life. And it brings to mind a point that many people have made over the years about the directors who began in the silent era, and that I think bears repeating. In 1978, Scott Eyman interviewed Wellman, and he asked him about how one learns to become a movie director. Wellman gives him an answer that's as true in its aim as one of his best movies: "You have to learn how to live before you learn how to direct."
- Kent Jones
Follow us on Instagram, and Twitter!

BEGGARS OF LIFE (1928, d. William Wellman)
Restored by the George Eastman Museum with funding provided by The Film Foundation.
THE STORY OF G.I. JOE (1945, d. William Wellman)
Restored by the Academy Film Archive with funding provided by the Hollywood Foreign Press Association and The Film Foundation.
The Film Foundation
---