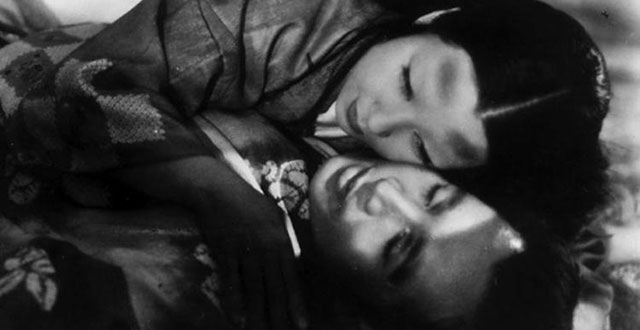 COMMEMORATING 30 YEARS OF TFF
10/07/2020
There are certain films that I love and go back to often. There are others I love just as much but that I return to less frequently, because they are so potent and carry such distilled force that they reverberate over long periods of time. Kenji Mizoguchi made four or five of them.
Back in the 70s, when I finally managed to see some of Mizoguchi's films for the first time—I don't remember the circumstances—the prints and the broadcast masters were several generations and multiple splices away from the unearthly delicacy of the original prints. I've always believed that a film's greatness is encoded in every element of its expressive identity and is transmitted under even the most compromised conditions. I experienced this when I saw Ugetsu Monogatari for the first time. The visual scheme was violently degraded, but the film itself was there. It took many years and the advent of digital technology before Ugetsu could be properly restored. The work was done in 2016 by The Film Foundation and Kadokawa Corporation at Cineric Lab, with funding from the HFPA. Now, we really have the whole film as Mizoguchi and his DP Kazuo Miyagawa and production designer Masatsutu Hashimoto envisioned it.
Ugetsu, adapted from two of Akinari Ueda's tales (and Maupassant's "Décoré!), is set at an indeterminate point in the Sengoku era, when civil war and strife were constant throughout Japan. But the story—of a potter (Masayuki Mori), separated from his wife (Kinuyo Tanaka) and child, who pursues a fantasy of wealth and ultimate happiness with a wealthy woman (Machiko Kyo) an unsettled spirit—is about longing: the longing to escape reality; the even greater longing to slice through the curtain of illusion and return to reality; and the deepest longing, to summon what has been squandered and destroyed back into being. Mizoguchi carefully dramatizes and visualizes the allure of the unreal and the truth of its insubstantiality and evanescence, the hard facts of cruelty and the random exercise of power, and the sober peace after conflict's end, when everyone must simply go on. Ugetsu Monogatari incarnates so much of human experience and folly and wisdom, and it is one of the most shattering of the many great films made in the aftermath of WWII, films that delineated a way of compassion, mercy and clarity but that remained mindful of intolerance and lust for power.
And right now, in early October 2020, the words spoken by the wife's benign spirit from her burial mound to her grieving husband and child resonate, so hauntingly: "Your delusion has come to an end. You are again your true self, in the place where you belong."
- Kent Jones
Follow us on Facebook, Instagram, and Twitter!
UGETSU (1953, d. Kenji Mizoguchi)
Restored by The Film Foundation and KADOKAWA Corporation at Cineric Laboratories in New York. Special thanks to Masahiro Miyajima and Martin Scorsese for their consultation on this restoration. Restoration funding provided by the Hollywood Foreign Press Association in association with The Film Foundation and KADOKAWA Corporation.
The Film Foundation
---