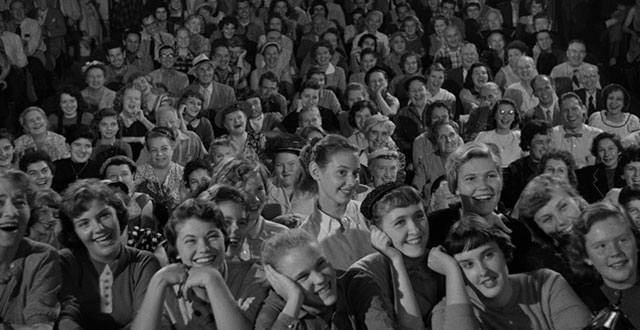 COMMEMORATING 30 YEARS OF TFF
10/14/2020
For decades now, there has been a stream of citations and lengthy magazine articles on the topical relevance of A Face in the Crowd, Elia Kazan and Budd Schulberg's 1957 follow-up to On the Waterfront. I can't recall a moment in the last 30 years that this film, about the meteoric media-fueled rise of a folksy southern guitar-playing "personality" named Lonesome Rhodes (Andy Griffith in his film debut), hasn't been deemed "prescient." The crux of the matter is the clear link that Kazan and Schulberg drew between commercially driven mass media popularity and political power, five years before Daniel Boorstin's book The Image: A Guide to Pseudo-Events in America, 7 years before Marshall McLuhan's Understanding Media and 11 years before Joe McGinnis's The Selling of the President. In 1976, when Ronald Reagan took his first shot at the presidency, public perception hadn't quite caught up: the idea of a former movie star turned commander-in-chief still seemed borderline outlandish to many people. After 1980, there were calls for Gregory Peck to run for president (a role he wound up playing in a crazy mid-80s film called Amazing Grace and Chuck). Now, we all have the language of "imaging," "branding," "messaging," "talking points" and "online communities" shoved at us at all times from multiple directions. Many people seem to be caught between embracing the figures that are the savviest at manipulating the tools of image promotion and the ones who appear to cut through it all and speak directly.
Under the current circumstances, A Face in the Crowd, restored by UCLA in collaboration with The Film Foundation, still seems prescient. But now, it's the terrible sadness of megalomania that resonates, the bottomless longing for love, validation and acclimation. I look forward to the moment when this film is no longer politically relevant. And what has always burned most brightly is the element that Kazan prized the most: the relationship between Patricia Neal and Andy Griffith. Because at its core, A Face in the Crowd is the story of a woman who is drawn to and soon betrayed and finally horrified by her own creation.
- Kent Jones
Follow us on Instagram, and Twitter!
A FACE IN THE CROWD (1957, d. Elia Kazan)
Restored by UCLA Film & Television Archive in cooperation with Castle Hill Productions, Inc. with funding provided by the Hollywood Foreign Press Association and The Film Foundation.

ON THE WATERFRONT (1954, d. Elia Kazan)
Preserved by The Museum of Modern Art with finding provided by The Film Foundation.

The Film Foundation
---