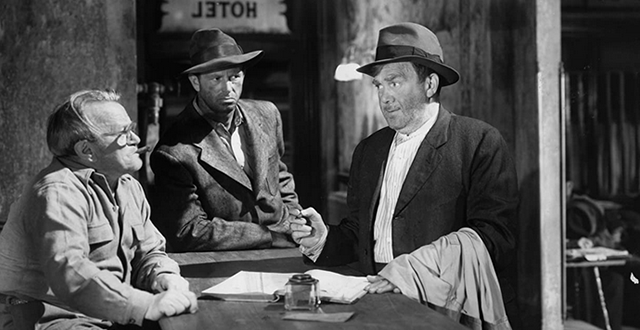 NOTES ON FILM & RESTORATION
01/20/2021
1:20PM, January 20, 2021
The 1951 film Journey into Light was independently produced by Joseph Bernhard, who had run the Cinecolor Corporation and United States Pictures, a production division at Warner Brothers, with Milton Sperling. Before his death in 1954, Bernhard was involved in some interesting films, including Cloak and Dagger by Fritz Lang and Japanese War Bride and Ruby Gentry, both directed by King Vidor. Journey into Light, the story of a minister from a small New York town (Sterling Hayden) who hits rock bottom after his wife commits suicide and finds redemption at a mission in Los Angeles, was largely shot on actual locations on Skid Row. Weegee was hired as a technical consultant—according to an item about the production in The Hollywood Reporter, he had "recently made an 11-state tour of skid rows and strip joints." The film, which was photochecmically restored by UCLA, is a spiritual melodrama that plays out in raw reality. Ongoing reality also intruded on the production, which had to shut down when Hayden flew to Washington to appear before HUAC as a friendly witness, an act that haunted him to the end of his days.
I will admit that I chose the film to write about today because of its title.
It is very common to be blasé and hopeless about politics in America. Even now. But no one who has lived through the last four years can honestly say that this day doesn't represent a sea change. Maybe some people took the inauguration ceremony a couple of hours ago for granted. Speaking for myself, the demonstration of comity, humility and good will moved me to tears. And to see it happening at the Capitol, which was stormed, ransacked, desecrated and turned into a battlefield only two weeks ago today, was overwhelming.
A journey into light.
- Kent Jones
Follow us on Instagram, and Twitter!

JOURNEY INTO LIGHT (1951, d. Stuart Heisler)
Restored by the UCLA Film & Television Archive. Restoration funding provided by the Hollywood Foreign Press Association and The Film Foundation.
The Film Foundation
---