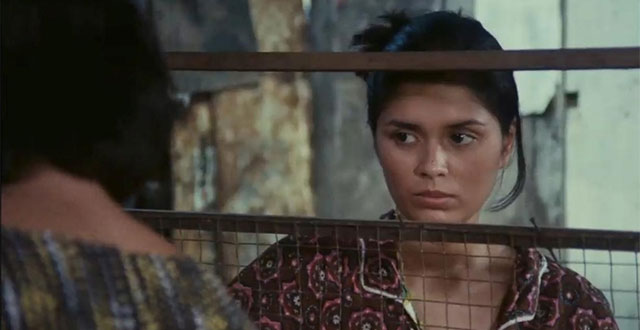 Sex as a Weapon: Revisiting Lino Brocka's 'Insiang,' 40 years later
Don Jaucian 09/27/2016
Manila (CNN Philippines Life) — Cinematheque Centre Manila recently held a five-day retrospective on the National Artist for Film Lino Brocka, called "Lino Brocka: Citizen with a Movie Camera." Aside from screenings of three restored films, "Insiang," "Maynila sa Kuko ng Liwanag," and "White Slavery," an exhibit was also held featuring photographs of the director, a talk given by Martial Law survivors, and a culminating symposium with the director's brother, Danilo.
Brocka is known for his gripping takes on the lives of the overlooked and marginalized sectors of society: blue collar workers, prostitutes, bar dancers, security guards, and slum dwellers. During the Martial Law era, Brocka was actively depicting the state of the nation in his films, working on both commercial and arthouse films that spark conversations about what being a Filipino is. Here, we spotlight "Insiang," which has the distinction of being the first Filipino film at the Cannes Film Festival in 1978. It was later restored in 2015 and was screened at the Cannes Classics section of the film festival in the same year, along with other restored classics such as Orson Welles's "Citizen Kane," Carol Reed's "The Third Man," and Louis Malle's "Elevator to the Gallows." The restoration was done in partnership with the National Film Archives of the Philippines, the Film Development Council of the Philippines, and Martin Scorsese's World Cinema Project/The Film Foundation.
The world of "Insiang" is as much bewildering as it is suffocating: the makeshift shelters of the slums are put together in a claustrophobic and inescapable fashion. What unfolds before our eyes is an environment too unhindered — a wild beast that grows limbs on its own and swallows the weakest. Houses are stacked beside each other; drunks pass the time in storefronts, beaten down by their own economic constraints; and noise is a constant presence, a reminder that hell can be a place on earth as it is a mythical afterlife full of torture and misery.
And yet, "Insiang" almost plays like a macabre fairy tale: a supposed victim learns how to stand up on her own using cunning tricks to bring the downfall of her oppressors. It helps that Insiang (a gripping performance by Hilda Koronel) appears saint-like: toiling every day to make ends meet, defending her relatives against her mother's frequent verbal abuse, a virginal lover to Bebot (a cherubic Rez Cortez), her only hope to having a life outside the four walls of her home. Insiang's fate is a dead-end street, this she knows as much as the miserable existence she has been consigned to, and in time, she realizes that the only way to survive is to become a monster herself.
The film's lone tyrant is Insiang's mother, the customary evil witch, with a predatory macho man as her right hand. Brocka's distrust of the regime is apparent in the film's setting. The police, counting a brief appearance in the film, is useless. There is no sense of order around these parts, no semblance of a country being governed. No wonder then First Lady Imelda Marcos was against sending the film to the 1978 Cannes Film Festival since it didn't depict her idea of "the true and the beautiful" Philippines. The film's producer, Ruby Tiong Tan, recalled to the Film Development Council of the Philippines (FDCP) the struggle to bring "Insiang" out of the country in time for the film festival's deadline. "Because of the social realities depicted in the film, they [the Board of Censors] did not want it to go to Cannes. It was banned because it wasn't showing the beautiful parts of Manila. They delayed the censoring process just so that it wouldn't make it for the Cannes deadline."
The much-talked about opening scene is a thinly veiled depiction of the plight of the Filipinos under the Martial Law regime: a line of pigs waiting to be slaughtered by the butcher, thrown into boiling water so they can easily be skinned, their squeals of pain echoing inside the theater. Insiang is almost always framed against a window, a prisoner tightly guarded by her crone of a mother, Tonya (the superb Mona Lisa) who only wants her to stay at home, do the laundry, and not lock eyes with any guy on the street. Her mother treats her like a disgraceful reminder of her father, who left them for another woman. "Pareho kayo ng tatay mo! Mahilig!" she yells at Insiang. Tonya tells her daughter it is her duty to serve and work for her because she fed and raised her. And when Insiang buys a new pair of slippers because her old ones are worn out, her mother berates her "Nakakahiya! Ang sabihin mo nagpapaganda ka para mapansin ka ng mga lalake!"
Sex is a valuable weapon in this film, a lethal ammunition that Insiang learns to wield on her own. Tonya's younger lover Dado (Ruel Vernal), the town thug, keeps her on a leash by habitually satisfying her sexual appetite, even flirting and canoodling in front of Insiang as if to tease her of something she can never have.
Men in this film justify their libidinal tendencies frequently, that part of being a man is submitting, seemingly against their will, to their carnal desires every time they see a girl walking past. "Lalake ako eh? Ano magagawa ko?" Bebot tells Insiang after she refused to have sex with him. Later, after Insiang repeatedly brushed off his advances, Dado rapes her. When Insiang tells her mother, Dado turns things around and tells Tonya that Insiang was the one who seduced her. He tells Tonya, "Alam mo ba kung ano ang ginagawa ng anak mo kapag wala ka dito? Naliligo ng nakahubad! Nakatihaya sa kwarto! Lalake lang ako Tonya, sinong hindi ma-de-demonyo?"
A drum spilling with water mirrors the pent up emotions inside Insiang. The sexual maladies, the torment of living, and the Machiavellian manipulations of her own mother lead her to a path that is both self-actualizing and self-destructive. In the end, Insiang triumphs, yet she is transformed, overwrought by her own infernal machinations. The innocent, like a lamb to the slaughter, is a prey easily corrupted. "Insiang" is allegorical in many ways, something that still rings true today, almost 40 years later, as our own society is still plagued by tyrannical forces bent on overpowering the weak and the poor.
CNN Philippines
---
News Archive
2021
2020
2019
2018
2017
2016
2015
2014
2013
2012
2011
2010
2009
2008
2007
2006
2005
2004
2003
2002
2001
1999
1998
1995
1990
---
---
Back to News