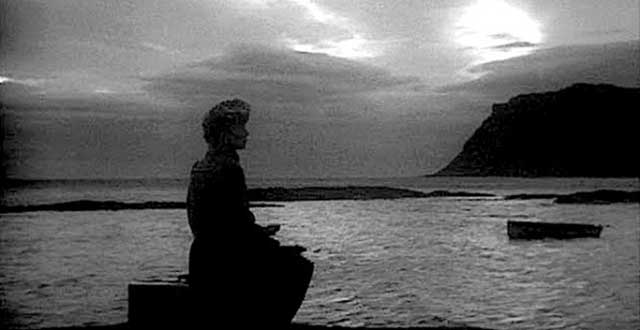 NOTES ON FILM & RESTORATION
07/23/2021
I cannot tell a lie: I Know Where I'm Going! is one of my favorite films. I'm far from alone. In the first volume of Michael Powell's autobiography, he recounts the Rank Organization's lack of enthusiasm for the film, and their fear that British audiences of 1945 would find the events of the story completely out of sync with the reality of the country at the time. The film was initially more successful in the United States than it was in Britain, but more importantly, it has become one of Powell and Pressburger's most beloved films over the years. We resort far too frequently to the language and the value system of mass popularity, which in the end has precisely nothing to do with why a film lasts. I Know Where I'm Going! has been taken to heart, one viewer at a time.
I find it a very wise film, in addition to being constantly surprising, hauntingly beautiful and as tonally varied and rich as all the great Archers films. In outline, Emeric Pressburger's story, of a woman who wants desperately to get to an island but who finally doesn't because her life has suddenly changed, is the stuff of American romantic comedy, not so different from The Awful Truth or The Philadelphia Story or It Happened One Night. But I Know Where I'm Going isn't a comedy, despite the fact that it is often very funny. Nor is it a melodrama, despite the hair-raising sequence in which its principal characters are almost swallowed up by the whirlpool known as Corryvreckan. Powell and Pressburger more or less invented their own particular genre. In their best films, all made in the shadow of war, every landscape is alive with history, myth, and physical beauty, and every gesture of every character is a vital response to the question: am I being true to myself? The dilemma of Wendy Hiller's Joan is comic, dramatic and existential, all at once.
Powell and Pressburger had envisioned Deborah Kerr in the role of Joan, but her tempestuous love affair with Powell had ended when he refused to go to join her in Hollywood and married someone else…so her casting wasn't possible. They wanted James Mason for the role of Torquil, but he was so difficult in negotiations that they dropped him. Part of the film's magic is the completely unconventional casting of Livesey and Hiller, neither of who was conventional "star material." In every scene they bring unexpected grace notes and intensities, and together they infuse the film with rich undertones and values that wouldn't have happened with the alternate casting.
I haven't seen the new restoration, years in the making, which I mentioned last week. It's the best reason imaginable for showing I Know Where I'm Going! again, and providing more opportunities for people to experience it for the first time and maybe take it to heart the way that I have, along with many of you who might be reading this.
- Kent Jones
Follow us on Instagram, and Twitter!
I KNOW WHERE I'M GOING! (1945, dirs. Michael Powell and Emeric Pressburger)
Restored by the BFI National Archive and The Film Foundation in association with ITV. Restoration funding provided by the Hobson/Lucas Family Foundation. Additional support provided by Matt Spick.
The Film Foundation
---