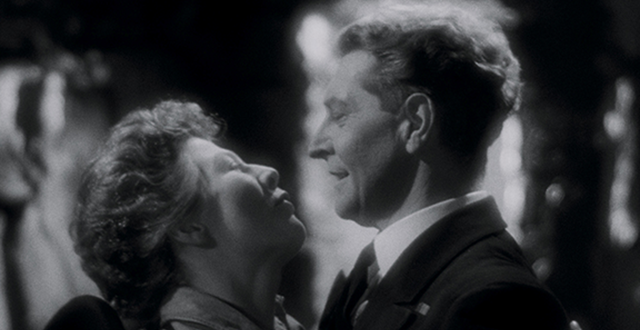 'IT'S ALL BEEN ARRANGED!'
 Michael J. Casey 05/05/2022

England, 1944: Michael Powell and Emeric Pressburger want to make a movie about an English bomber pilot and an American radio operator falling in love—in this world and the next. They envision a Technicolor fantasia unlike anything seen. The only problem is there's a war on, and color film stock is rationed. If they want to make a movie, it will be in black and white. What about? How about the story of a girl who wants to go to an island but can't, Pressburger offers. Why can't she, Powell asks. Well, Pressburger says, why don't we write it and find out?
The result is I Know Where I'm Going!, a singular work that is less a movie and more a gossamer dream captured on celluloid. Joan (Wendy Hiller, outstanding) is an ambitious young woman who always knows where she's going. Today, it's off to the Scottish island of Kiloran, where she'll marry Sir Robert Bellinger, a wealthy industrialist too old to fight at the front but not so old he can't make a killing funding it. Sir Bellinger never appears on screen, but it doesn't take a rocket scientist to know he is well beyond Joan in years and probably half as energetic.
The reason Sir Bellinger is never seen is because Joan fails to arrive. A terrific storm has settled between Kiloran and the Isle of Mull, where Joan is stranded. Lucky for her—but not so much for Sir Bellinger—Joan won't have to wait alone: The storm has also stranded Naval officer Torquil MacNeil (Roger Livsey, also outstanding) on Mull. And Torquil isn't well beyond Joan in years, and he's got the energy to match. Cue the fireworks.
Familiar as that might sound, I Know Where I'm Going!—IKWIG, pronounced ick-wig by Powell and Pressburger fans—is anything but. Few were enchanted by the magic of setting as was the English-born Powell, and fewer still were enchanted by English customs and language as was the Hungarian-born Pressburger. Known as The Archers, theirs is one of the most impressive and curious careers in cinema. They wrote, produced and directed 16 movies, a string of 6 in the '40s that still represent an artistic high-water mark few have touched. That they go in and out of fashion is one of the more baffling aspects of cinephilia.
IKWIG is more than a movie: It's a charge. Watching it makes you want to find happiness. When filmmaker Martin Scorsese encountered IKWIG in the '80s, it so moved him he had to seek out Powell. But the movie industry left Powell behind, and Scorsese found a forgotten genius working on his memoirs. So Scorsese reignited an appreciation for Powell and Pressburger's incomparable contributions to cinema, not to mention introducing Powell to his editor, Thelma Schoonmaker, who married Powell in 1984. Schoonmaker-Powell was pivotal in bringing her husband's memoirs to publication (A Life in Movies and Million Dollar Movie are among the greatest books on cinema you'll read) and is currently working on a book of Powell's correspondences while continuing to preserve and restore The Archers' films through The Film Foundation, Scorsese's ongoing charge to preserve and promote cinema worldwide.
Created in 1990, The Film Foundation has rescued and restored over 900 films. Many have played theatrically, and more are available for purchase, but now The Film Foundation is bringing them home via a free monthly series: The Restoration Screening Room. On the second Monday of every month, The Film Foundation offers a new restoration with an introduction and conversation shepherded by Scorsese. The series kicks off May 9 with IKWIG, and, naturally, Schoonmaker-Powell will join Scorsese along with director Joanna Hogg, actor Tilda Swinton and filmmaker and Pressburger's grandson, Kevin Macdonald.
For The Restoration Room's full lineup and screening sign-ups, visit delphiquest.com/film-foundation/restoration-screening-room
Boulder Weekly
---