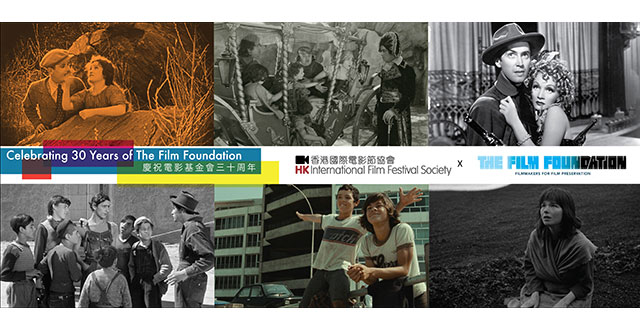 HKIFF to celebrate The Film Foundation's 30th anniversary with six rare cinematic gems
02/07/2020
The Hong Kong International Film Festival Society will celebrate the 30th anniversary of The Film Foundation by showcasing new restorations of six rarely-seen film classics in this year's festival.
Established in 1990 by Martin SCORSESE and other leading filmmakers, The Film Foundation is dedicated to protecting and preserving motion picture history. By working in partnership with archives and studios, the foundation has helped to restore over 850 films – including 40 films from 24 different countries through its renowned World Cinema Project – which are made accessible to the public through festivals, museums, and educational institutions around the world. The foundation's free educational curriculum, The Story of Movies, teaches young people - over 10 million to date - about film language and history.
"It is an honor to partner with The Film Foundation on the occasion of its 30th anniversary in bringing some of its most important works to the Hong Kong audiences," enthused HKIFF Director of Programming Geoffrey WONG.
"The six hidden gems in this special tribute, ranging from silent classics, Hollywood Western comedy, to Mexican and Brazilian neo-social realism, have all been restored to their full glory with The Film Foundation's support. They also highlight the foundation's mission in championing film heritage and rich diversity in world cinema."
"I'm thrilled that such an exciting selection of restorations supported by The Film Foundation are screening at this year's Hong Kong International Film Festival. These six titles represent the diverse range of films the foundation has helped restore over the past three decades. Spanning every era, genre, and region, the hundreds of films restored show the rich history of cinema and the universality of the art of film. From Pixote and Los Olvidados to Rosita and The Broken Butterfly, all are rare works created by master filmmakers. This year in particular, during our 30th anniversary, we're thrilled to partner with the Hong Kong International Film Festival and thank them for their devotion to film culture and commitment to the foundation's work," said Martin SCORSESE, the founder and chair of The Film Foundation.
The most-anticipated work in the programme is The Broken Butterfly (1919), pioneering French director Maurice TOURNEUR's silent American classic, which the public has not seen for a century. This poignant romance amply demonstrates why TOURNEUR's mastery of stylized lighting, set design and atmosphere had left such a lasting influence on the Hollywood screen.
Invited to work in Hollywood by the legendary Mary PICKFORD, German maestro Ernst LUBITSCH created a signature cinematic style – known as the Lubitsch Touch, and his first American production, Rosita (1923), is often hailed as one of the most beautifully made silent films. Priming his iconic western with slapstick, wisecracks, and action in Destry Rides Again (1939), Hollywood veteran George MARSHALL subverted the genre in an amusing gender role reversal, anchored by flawless performances by James STEWART and Marlene DIETRICH.
Regarded as a masterpiece of Latin American cinema, Los Olvidados (1950) earned Spanish master Luis BUÑUEL a Best Director kudo at Cannes for his raw and ruthless vision of juvenile crime in a Mexico City slum, steadfast in its realism, yet operatic in its tragedy with flourishes of surreal, transcendental insight in a stunning dream sequence. The film inspired Hector BABENCO whose Pixote (1980) similarly shows the unbearably harsh lives of abandoned children in Sao Paulo in realistic yet shockingly lyrical images that express the texture of everyday brutality.
American director Nietzchka KEENE drew her inspiration from a Brothers Grimm fairy tale and transformed it into The Juniper Tree (1990), an ethereal psychological horror film shot against the backdrop of Iceland's stunning landscape and starring Björk in her enchanting film debut.
WONG said the collaboration between HKIFFS and The Film Foundation would continue beyond this year's festival. "In addition to this special anniversary tribute, classics from The Film Foundation will regularly feature in our upcoming Cine Fan programmes," he said.
The Hong Kong International Film Festival, now in its 44th edition, will be held from 24 March to 6 April. The public can purchase tickets online (www.hkiff.org.hk) and through all URBTIX and HK Ticketing outlets starting from 13 March 2020.
Six classics from The Film Foundation:
1. The Broken Butterfly (1919)
Restored in 2019 by The Film Foundation at L'Immagine Ritrovata laboratory in association with La Fondation Jérôme Seydoux-Pathé. Restoration funding provided by Louis XIII Cognac.
2. Rosita (1923)
Restored by The Museum of Modern Art. Restoration funding provided by the Louis B. Mayer Foundation, RT Features, The Film Foundation and the Celeste Bartos Preservation Fund.
3. Destry Rides Again (1939)
Restored by Universal Pictures in collaboration with The Film Foundation. Special thanks to Martin Scorsese and Steven Spielberg for their consultation on this restoration.
4. Los Olvidados (1950)
Restored by The Film Foundation's World Cinema Project at L'Immagine Ritrovata in collaboration with Fundación Televisa, Televisa, Cineteca Nacional Mexico, and Filmoteca de la UNAM. Restoration funding provided by The Material World Foundation.
5. Pixote (1980)
Restored by The Film Foundation's World Cinema Project and Cineteca di Bologna at L'Immagine Ritrovata in association with HB Filmes, Cinemateca Brasileira, and JLS Facilitações Sonoras. Restoration funded by the George Lucas Family Foundation.
6. The Juniper Tree (1990)
Restored by the Wisconsin Center for Film and Theater Research and The Film Foundation, with funding provided by the George Lucas Family Foundation.
Press Release
---