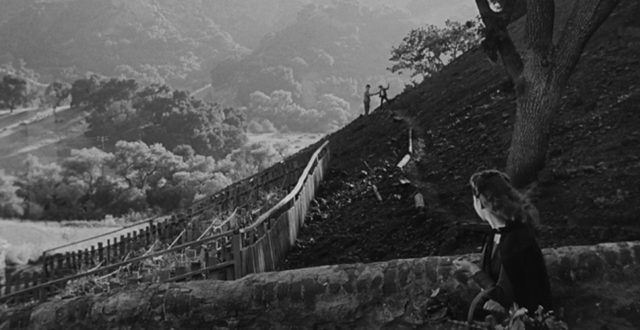 COMMEMORATING 30 YEARS OF TFF
08/12/2020
Watching movies with children is a clarifying experience. You can see and feel immediately what resonates and what doesn't. You're watching them watching the movie, and you're seeing it afresh through their eyes. A couple of posts back I mentioned watching Hitchcock films with my sons. They loved the clarity and the emotional complexity, and, of course, the beauty and the showmanship. They're both in their 20s now and Hitchcock has remained a constant. For my younger son, now 22, so has John Ford. Not all of Ford, but there are certain titles he's gone back to time and time again. How Green Was My Valley is one of them. He saw it for the first time when he was a teenager, and I was moved to see how deeply it affected him. A couple of years later we were out in LA for the TCM Film Festival. How Green Was My Valley was playing at the El Capitan, and Maureen O'Hara was there for a conversation with Robert Osborne. We had recently seen the film again, but he was very eager to go. It was a great experience—to sit in the balcony of that beautiful old movie palace on Hollywood Boulevard, to see the audience greeting every utterance from O'Hara with laughter and applause, and most of all to watch the film again with my son.
I hear the word "community" used so often now—used and misused. How often does one read about an effort to "create" a community? How many forums for the sharing of poisonous grievances are euphemistically referred to as "online communities?" Ford was an enormously complex 20th century American artist whose films embody and transmit many different and sometimes contradictory aspects of the culture, and I expect they will always be debated. But if there are two core elements of his artistry that make him an essential figure—for me, for my son, for filmmakers as various as Bergman and Godard, Welles and Kazan, Straub & Huillet and John Gianvito—they are his dynamism, a direct creative response to the cinema itself near its very beginning as an art form, and his aching desire and formidable ability to incarnate and dramatize both the power and the fragility of human fellowship, how it can endure and how it can fray and come undone with rancor, intolerance and the sadness of aging and loss. These elements are embodied in every single frame of How Green Was My Valley, painstakingly restored by the Academy and UCLA with the help of The Film Foundation.
- Kent Jones
Follow us on Facebook, Instagram, and Twitter!

HOW GREEN WAS MY VALLEY (1941, d. John Ford)
Preserved and restored by the Academy Film Archive and UCLA Film & Television Archive with support from The Film Foundation.
The Film Foundation
---