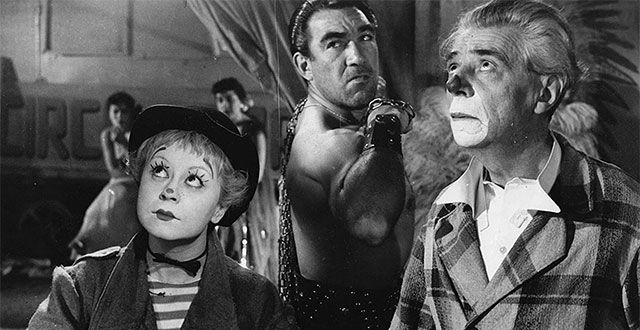 Out of the Vaults – "La Strada", 1954
Meher Tatna 10/08/2020
Federico Fellini is quoted as saying that "from a sentimental point of view" he was "most attached" to his film La Strada. He told writer Edward Murray in Ten Film Classics: A Re-Viewing: "I feel that it is my most representative film, the one that is the most autobiographical; for both personal and sentimental reasons because it is the film that I had the greatest trouble in realizing and that gave me the most difficulty when it came time to find a producer."
The script of La Strada, which Fellini wrote with Ennio Flaiano and Tullio Pinelli, was shopped to several producers, all of whom turned him down. Some of them objected to the casting of his wife, Giulietta Masina, in the female lead role of Gelsomina. Fellini had written the role for her, so he pressed on, eventually getting the financing from producers Dino De Laurentiis and Carlo Ponti. But Laurentiis wanted his wife, actress Silvana Mangano, as the leading lady. Fellini was unmoved. When shooting started, Masina had no signed contract.
At the time Fellini was trying to raise money, Masina was shooting a film in Rome and through her, Fellini met her co-star, Anthony Quinn, and immediately offered him the role of Zampano, the male lead. Quinn later said, "I thought he was a little bit crazy, and I told him I wasn't interested in the picture, but he kept hounding me for days."
When Roberto Rossellini and Ingrid Bergman showed him Fellini's I Vitelloni, he changed his mind. "I was thunderstruck by it," he said. "I told them the film was a masterpiece, and that the same director was the man who had been chasing me for weeks." He signed on. Richard Baseheart, an American actor based in Rome, was cast as the Fool, the third lead role in the film.
After filming had started, Masina, injured her ankle, and the production ground to a halt. According to Fellini's biographer Tullio Kezich in Fellini – His Life and Work, in the hiatus, De Laurentiis tried to make a move to replace Masina, but when Paramount executives saw the rushes of some scenes and were happy with Masina's work, he rushed a contract to her at a third of Quinn's salary. Quinn had decided to give up the offer of a percentage of the film's profits in lieu of a salary after his agent urged him to, a move that subsequently cost him millions.
Shooting commenced in the winter and the cast and crew, on a shoe-string budget, often slept in their clothes to keep warm. Snow was simulated with plaster on bedsheets. According to another biographer, John Baxter, in Fellini (The Biography), a free crowd of extras was gathered by shooting at a town celebration of a patron saint. Fellini told an assistant to shout out that Toto and Sophia Loren (who would later marry producer Ponti) were coming, keeping the 4,000-strong crowd in place. Shooting was also delayed when Fellini suffered a bout of clinical depression towards the end of production; he was treated by a Freudian psychoanalyst before he could resume work, according to the Kezich biography.
At that time in Italian cinema, films were shot without sound, the dialogue added in post. The Italian cast members spoke in Italian during filming and Quinn and Baseheart spoke in English. Fellini would also talk his actors through each take, instructing them where to go, where to turn, where to look, when to smile, etc. This is described in the Baxter biography in which Baxter comments that this was how Fellini could use actors from different countries by doing most of the acting for them.
At the time La Strada was made, documentary-style neorealistic films with amateur actors were popular in Italy, with working-class themes dealing with poverty and desperation following WWII. But Fellini had a distinctive style of directing that became his signature. In La Strada, his style is manifested in the circus atmosphere, the commedia dell'arte performances of some of his characters, the juxtaposition of highly stylized and realistic scenes, the symbolism of his landscapes, and the nostalgia for youth and innocence.
In the story, the brutish Zampano buys a young girl from her impoverished family for 10,000 lire to help him with his traveling carnival act on the road (la strada). Gelsomina, a simple-minded girl bangs a drum and blows a trumpet as Zampano breaks the chains that confine him as part of his act as a strongman. He beats her, rapes her, and treats her carelessly, yet she stays with him with a child-like devotion until they join a circus and she meets a tightrope walker, Il Matto or the Fool (Baseheart) who changes the trajectory of their relationship.
Fellini was fascinated with misfits and marginalized characters, but his are not the recognizable, naturalistic ones of the neorealistic films. There is a lightness and whimsy to Gelsomina, an innocence of spirit that the surly Zampano only breaks after much time passes, destroying the one person who would stay with him. Masina turns in an almost Chaplinesque performance, portraying Gelsomina with a childlike simplicity reminiscent of the Little Tramp. The Fool operates in a sphere of fantasy, pushing boundaries recklessly, defying life to come get him, and it does. Zampano, in his loutishness, does not even know he needs redemption till he hits the wall, his hardscrabble life sharpening his edges, so alien to love that he cannot recognize it.
An important part of the film was the score by Nino Rota, who became a long-time collaborator of Fellini's. Baxter writes, "Nino Rota presented him with a nameless tune, marked Tranquillo, on a single sheet of hand-ruled music paper. "Do you want this?" he asked off-handedly. The first recording alone of Gelsomina's plaintive trumpet theme sold two million copies."
La Strada had its premiere at the Venice Film Festival in 1954 where it won the Silver Lion. Unfortunately, Luchino Visconti, whose neorealistic Senso was also in competition, felt slighted and a riot broke out when Visconti's assistant, Franco Zeffirelli, disrupted Fellini's acceptance speech by blowing a whistle. Several prominent Italian critics were also dismissive of the film as it did not fit in the neorealist genre and reflect the times.
However, La Strada won more than 50 international awards, including the Oscar for Best Foreign Language film in 1957. The film became a huge financial success.
In an interview in 2013 with The Jesuit Review, Pope Francis said it was "the movie that perhaps I loved the most." And in a 1957 interview, Masina said she had received tons of letters from deserted women who told her of their husbands' return to them once they saw the film.
La Strada was restored in 1994 in 4K resolution by the Criterion Collection and Martin Scorsese's The Film Foundation at Cineteca di Bologna's L'Immagine Ritrovata laboratory from a 35mm dupe negative preserved by Beta Film GmbH. Restoration funding was provided by the Hollywood Foreign Press Association.
HFPA
---