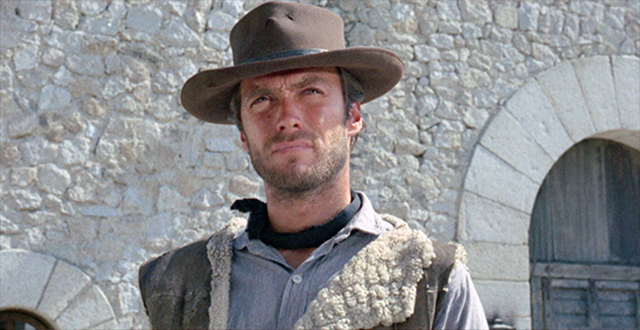 Out of the Vaults: "A Fistful of Dollars", 1964
Meher Tatna 09/01/2020
Henry Fonda. Charles Bronson. Jason Robards. Rory Calhoun. Richard Harrison. Luciano Stella. Philippe Leroy. James Coburn. Tony Russel. Henry Silva. Ty Hardin. These are all the actors who passed on the lead role in Sergio Leone's A Fistful of Dollars. Finally, a young actor on the TV show Rawhide was offered the part because he could ride a horse. Clint Eastwood took the role of the Man with No Name for $15,000. It made him a star.
In the story, a gunslinger rides into the town of San Miguel on the Mexican-US border. Two rival gangster families, one Mexican, one American, are locked in a power struggle, terrorizing the town. When a contingent of soldiers bearing gold to buy arms at the US border is waylaid and massacred by the Mexican clan, the Man gets involved, playing one side against the other for his fistful of dollars. That this man helps a beautiful victim escape her jailers shows a small chink in his armor – "I knew someone like you once," he tells her. But otherwise, this violent and amoral protagonist is only on his own side. Starring alongside Eastwood is Johnny Wels, German actress Marianne Koch (with one line of dialogue), W. Lukschy, Jose Calvo, S. Rupp, Antonio Prieto, Carol Brown, Benny Reeves, and Joe Edger.
Fistful was shot in Spain, mostly outside Madrid and in Almeria, in 8 weeks for $200,000. Leone had a distinctive visual directorial style of panoramic sweeps and carefully framed close-ups. Eastwood assembled his own costume – his black jeans came from a shop on Hollywood Boulevard, the hat from a shop in Santa Monica, and the trademark cigars from a shop in Beverly Hills. The poncho was bought in Spain. Leone did not speak English and Eastwood did not speak Italian, so they mostly communicated through Eastwood's stuntman Benito Stefanelli. The shoestring budget did not allow for fancy trailers. Eastwood said in an interview, "We had no electricity. We didn't have a trailer with a toilet. We just went out behind the rocks." All footage was shot silently, with dialogue and sound effects added later in post-production. Eastwood did not dub his own voice until the movie opened in the US in 1967. He was dubbed in Italian by Enrico Maria Salerno.
The "spaghetti western" was released in Italy in 1964. It was three years later that it screened in the US because of a lawsuit filed against the filmmakers by Akira Kurosawa for breach of copyright. He claimed that Fistful plagiarized his 1961 movie Yojimbo. And the plot did indeed bear striking resemblances. Kurosawa prevailed in the lawsuit and was awarded 15% of worldwide receipts plus exclusive distribution rights in some Far Eastern countries. He ended up making more money from this movie than from Yojimbo.
When it did open in the US, the director and a few cast and crew members gave themselves Anglicized names to broaden the appeal for this little-known genre. Leone called himself Bob Robertson. Gian Maria Volonte was Johnny Wels. Benito Stefanelli was Benny Reeves. Bruno Carotenuto was Carol Brown. Ennio Morricone, the composer, chose the name, Dan Savio. The title card in the movie is just Fistful of Dollars.
According to an interview Eastwood gave The Deseret News in 1990, he had no idea that a movie he read about in Variety called Per un Pugno di Dollari was a huge success in Europe. "Magnificent Stranger" was the title of his movie in production. He only realized it was his movie when he saw his name on it.
The film opened to mostly negative reviews in Italy, but admissions all over Europe made it a hit. When it opened in America, the critics were unkind as well. Philip French of the Observer had this to say: "The calculated sadism of the film would be offensive were it not for the neutralizing laughter aroused by the ludicrousness of the whole exercise. If one didn't know the actual provenance of the film, one would guess that it was a private movie made by a group of rich European Western fans at a dude ranch... A Fistful of Dollars looks awful, has a flat dead soundtrack, and is totally devoid of human feeling." But again, audiences voted with their wallets and the film earned $14.5 million, including the take from its re-release in 1969.
Two sequels of sorts, For a Few Dollars More and The Good, the Bad and the Ugly, were both released in 1967, again starring Eastwood and collectively known, with Fistful, as the 'Dollars Trilogy.' Fistful is now recognized as the film that revived the Western genre. In 1975, the film was shown on ABC TV with a 4 ½ minute prologue added to justify its violence. Written and directed by Monte Hellman, it featured Harry Dean Stanton, as a warden offering a prisoner a pardon if he cleaned up the gangs in San Miguel. Eastwood's face taken from archival footage represented the prisoner. This prologue preceded a few television screenings of the film and was subsequently removed. Fans can see it on the special edition DVD.
Funding for the 2014 restoration of the film was provided by the Hollywood Foreign Press Association and Martin Scorsese's The Film Foundation. It was restored by Cineteca di Bologna and Unidis Jolly Film at L'Immagine Ritrovata laboratory, in association with MGM. The restoration was from the original Techniscope 2-perf camera negative deposited at the Cineteca di Bologna by Unidis Jolly Film. Cinematographer Ennio Guarnieri supervised the color correction using a 1965 Technicolor print as a reference. The music was remastered using original 35mm and 16mm magnetic soundtracks deposited at Deluxe in Los Angeles by MGM. The final mix included the remastered music, the 35mm, and 16mm music and effects magnetic soundtracks, and two English-language optical track negatives. Opening and closing titles were restored from a combined first-generation interpositive. DCPs (digital files) and a 35mm print of the restoration were created for screenings. While the title card 'Bob Robertson' had been replaced by Sergio Leone, the other pseudonyms were retained.
Fistful had its world restoration premiere at Cannes in 2014 hosted by Quentin Tarantino; its U.S. premiere at the Museum of Modern Art's "To Save and Project" Festival of Film Preservation, and a special screening as part of the HFPA's first Restoration Summit in 2019, at the downtown movie palace Theatre at the Ace Hotel in Los Angeles.
HFPA
---