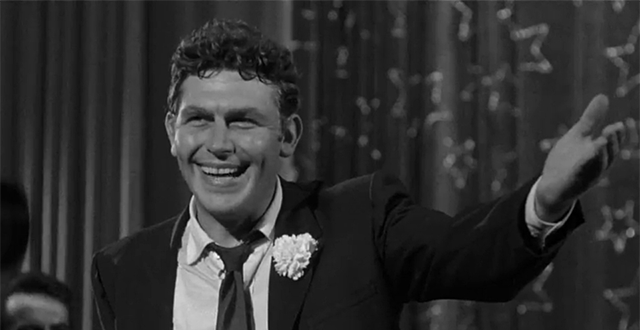 Out of the Vaults: "A Face in the Crowd", 1957
Meher Tatna 07/13/2020
A Face in the Crowd was the film Steven Spielberg selected to present at the film restoration event for the HFPA's 75th-anniversary celebrations at the Egyptian Theater in 2017. At our special screening, he called Elia Kazan's film "way ahead of its time" in depicting our obsession with celebrity and power "with the nightmare scenario of an Arkansas drifter who turns folk hero who turns demagogue." He continued: "The HFPA is passionately committed to the preservation of the art of cinema. As a Film Foundation board member and as one of its original founders, I want to express also on behalf of Mr. Scorsese back in New York, how grateful we are."
Our partner, The Film Foundation, worked with the UCLA Film & Television Archive to restore the film back to its original glory. Extensively damaged sections in the original picture negative were replaced with new dupes made from a 1957 fine-grain master, and the main titles were restored to eliminate unsteadiness. The sound was digitally restored from an original 1957 mixed magnetic track and from a print of the film's original optical track. UCLA and The Film Foundation produced a fully timed 35mm final answer print and 35mm preservation fine-grain master positive. It was preserved in cooperation with Castle Hill Productions from the original 35mm acetate picture and soundtrack negatives and from master magnetic soundtrack materials.
Seen in the current era of celebrity worship, when the concept of fame for being famous and the intertwining of politics and entertainment have produced, among other things, the Trump presidency, Kazan's film seems extraordinarily prescient. And being ahead of its time perhaps accounts for the fact it was not a huge success when it was released in 1957. After all, no one back then could have envisioned a businessman and reality TV host actually assuming the most powerful political office in the world. Even Kazan would have rejected this scenario for a movie as being too outlandish.
The movie is based on screenwriter Budd Schulberg's short story Your Arkansas Traveler and is the second collaboration between him and Kazan after 1954's On the Waterfront which won the Oscar for Best Picture. Patricia Neal plays Marcia Jeffries, a radio journalist who discovers a talented bum in an Arkansas jail and helps him get his own radio show. Andy Griffith, in his film debut, plays Lonesome Rhodes, the guitar-playing hayseed who goes on to such success on the radio that he segues into television and expands his fame and power with his aw-shucks charm and everyman persona. That persona conceals an ignorant but cunning and ambitious opportunist who takes advantage of his enormous influence to endorse a presidential candidate, Senator Worthington Fuller (Marshall Neilan). Fuller rapidly improves his standing with his ultra-rightwing agenda amplified by an increasingly out of control, arrogant Rhodes whom stardom has turned into a monster. When Marcia's rose-colored glasses finally slip, she engineers Rhodes' downfall. Anthony Franciosa plays his business manager; Walter Matthau is Marcia's show writer. Lee Remick, in her screen debut, plays a cheerleader. Kazan filled out the cast with real-life media personalities like Mike Wallace, Bennett Cerf, John Cameron Swayze, Betty Furness, Sam Levenson, Virginia Graham, and Walter Winchell in cameo roles.
The poster for the movie reads breathlessly – "POWER! He loved it! He took it raw in big gulpfuls ... he liked the taste, the way it mixed with the bourbon and the gin in his blood!"
Through the movie, it was Kazan and Schulberg's aim to critique the media and the public's lionizing of celebrity and to show how the great unwashed fall for a charlatan's lies. They particularly warned about unscrupulous persons using the power of television to manipulate the truth and delude the gullible.
In Kazan on Kazan by Michael Ciment, Kazan said of the film: "One of the points we wanted to make with the picture was the fantastic upward mobility in this country, the speed with which a man goes up and down. That we both knew well because we'd both been up and down a few times ... The thing that drove us was our belief in the theme, our anticipation of the power TV would have in the political life of the nation. 'Listen to what the candidate says,' we urged. 'Don't be taken in by his charm or his trust-inspiring personality.'"The Lonesome Rhodes character was based partly on Will Rogers and Arthur Godfrey.
Marlon Brando was offered the principal role and turned it down. Griffith was discovered by Kazan after he heard his comedy monologue records that were broadcast on southern radio to wide popularity. "He was the real native American country boy and that comes over in the picture," Kazan told Ciment. "I had him drunk all through the last big scene because it was the only way he could be violent – in life he wants to be friends with everybody."
The Blytheville Courier News of August 8, 1956 talks about the biggest location shoot that took place in Poplar Bluff, Missouri, standing in for the fictional town of Piggott where the county fair and baton-twirling competition scenes were filmed. "Five thousand extras were sought, to be fed and paid $1 hourly for a mid-August day's work. Sixty baton twirlers and musicians from six different high school bands were rounded up from Arkansas and Missouri. Remick reported spending two weeks in Piggott living with teen twirler Amanda Robinson and her family, working on her twirling and a local accent. Some of her baton-twirling scenes used a double. Some 380 dogs were assembled from Missouri and Arkansas for the scene following Rhodes's first mass-action call on his audience: to take their dogs to the home of a local sheriff who was running for higher office to find out if a candidate is worthy of the office of dog catcher."
The film was not that well-received upon release, critics being skeptical that television could have much impact on national politics. (It was only three years later that a sweating Richard Nixon lost a television debate, and the presidency, to John F. Kennedy.) One high-profile champion of the film at the time was François Truffaut who wrote in Cahiers du Cinema: "What is important is not its structure but its unassailable spirit, its power, and what I dare call its necessity. The usual fault with 'honest' films is their softness, timidity, and anesthetic neutrality. This film is passionate, exalted, fierce ... a great and beautiful work whose importance transcends the dimensions of a cinema review."
A Face in the Crowd was selected for preservation in the United States National Film Registry by the Library of Congress as culturally, historically, or aesthetically significant in 2008.
HFPA
---