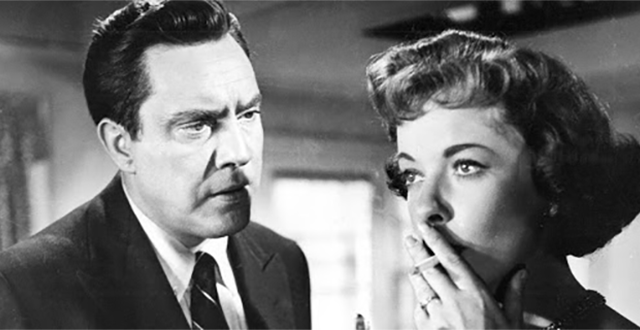 Out of the Vaults: "The Bigamist", 1953
Meher Tatna 08/24/2020
In an op-ed in the New York Times upon her death in 1955, Martin Scorsese wrote this about Ida Lupino: "I never met Ida Lupino, but I always wanted to. Her tough, emotional acting is well remembered, but her considerable accomplishments as a filmmaker are largely forgotten. She was a true pioneer; the six films she directed between 1949 and 1953 are remarkable chamber pieces that deal with challenging subjects in a clear, almost documentary fashion, and are a singular achievement in American cinema."
Star of 60 films and director of eight, Ida Lupino was a trailblazer in the studio era, writing and directing movies made by her own independent production company, The Filmakers (sic), which she set up with her second husband, Collier Young.
The Bigamist is her best-known work, a film noir movie – a genre of black and white dramas with an antihero protagonist, fast dialogue, and tawdry storylines. It starred Joan Fontaine, Lupino herself, Edmund Gwenn, and Edmond O'Brien. In a matter of art reflecting life, the screenwriter/producer was the aforementioned Collier who was now married to Fontaine after divorcing Lupino. It was the only film in which she directed herself. And possibly the only instance of a woman directing her ex-husband's current wife. Another echo of her own life: she was pregnant with third husband Howard Duff's child at the time of her divorce with Young, a storyline of The Bigamist.
Fontaine and O'Brien play a couple in San Francisco who want to adopt a child. He is a salesman for the company they run together and is forever on the road; she buries herself in work to forget her childlessness. During an investigation of their backgrounds, their adoption agent, played by Gwenn, finds out that O'Brien has been living a double life with a wife (Lupino) and child in Los Angeles. The storyline is simple. There are no subplots, no extraneous characters, no nudging the audience's feelings in a particular direction with a crashing score underlining bad behavior from a villain. The sensitive portrayal of a betrayer and lawbreaker by O'Brien engages the audience's sympathies in a way they don't see coming. From the start of the film to its ambiguous finish, it is a perceptively directed film dealing with an inflammatory subject that would have been handled very differently with a male director at that time. Even the poster falls short of the breathless headlines of film noir, stating simply: "Wanted by Two Women" above the credits.
A couple of interesting bits of trivia: in the story, O'Brien's character meets Lupino's on a bus tour of the stars' homes in Beverly Hills – Jack Benny's and Jimmy Stewart's homes on Roxbury Drive are pointed out by the bus driver, along with Edmund Gwenn's as the star of Miracle on 34th Street. And Lupino's landlady is played by Fontaine's mother, Lillian Fontaine.
In the press book of one of her earlier films, The Hitch-Hiker, Lupino said this of her work in a male-dominated world:
"I retain every feminine trait. Men prefer it that way. They're more co-operative if they see that fundamentally you are of the weaker sex even though you are in a position to give orders, which normally is the male prerogative, or so he likes to think, anyway. While I've encountered no resentment from the male of the species for intruding into their world, I give them no opportunity to think I've strayed where I don't belong. I assume no masculine characteristics, which can often be a fault of career women rubbing shoulders with their male counterparts, who become merely arrogant or authoritative."
The title of the article from which this quote is taken was "Ida Lupino Retains Her Femininity as Director." It's easy to see why she didn't want to threaten male directors with her ambition in an era where sexism was rampant in Hollywood and where it still exists, to an extent, to this day.
She wrote the following in an article in the DGA's magazine Action in 1967 entitled "Me, Mother Directress" in which she explained why she turned to directing:
"For about eighteen months back in the mid-Forties I could not get a job in pictures as an actress ... I was on suspension ... when you turned down something you were suspended ... I had to do something to fill up my time."
She was referring to her fight with Warner Bros. who tried to force her into films she didn't want to make, particularly with Humphrey Bogart who she couldn't stand after working with him in High Sierra.
Because of Scorsese's admiration for Lupino, The Bigamist was selected by him as one on a long list of must-restore movies. While it is now in the public domain, the restoration process was done by the UCLA Film & Television Archive in cooperation with Republic Pictures, with funding provided by The Film Foundation and the Hollywood Foreign Press Association. It was preserved in cooperation with Republic Pictures from the original 35mm acetate picture and soundtrack negatives.
The Bigamist was distributed by The Filmakers after RKO (owned by Howard Hughes), did not renew their distribution deal. The production company folded two years later as Lupino and Young couldn't afford to distribute their own films, lacking the financial wherewithal of the studios. The movie is included in the book "1001 Movies You Must See Before You Die" edited by Steven Schneider.
This would be the last film Lupino directed for more than 12 years. She made a career as a television director in her later years.
HFPA
---