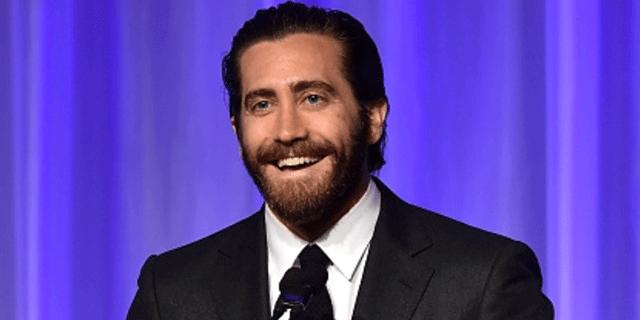 Gaga, Gyllenhaal, Fonda And Others Help Hollywood Foreign Press Assn. Give Away $2 Million And Kick Off Awards Season
Pete Hammond 08/14/2015
Hollywood Foreign Press Association's annual Grants Banquet, held Thursday night at the Beverly Wilshire, handed out more than $2 million to non-profit entertainment-related organizations and scholarship programs, and had some in the room proclaiming it as the unofficial start of the movie and television awards season.
The annual August event shows off the HFPA's philanthropic side but also allows a parade of stars — many of whom will have films or TV shows in the race for Golden Globes — to stand on stage accepting grants that make the organization look very good. Publicists like this kind of showcase in a room full of Globe voters and this year was no exception. In fact I am told the response from celebrities who wanted to be a part of the evening was bigger than ever, with some potential "accepters" having to be turned down. Among the possible awards contenders participating this year were Brie Larson (Room), Bryan Cranston (Trumbo), Jane Fonda (Youth), Emily Blunt and Benicio Del Toro (Sicario), Jake Gyllenhaal (Southpaw), Ice Cube and son O'Shea Jackson Jr. (Straight Outta Compton), Saoirse Ronan (Brooklyn), Sarah Silverman (I Smile Back), Allison Janney (Mom), Andrew Garfield (99 Homes), Elizabeth Banks (Pitch Perfect 2, Love And Mercy), Dakota Johnson (Black Mass) and on and on in a list that also included Halle Berry, Jon Hamm, Lady Gaga and Jamie Lee Curtis.
Curtis (star of the new series Scream Queens) opened the proceedings (after a song from Nick Jonas and greetings from new HFPA president Lorenzo Soria) by saying what a great time she was having. "This is fun. The Hollywood Foreign Press Association is slightly older than me. We've grown up together. We've matured, deepened, found our voice… This is a confluence of art and commerce, showoff business…We're going to give away f*****g two million dollars tonight," she exclaimed before accepting three grants for various children's charities including Childrens Hospital Of Los Angeles and St. Judes. Curtis also remembered the late Nadia Bronson, announcing a naming in her honor at the USC Annenberg School Of Public Relations. Berry announced she was going to turn 49 on Friday and accepted a grant for Film Aid and Global Girl Media.
Soria pointed out the HFPA has been handing out this money, cadged largely through proceeds from NBC's telecast of the Globe awards every January, for over two decades. "We have changed many lives. People say 'you do what with your money?' Well yes, we do," he said, adding that the contributions they have made — totaling nearly $20 million in the past — also have funded the restoration of 94 films and this year includes a donation to Los Angeles City College that will finance the Hollywood Foreign Press Association Center For Cinema and the Arts to be built on that campus.
Lady Gaga, looking great, came on to present grants to "the next generation of musicians and actors" including the Young Musicians Foundation and the Music Center Spotlight Program. HFPA members I spoke to seemed the most thrilled to have her at this party. But does she also possibly have a project this year that might be considered for Golden Globes later on? She is in the upcoming season of American Horror Story but it wasmovie speculation that was swirling (as it has on the Internet) that Gaga may be providing the next iconic theme song for a Bond film, and that would be for the upcoming November release SPECTRE. Hey, it worked out for Adele, who won an Oscar and a Globe for her Bond song Skyfall. Nothing has been announced yet so it was just idle rumor, but sometimes these events can offer clues in the awards game.
Fonda, so great in about just seven minutes on screen in the Fox Searchlight December release Youth, got laughs after accepting a grant to the Sundance Film Institute on behalf of her one time co-star and friend Robert Redford, when she introduced the next presenters Blunt and Del Toro, who appeared to be no-shows — leaving Fonda alone on stage to ad lib a well-pointed zinger at their expense: "Benicio looks unreliable, but Emily Blunt looks like she'd be on time. If she can stand up to Meryl Streep, she can make it to the podium when she is announced," Fonda said, referring to Blunt's most recent film with Streep, Into The Woods. Eventually the pair got there but completely stumbled through their presentation, unable to clearly read the prompter.
They weren't alone. Gyllenhaal tried to blunt the potential of his screwing up his acceptance of a $350,000 grant for the Film Foundation/UCLA Film & Television Archive, by declaring he is "legally blind without his contacts." Nevertheless he got through it, announcing that with the money there would be much needed restorations of La Strada, Jules And Jim and Hans Christian Anderson, which he said he recently watched with his three year old niece. Ice Cube and son, clearly riding high from the critical reception being enjoyed by Straight Outta Compton, joked that Universal originally wanted to title the film 50 Shades Of Dre before accepting grants on behalf of Ghetto Film School and Inner City Arts among others. U's high flying Donna Langley also made the scene, briefly circling the pre-banquet reception. Fox Searchlight's Nancy Utley was there too, as was Paramount's Rob Moore, whose studio is light on awards contenders this year (though Utley has the aforementioned Youth and Brooklyn).
Sony's Tom Rothman was another studio boss in attendance, continuing to tout to me the studio's upcoming The Walk, which will open the New York Film Festival. He seems higher on this film than the movie's subject Phillipe Petit was crossing a tightrope between the World Trade Center twin towers. "This movie is pure Robert Zemeckis at his best," he said.
Lionsgate's Patrick Wachsberger and Rob Friedman turned up as well to support Sicario, but I took the opportunity to congratulate Friedman on releasing the brilliant Aardman animated Shaun The Sheep Movie, which didn't exactly burn up the box office over the weekend, but should have. "It's done much better during the week," Friedman said. Hopefully the HFPA will give it an animated feature nomination.
New players in the awards game were also on hand, including execs from Broad Green Pictures and A24, which both hope to gain some traction this season.
Lots of awards talk in this room even in the middle of August, but Venice, Telluride and Toronto are just around the corner so maybe the HFPA really did just kick it all off.
Here is the complete list of organizations receiving the HFPA grants:
HIGHER EDUCATION FELLOWSHIPS & INSTITUTIONAL SUPPORT
California Institute for the Arts (CalArts) – $60,000
Cal State Fullerton Philanthropic Foundation – $15,000
Cal State Long Beach – $60,000
Cal State Los Angeles – $60,000
Cal State Northridge – $60,000
Columbia University – $60,000
Los Angeles City College – $25,000
Mt. San Antonio College Foundation – $5,000
New York University – $48,000
University of California, Los Angeles – $125,000
HFPA SCHOLARSHIP/FELLOWSHIP ENDOWMENTS
American Film Institute – $20,000
CalArts – $12,500
Cal State Fullerton – $5,000
Cal State Long Beach – $5,000
Cal State Los Angeles – $2,650
Cal State Northridge – $5,000
Columbia University – $20,000
Los Angeles City College – $4,000
Loyola Marymount – $20,000
Mt. San Antonio College Foundation – $5,000
New York University – $20,000
UCLA – $20,000
University of North Carolina – $5,000
University of Southern California – $20,000
USC Annenberg School of Journalism – $100,000 over 5 years
PROFESSIONAL TRAINING & MENTORING
Coalition of Asian Pacifics in Entertainment – $15,000
Film Independent, Project: Involve – $40,000
Independent Filmmaker Project (Brooklyn, NY) – $20,000
International Documentary Association – $10,000
Motion Picture & Television Fund – $10,000
New Filmmakers Los Angeles – $10,000
Screen Actors Guild Foundation – $10,000
Streetlights – $10,000
Women Make Movies – $10,000
Sundance Institute – $100,000
PRE-PROFESSIONAL TRAINING & EDUCATION
California State Summer School Arts Foundation – $25,000
Echo Park Film Center – $10,000
Ghetto Film School – $30,000
GlobalGirl Media – $10,000
Inner-City Arts (Downtown LA) – $30,000
Inner City Filmmakers (Santa Monica) – $30,000
Los Angeles County High School for the Arts – $25,000
Performing Arts Center of Los Angeles (Music Center) – $5,000
PRESERVE THE CULTURE & HISTORY OF FILM
The Film Foundation, Inc./UCLA Film & Television Archive – $350,000
Film Noir Foundation- $25,000
Outfest (UCLA LGBT project) – $35,000
PROMOTE CULTURAL EXCHANGE THROUGH FILM
American Cinematheque – $45,000
American Film Institute – $30,000
FilmAid International – $60,000
Latin American Cinemateca of Los Angeles – $10,000
Library Foundation of Los Angeles – $10,000
Museum of the Moving Image – $10,000
Los Angeles Conservancy – $35,000
Los Angeles County Museum of Art/Film – $125,000
San Francisco Silent Film Festival – $10,000
Toronto International Film Festival – $15,000
University of California, Berkeley Film Archive – $20,000
University of Illinois at Champaign-Urbana (Ebertfest) – $10,000
SPECIAL PROJECTS
Children's Hospital – $25,000
St. Jude – $5,000
Ensemble Studio Theatre – $15,000
Gingold Theatre Group/Shaw Festival – $10,000
Lollipop Theater Network – $20,000
Pablove Foundation – $7,500
Young Musicians Foundation – $10,000
Young Storytellers Foundation – $10,000
ONE TIME GRANTS
CalArts – $58,672
Exceptional Minds – $15,000
LAUSD/USC Arts & Engineering Magnet – $25,000
Deadline
---