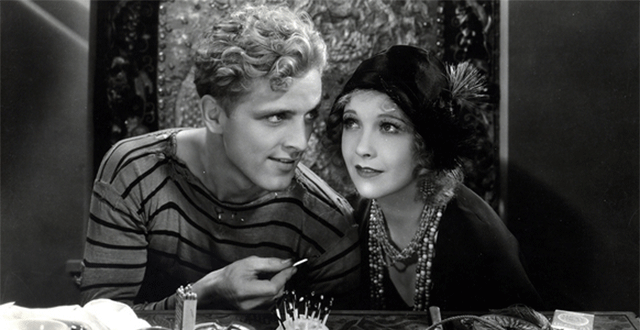 Cracking the Code
Nick Pinkerton 03/29/2016
IF YOU WERE TO DEVISE the platonic ideal of a pre-Code movie it would probably look quite a bit like Tay Garnett's 1930 barrelhouse melodrama Her Man, which transposes the "Frankie and Johnnie" story—then recently recorded to great acclaim by musician Jimmie Rodgers—to a blind tiger in Havana, where the dregs of all nations congregate and copulate.
While Film Forum programmer Bruce Goldstein has made pre-Code his bailiwick for years, the Museum of Modern Art gets to plant their flag on Her Man, which will be playing at Fifty-Third Street along with four other Garnett films and Chester Erskine and John H. Auer's 1936 Frankie and Johnnie, one of the last screen appearances of the troubled, wrenchingly emotive torch singer Helen Morgan.
Her Man establishes itself as something special from the opening credits—written in wet sand on the beach, with each "card" washed away by the surf—and within the first reel vaults into the sublime. After being turned away from US soil and hopes for a new life, tattered and used-up b-girl Annie (Marjorie Rambeau, in a performance that anticipates Susan Tyrell's Fat City souse) heads back to Havana. Her walk to her accustomed haunt, the Thalia, is recorded in a tracking shot which follows her down the teeming main drag of the pleasure district, ducking heedless horse carts and familiarly making her way through the rowdy, brawling polyglot masses literally tumbling out of every saloon door. The concert of casual gestural precision and individual detail that Garnett gets from his crowd scenes, here as throughout, is electrifying, while the fluidity of the camera movement and dense tapestry of sound give the lie to the persistent idea that cinema's transformation into an audio-visual art sent it back to the drawing board.
The real focus of the story isn't Annie, who soon settles back into a fog of blue ruin and self-pity, but one of her younger coworkers, Frankie (Helen Twelvetrees), who is handled by slickster pimp Johnnie (Ricardo Cortez), and has somehow retained a glimmer of goodness despite making her living picking pockets while batting her doll eyes at suckers and spoon-feeding them sob stories. The trouble begins when she levels her eyes at Dan Keefe (Phillips Holmes), an angelically handsome sailor on a stopover whose only possessions are a medal attesting to uncommon valor, a striped sweater that gradually disintegrates through the course of the movie, and a dream of clean living.
Moviegoers acquainted with the period will undoubtedly find some key elements of Her Man familiar. The setting and setup are reminiscent of Josef von Sternberg's The Docks of New York (1928); Dan and Frankie's rebirth before a church altar might very well have been cadged by Leo McCarey for his Love Affairnine years later; and the raucous, reckless shore-leave atmosphere is akin to that of Raoul Walsh's Sailor's Luck (1933)—though it should be said that Her Man deserves extra marks for sozzled sordidness, and the climactic barroom brawl contains back-breaking suicidal stuntwork of a sort rarely seen outside of 1980s Golden Harvest productions. And gourmands of period argot would be hard-pressed to find a more sumptuous spread, starting with Frankie's sisterly admonition "You got the heebies bad, grab yourself a coupla snorts."
The reappearance of Her Man was precipitated by the discovery of the original camera negative in the Library of Congress's Columbia Pictures collection—the 4K DCP playing MoMA is the result of a collaboration between Sony Pictures and the Film Foundation. To see the film in its original format in New York you'd have to have been around in 1967. In Andrew Sarris's The American Cinema, published the following year, the author, still fresh from seeing Cinémathèque Français loan prints of Her Man and The Spieler (1928), defined Garnett's personality as that of "a rowdy vaudevillian." To this I might add that he shows significant control in the midst of knockabout chaos, and that Her Man exhibits several resourceful examples of visual synecdoche, such as representing Annie's return to Havana entirely with shots of her legs and worn-down pumps, swabbed out of the way on the ship's deck like so much refuse.
Garnett was a former gag man for Hal Roach and Mack Sennett, and that pedigree is certainly more evident here than in what is his best-known work, the 1946 film of James M. Cain's The Postman Always Rings Twice. MoMA's program offers a selection of rare, lesser-known Garnett titles. Most of these come from the late 1920s and early '30s—including a single screening of The Spieler in the late afternoon on Thursday—with 1953's Main Street to Broadway an outlier. Outside of Her Man, the rest of the program is 35 mm: theMain Street print from the MoMA archive; The Spieler in what adjunct curator Dave Kehr describes as a "gorgeous" print from the Eastman Museum; and Celebrity (1928), "an on-the-fly 'restoration' composed of reels from two incomplete prints, one from MoMA and one from the Library of Congress." It's more Garnett than has been seen in one place in many moons, and if it's even still a thin slice to evaluate a fifty-year career on, there's no denying that Her Man is a rolling, heaving, helluva a good time—and that's on the level.
"Her Man: A Forgotten Masterwork in Context" runs March 29 to April 4 at the Museum of Modern Art in New York.
ARTFORUM
---