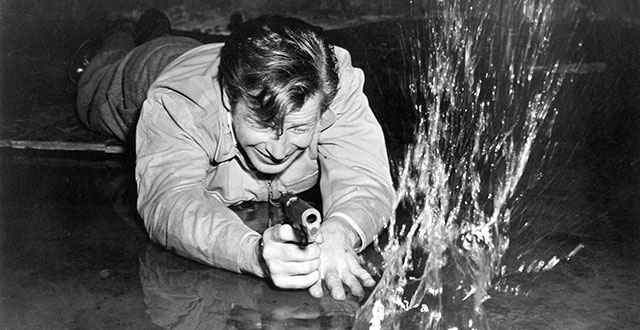 NOTES ON FILM & RESTORATION
11/29/2021
He Walked by Night is commonly cited as a "noir" classic, but when it was released in 1948 it was one of the more highly regarded examples of the semi-documentary (or "docudrama") subgenre that had its first glimmers at the end of the 30s (in Warner Brothers films like Confessions of a Nazi Spy) and flourished in the postwar years—Henry Hathaway's House on 92nd Street was something of a starting point. He Walked by Night was based on the notorious case of Erwin Walker, who worked as a radio operator and a dispatcher for the Glendale police before he was drafted and placed in the Signal Corps. He was stationed in the Philippines, and a horrifying incident resulting in the slaughter of many men in his command by Japanese paratroopers left him shattered. When he returned to LA, he started with burglary, stealing tools, weapons, radio equipment, film projectors, recording equipment and cameras, as well as pistols, revolvers and a Thompson sub-machine gun. He fitted out a rented garage as a private studio where he planned to build a radar gun that would melt metal and give him leverage with the government to increase the pay rate for conscripted soldiers and thus render all wars too ruinously expensive to undertake. When he tried to sell some of his stolen equipment to a sound engineer, he got into a gunfight, which left everyone wounded. Walker escaped through a network of storm drains and treated his own wounds. After another attempted holdup, Walker shot and killed a cop, who lived long enough to identify him.
Walker was apprehended and arrested after a violent struggle, but in the movie Richard Basehart's Roy Morgan is shot and killed in the storm drain tunnels. It's interesting to consider what was retained from the true story and what was left out—namely, everything related to Walker's war experience. Dramatically speaking, what was left was an enigma, made quite compelling by the ingeniousness and absolute commitment of Richard Basehart to the role and the film's severely concentrated visual style. He Walked by Night is credited to Alfred L. Werker, but every cinema lover knows that Anthony Mann took over the film at some indeterminate point. It's certainly not difficult to detect Mann's presence, but the overall visual unity comes from the DP, John Alton, beloved by directors like Mann (they made six films together), Vincente Minnelli (who specifically wanted and got Alton for the American in Paris ballet) and Richard Brooks, and despised by old-line studio technicians who resented his speed and his sometimes outrageous lighting plans. The visual power of He Walked by Night is so great that it shone through years of substandard public domain prints and video transfers. It was beautifully restored by TFF and UCLA in 2016, and can now be appreciated in all its splendor.
Two postscripts. 1 - Walker was found mentally competent, tried, convicted, sentenced to death, and then he tried to hang himself. His execution was indefinitely postponed, he became a model prisoner, he escaped and was re-captured, and he was granted parole in 1974, after which he changed his name, worked as a chemist, and died quietly in 1982. 2 – Jack Webb, who played a forensics expert in the film, was inspired by the project (specifically, by his meeting with LAPD officer and technical advisor Marty Wynn) to create Dragnet.
- Kent Jones
Follow us on Instagram, and Twitter!
HE WALKED BY NIGHT (1948, dirs. Alfred Werker and Anthony Mann)
Restored by the UCLA Film & Television Archive and The Film Foundation, with funding provided by the Hobson/Lucas Family Foundation.
The Film Foundation
---