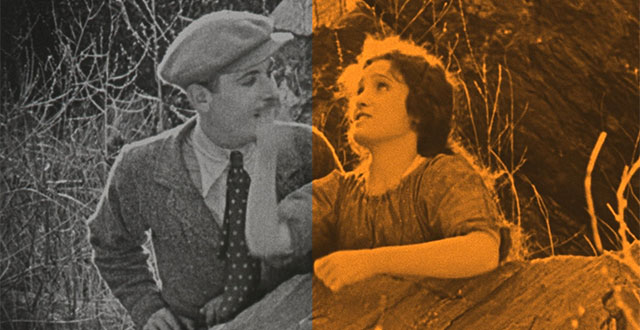 How Louis XIII and Martin Scorsese saved a century-old film
Thomas Barrie 11/06/2019
The cognac brand has partnered with Scorsese's Film Foundation and the director Joanna Hogg to restore a classic silent film first released in 1919
If you were a keen film-goer in the US in 1919, you almost definitely would have enjoyed The Miracle Man, a silent Paramount production eight reels long that told the story of four confidence tricksters who use faith healing to try to swindle a small Massachusetts town and which became the most popular of the year (it made more than twice its nearest competitor). Or, you might have bought a ticket for DW Griffith's Broken Blossoms, perhaps based on the reception of his (highly controversial, even then) The Birth Of A Nation four years earlier, the film widely regarded as rehabilitating the image of the Ku Klux Klan. And you might also have seen The Broken Butterfly, a film by French director Maurice Tourneur that follows the tragic love story between a young woman who becomes the muse of a composer, plus his tribulations after she drowns herself in a river alongside their lovechild – or does she?
Statistically, it's very likely you would have seen all three. Weekly cinema attendance in the mid-Twenties hovered around 50 million, rising to 90 million by the end of the decade, when the entire US population was only about 115 million. And yet, a hundred years later, a staggering 90 per cent of silent films – including The Miracle Man – are lost or damaged beyond repair, as are 50 per cent of films made before 1950.
It was this sad fact that spurred famous cinephile Martin Scorsese to found The Film Foundation (TFF) in 1990, a charity that restores and preserves vintage films and educates schoolchildren on their importance. And this week, in association with the iconic cognac brand Louis XIII, TFF held the first ever UK screening of a restored version of Tourneur's The Broken Butterfly at London's British Film Institute on the South Bank.
The Broken Butterfly, before and after restoration

The partnership didn't spring from nothing; Louis XIII global executive director Ludovic du Plessis first encountered Scorsese during publicity for 100 Years, a 2015 film that the brand commissioned in order to lock it away ahead of its release in the year 2115 (ie, a century after production). The concept was a nod to Louis XIII's own brand heritage: the cognac is made using the most precious eaux de vie – doubly distilled wines – and each decanter is the life achievement of generations of cellar masters. When Scorsese came across 100 Years, he was impressed, but raised a valid question: as well as looking a century into the future, why not look to the past? Du Plessis agreed and Louis XIII decided to fund the restoration of a film from 1919. The Broken Butterfly was the result.
At the screening in London, the British director and TFF board member Joanna Hogg spoke about the importance of preserving films from the past, comparing the routine loss of early silent classics to the (unthinkable) inability to read a copy of War And Peace, or to allow a Caravaggio in need of restoration to rot away. Hogg also spoke to GQ about her involvement with Scorsese and TFF, whose board she joined "about a month ago". The two directors first met in 2014, after Scorsese saw her second film, Archipelago, and bonded over an interest in old films, says Hogg, "which include Michael Powell and British cinema of the Thirties and Forties". "On one visit to his house I went away clutching a DVD of Night Of The Demon [a classic British horror film from 1957 directed by Jacques Tourneur, son of Maurice Tourneur of The Broken Butterfly] and the short stories of MR James, after a discussion about ghost films and what film I should make next."
Ludovic du Plessis and Joanna Hogg toast at the BFI

In talking to Scorsese, who executive produced The Souvenir, Hogg's most recent film, she also realised that she wasn't taking enough care to digitally preserve her own films. The Rehearsal, which she shot on black-and-white 16mm film stock in 1985, only existed in rushes on a VHS tape; Hogg had allowed her film school to destroy the other copies. "I don't like to watch my films after I've finished making them," Hogg notes, "making it easy to ignore what happens to them in the future. However, I realise, whatever I think now, I must respect other people may want to view the work in the future." It's a sentiment echoed by Du Plessis. "It's about heritage, transmission and asking, 'How do we make sure that what we do today will be there in the next century?'" he says of the similarities between making Louis XIII and The Film Foundation's preservation efforts. "Time is our raw material."
At the screening of The Broken Butterfly, Hogg also echoed some of Scorsese's recent qualms about the state of modern cinema, describing it as increasingly "homogenous" and questioning whether she would be able to produce the sort of socially realistic, low-budget character studies that she has mastered over more than a decade. Scorsese, for his part, has described the Marvel movies that have dominated the box office for the past decade as "theme parks" and penned a New York Times op-ed in which he doubled down on his stance that we risk losing the confusing, human side of the medium in favour of easy, formulaic blockbusters that take no creative risks.
So for Hogg, the work that The Film Foundation is doing with Louis XIII is essential. All films – not just the most popular ten per cent – should be preserved. "Whatever we think of our work now," she says, "we should allow future generations to be the judge. How can we know which films will be the ones to be cherished and watched in the future?"
GQ
---