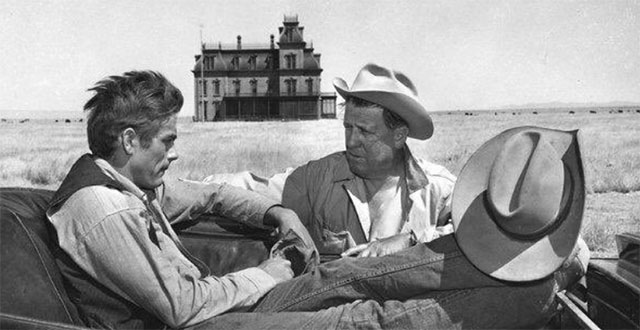 NOTES ON FILM & RESTORATION
04/22/2022
Before the outbreak of WWII, George Stevens had already developed into a great filmmaker, a comic master with a lyrical visual sense and an extraordinary sensitivity to changing moods within relationships, one shading into or delicately layering over the next. During the war, Stevens led a Signal Corps film unit through enormous swaths of the European theater—they were present at D-Day, the Battle of the Bulge and the liberation of Dachau. In 1974, when Joseph McBride and Patrick McGilligan asked Stevens how he thought his experience of the war had affected his films, he answered: "It causes a most profound adjustment in your thinking. I don't suppose I was ever too hilarious again." He was, after the war, on every possible level, a different kind of filmmaker.
Stevens did indeed set aside humor, but his sensitivity to human affairs only deepened. He shifted to an epic canvas, partly as a way of adapting to changing conditions in Hollywood and the "threat" of television, but more importantly because it afforded him a kind of double perspective. In A Place in the Sun, Shane and Giant, Stevens chose narratives in which contentment and melancholy, fulfillment and tragedy, freedom and entrenched exploitation, abundance of space and human immediacy, communal cooperation and the violent exercise of power always go hand in hand, one always shadowing the other. The many dramatic shifts in scale in those films and the frequent use of the optically-achieved long dissolve as a transitional device embody Stevens' wider perspective on ever-changing reality. At the level of artistry, spectacle and emotional and thematic complexity, Giant is a peak moment in American cinema.
In 1995, Giant had its first photo-chemical restoration. A vastly improved digital restoration led to the creation of an HD master in 2013. In the decade since, technological developments have led to vastly expanding possibilities in film restoration, which have made the glorious, painstakingly achieved 4K restoration done by Daphne Dentz and Bob Bailey and their team at Warner Bros. possible (the restoration was supported by The Film Foundation and Turner Classic Movies). The restoration will have its big screen premiere tonight as a highlight of the TCM Film Festival (happily in person once again after two years in virtual limbo). Appropriately, the screening will take place on one of the biggest screens left in the country, the TCL Chinese Theater on Hollywood Boulevard.
"We actually over-sample," said Bailey when I talked with him and Dentz the other day. "We scan on a device that does 6K scanning, 16-bit. We did that to the YCMs (yellow, cyan and magenta separation masters) and the OCN (original camera negative)—which has faded, so we recombined the blue layer for the entire project. Some of the fading in the OCN was so bad that we had to put in the YCM. We did that literally cut to cut. And we were working on opticals for days at a time to make sure that everything was cleaned to a pristine level that you've never seen before. There was a lot of movement in opticals in those days, and a natural weave in the film just going through the camera, so now we can stabilize everything. We lock that down."
The other thing to add," said Dentz, "is the improvements in the actual tools themselves—Baselight has improved greatly in the management of grain, and we also use Neat, another grain management tool that is able to, on a frame-by-frame basis, manipulate and remove grain in some sections and then add it back and blend it in. So that's happening as well throughout the film. But there's a lot of that work happening on the opticals, which is why I think they look so good."
"Our goal," added Bailey, "is to have the exact same experience you would at the movie theatre if you saw the first print ever released. That's our goal."
"We're purists," said Dentz, "so we don't want to change the image, the look of the image, the feel of the image. There's a constant dialogue around what to do on every title—with the colorists, with the scan artists, in this case with Martin Scorsese and Steven Spielberg, and, of course, with George Stevens, Jr."
I can only repeat what I've said before about other figures in the world of restoration: if you love film, whether you know it or not, Daphne and Bob are among your heroes.
- Kent Jones
Follow us on Instagram, and Twitter!
https://www.youtube.com/watch?v=wNVWeLF0z6g
https://www.youtube.com/watch?v=_5yPBdYmCdc
https://www.youtube.com/watch?v=FLr1jeHeGWQ
https://www.youtube.com/watch?v=Hwy8SzVmWGc
https://www.youtube.com/watch?v=r_XtAHAhczM
https://www.youtube.com/watch?v=uE7qd4VdzDw
GIANT (1956, d. George Stevens)
Restored by Warner Bros. in collaboration with The Film Foundation. Special thanks to George Stevens Jr., Martin Scorsese, and Steven Spielberg.
The Film Foundation
---