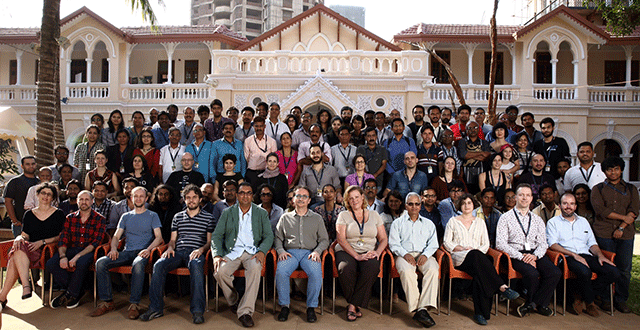 The Film Foundation's World Cinema Project: Restoration Film Schools
10/26/2015
Created in 1990 by Martin Scorsese, The Film Foundation (TFF) is dedicated to protecting and preserving motion picture history. By working in partnership with archives and studios, the Foundation preserves and restores cinematic treasures – nearly 700 to date – and makes these films available to international festivals and institutions. The Foundation's World Cinema Project was created to restore, preserve and distribute neglected films from around the world. To date, 24 films from Mexico, South America, Africa, Eastern Europe, the Middle East, and Central and Southeast Asia have been made available to a global audience.

TFF is also teaching young people about film language and history through The Story of Movies, its innovative educational curriculum used by over 100,000 educators nationwide. Joining Scorsese on the board of directors are Woody Allen, Paul Thomas Anderson, Wes Anderson, Francis Ford Coppola, Clint Eastwood, Curtis Hanson, Peter Jackson, Ang Lee, George Lucas, Christopher Nolan, Alexander Payne, Robert Redford and Steven Spielberg. The Film Foundation is aligned with the Directors Guild of America – a key partner whose President and Secretary Treasurer also serve on the Foundation's board.

Martin Scorsese's vision – now in its 25th year – is to protect and preserve motion picture history. Recently, the Foundation expanded its scope to include the preservation, restoration and distribution of neglected films from around the world under the World Cinema Project.

As part of this new programme, the Foundation, in partnership with the Cineteca di Bologna and L'Immagine Ritrovata, hosts Film Restoration Schools to provide hands-on training to students and archivists in under-served regions. The first was organised with the National Museum of Singapore in November 2013 and attended by 40 students, selected from over 150 applicants from Hong Kong, Malaysia, Indonesia, Myanmar, New Zealand, the Philippines, Singapore, Taiwan, and Thailand.

The Southeast Asia-Pacific Audio Visual Archive Association (SEAPAVAA) and a number of other Asian film archives and technical sponsors provided state-of-the-art equipment. The enthusiastic response to this first Restoration School strengthened the network of archivists, lab technicians, and educators in this region who are dedicated to continuing these important preservation and restoration initiatives.

This past February, TFF's World Cinema Project, the Cineteca di Bologna and L'Immagine Ritrovata partnered with India's Film Heritage Foundation, founded by award-winning filmmaker and preservation advocate, Shivendra Singh Dungarpur, for a Film Preservation and Restoration School in Mumbai. Throughout this week-long intensive course, students attended workshops covering each step of a film restoration workflow. Lectures and panel discussions included:
A case study by Paramount's Andrea Kalas
Kieron Webb discussed the BFI's restoration of Hitchcock's nine surviving silent films
Lee Kline discussed Criterion's restoration process of the Apu Trilogy.
These workshops, classes, lectures and screenings represent a significant step towards raising awareness and teaching the best modern preservation practices in India, where there is limited access to hands-on experience and modern lab equipment.
This summer, TFF's World Cinema Project provided support for NYU's Moving Image Archiving and Preservation Program (MIAP) as they continued their ongoing Audiovisual Preservation Exchange (APEX), returning to Buenos Aires to work with the Museo del Cine. Led by MIAP students Lorena Ramírez-López and Allison Whalen, the group of 14 volunteered two weeks of their time to work alongside film archivists at the Museo. The team included NYU MIAP students, alumni, faculty, and staff, as well as other professional archivists from the United States and Latin America. The APEX group in Argentina helped to inspect, catalogue, and process material, working on three of the museum's film collections. The trip concluded with a day-long colloquium, Media Archiving in Latin America, attended by more than 50 other archivists and scholars who came from across Argentina, Uruguay, and Bolivia.

TFF's World Cinema Project continues to expand its educational initiatives, for more information and updates on this and the foundation's other preservation, education, and screening programmes, visit www.film-foundation.org.
Archive Zones
---