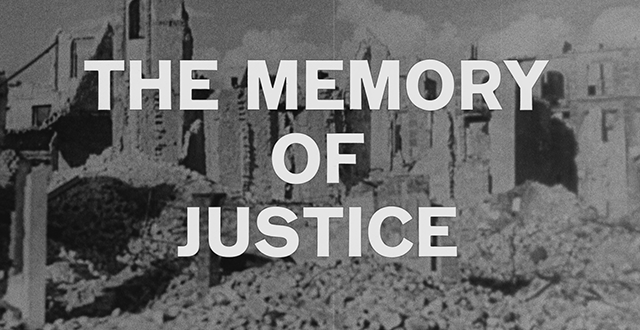 SHORTLIST ANNOUNCED FOR FOCAL FOOTAGE AWARDS 2016
03/08/2016
Finalists for the 13th annual FOCAL International Awards in association with AP Archive include some of the highest-profile documentary films released around the world in 2015, including Academy Award Winner Amy, about the life of Amy Winehouse. Set to take place on 26th May, 2016 at the Lancaster London Hotel, the FOCAL International Awards recognise producers, directors, researchers and other creative media professionals for excellence in the use and preservation of stock and archival footage across 16 production categories.

London, UK – 8th March 2016 - FOCAL International, the Federation of Commercial Audio-visual Libraries, today announced its shortlist for the thirteenth annual FOCAL International Awards, to be presented in association with AP Archive on 26th May 2016 at the Lancaster London Hotel, hosted by Kate Adie, the former Chief News Correspondent for the BBC and current presenter of From Our Own Correspondent on BBC Radio 4. The FOCAL International Awards celebrate the best use of footage across all variety of genres and media platforms, as well as those who preserve, restore and ensure that archival footage remains a vital resource to the global production community.
Sixteen awards will be presented in total, including the Lifetime Achievement Award, won this year by renowned film preservationist Robert Gitt.
This year's finalists were drawn from a large, diverse and international pool of nominees, with a strong showing from the United States and Europe. The United States is also well represented in the Footage Researcher of the Year nominations and this was from a very strong field of 12 entries in that category.
"We are delighted with both the international turnout and the prevalence in this year's shortlist of so many highly-acclaimed archive-based films such as Amy, Cobain and Best of Enemies," said event organizer Julie Lewis.
The FOCAL International Awards also honour the work of archival researchers, footage archivists and film preservationists, with this year's Lifetime achievement award going to legendary film preservationist Robert Gitt.In a career spanning more than fifty years, Robert Gitt has gained an international reputation as one of the foremost experts in the preservation and restoration of motion pictures. In addition, Gitt will deliver the Jane Mercer Memorial Lecture on May 24th in the lead up to the FOCAL International Awards ceremony.
Tickets for the Gala Awards Ceremony 26th May are now on sale, so you'll need to hurry if you want to book a table http://www.focalint.org/focal-international-awards
SPONSORSHIP OPPORTUNITIES: Please talk with ANNE JOHNSON at FOCAL International if you are interested info@focalint.org +44 (0)20 7663 8090
FINAL NOMINATIONS - FOCAL INTERNATIONAL AWARDS in association with AP ARCHIVE:
Best Use of Footage in a History Production
Sponsored by Getty Images / BBC Motion Gallery
• A German Youth (Une Jeunesse Allemande) – Local Films (France)
• Every Face Has a Name - Auto Images (Sweden)
• Red Gold (L'Or Rouge) - Vivement Lundi ! (France)
Best Use of Footage in a Current Affairs Production
Sponsored by Bloomberg Content Service
• Clockwork Climate - Artline Films (France)
• India's Daughter - Assassin Films (UK)
• The Queen of Ireland - Blinder Films (Ireland)
Best Use of Footage in a Factual Production
Sponsored by Bridgeman Footage
• Best of Enemies - Magnolia Pictures (USA)
• The Black Panthers: Vanguard of the Revolution - Firelight Films, Inc (USA)
• The Killing Fields of Dr. Haing S. Ngor - DeepFocus Productions, Inc (USA)
Best Use of Footage in an Entertainment Production
Sponsored by FremantleMedia Archive
• A City Dreaming - Indie Movie Company for BBC NI (UK)
• Best of Enemies - Tremolo Productions / Magnolia Pictures (USA)
• Children Over Time - RAI Radiotelevisione Italiana (Italy)
Best Use of Footage in an Arts Production
Sponsor sought
• Arena: Night and Day - BBC (UK)
• By Sidney Lumet - RatPac Documentary Films / Augusta Films / Thirteen Productions LLC's (USA)
• Imagine: The Ecstasy of Wilko Johnson - Essential Nitrate Limited / BBC (UK)
Best Use of Footage in a Music Production
Sponsored by Shutterstock
• Amy - On The Corner (UK)
• Cobain: Montage of Heck - End of Movie, LLC (USA)
• Eurovision at 60 - BBC Entertainment Production (UK)
Best Use of Sports Footage
Sponsored by ITV Sport Archive
• Building Jerusalem - New Black Films Limited (UK)
• Free to Run - Yuzu Productions (France) Point Prod (Switzerland) and Eklektik Productions (Belgium)
• I Believe In Miracles - Baby Cow Productions and Spool Films (UK)
Best Use of Footage in an Advert or Short Production
Sponsor sought
• Gatorade 'Heritage' - Stalkr/TBWA/Chiat/Day (USA)
• Lenor 'Odes to Clothes: Marvellous Scarf' - The Director Studio for Grey Düsseldorf (UK/Germany)
• MTV 'Tagline Here' - Stalkr/ Ghost Robot (USA)
Best use of Footage about the Natural World
Sponsor sought
• Beasts Behaving Badly - Barcroft Productions (UK)
• The Nature of Things: Jellyfish Rule! - CBC (Canada)
• Wild 24 - NHNZ / Nat Geo Wild (New Zealand)
Best Use of Footage on non-Television Platforms
Sponsor sought
• Bitter Lake - BBC Productions (UK)
• Britain on Film - BFI (UK)
• The Beatles 1+ Video Collection - Apple Corps Limited (UK)
Best Use of Footage in a Cinema Release
Sponsored by British Pathé
• Amy - On The Corner (UK)
• Cobain: Montage of Heck - End of Movie, LLC (USA)
• Free to Run - Yuzu Productions (France) Point Prod (Switzerland) and Eklektik Productions (Belgium)
Best Archive Restoration / Preservation Project or Title
Sponsor sought
• La Noire de... Restored by The Film Foundation's World Cinema Project in collaboration with the Sembene Estate, INA, Eclair Laboratories and Centre National de Cinematographie. Restoration carried out at Cineteca di Bologna - (USA/Italy)
• Marius – Compagnie Méditerranéenne de Films-MPC and the Cinémathèque française, with the support of the CNC, the Franco-American Cultural Fund DGA-MPA -SACEM-WGAW, the help of ARTE France Cinema Department, the Audiovisual Archives of Monaco, and the participation of SOGEDA Monaco / Digimage Classics (France)
• The Memory of Justice – The Film Foundation / Academy Film Archive (USA)
• Varieté - Friedrich-Wilhelm-Murnau-Stiftung and Filmarchiv Austria (Germany/Austria)
The Jane Mercer Footage Researcher of the Year Award
Sponsored by AP Archive
• Colleen Cavanaugh Anthony, Alexis Owens (Stalkr/USA) - Transparent Srs 2 Titles;
The Big Short; MTV Tagline Here
• Jessica Berman-Bogdan (USA) - Cobain: Montage of Heck; Narcos
• Prudence Arndt, Deborah Ford Gribaudi (USA/France) - Free To Run
Footage Employee of the Year
Sponsored by Creative Skillset
• Tim Emblem English (BBC Studios and Post Production)
• Paul Davis (Getty Images)
• Bhirel Wilson (BBC Motion Gallery / Getty Images)
Footage Library of the Year
Sponsored by Bonded Services
• Historic Films Archive
• Huntley Film Archives
• Kinolibrary
Lifetime Achievement Award
A gift of the FOCAL International Executive
Robert Gitt
To see the CREDITS and SYNOPSES of the final nominations and the full list of 191 submissions to the FOCAL International Awards from 17 countries click on the relevant category drop-down list through the hyperlinks above or via http://www.focalint.org/focal-international-awards/2016/the-focal-international-awards-2016

ABOUT FOCAL INTERNATIONAL
The Federation of Commercial Audiovisual Libraries International is a professional not-for-profit trade association formed in 1985. It is fully established as one of the leading voices in the industry, with a membership of over 300 international companies and individuals.
Its purpose is to facilitate the use of library footage, images, stills and audio in all forms of media production; promote its members - libraries selling content plus those whose serve the industry; provide a platform for members to promote themselves and their interests; encourage good practise in the research, licensing, copyright clearance and use of footage; support, promote and educate on the need to preserve and restore footage and content; act as an information resource for the footage and content industry; offer training in key skills and in the broader appreciation of the footage and content industry.
www.focalint.org
Focal International
---
News Archive
2021
2020
2019
2018
2017
2016
2015
2014
2013
2012
2011
2010
2009
2008
2007
2006
2005
2004
2003
2002
2001
1999
1998
1995
1990
---
---
Back to News