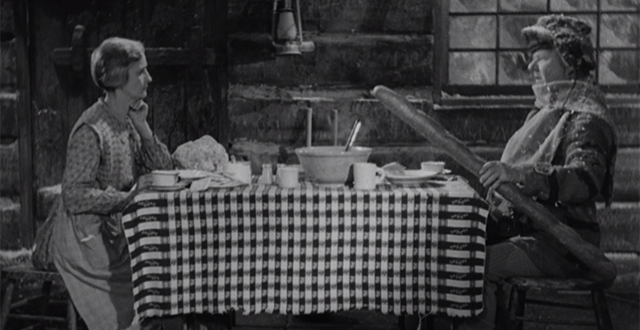 COMMEMORATING 30 YEARS OF TFF
12/16/2020
Sometimes, the act of preservation is the film.
W.C. Fields, a man of the 19th century, started on the music hall circuit as "the Tramp Juggler," remade himself as the "Eccentric Juggler," and he gradually came to be known (or publicized) as the world's greatest juggler. Before he turned 20, he was supporting his family with his increasingly elaborate act, and he toured the world. He began to incorporate little remarks and exclamations and asides into his routine. He moved onto vaudeville and then to Broadway, where he made the transition to comedy, and then the Ziegfeld Follies, where he became a full-blown sensation. He appeared in a few silent films but he became a film star with the coming of sound. Between 1930 and 1933, he made a series of two-reelers that were built around his persona and his almost supernatural comic timing, physical and verbal, and a merciless sense of humor that would enshrine him, along with The Marx Brothers and Humphrey Bogart, as a countercultural icon long after his death.
I'm not sure if The Fatal Glass of Beer, restored by UCLA with the help of The Film Foundation, is my favorite of the shorts, but it's by far the most outlandish. It looks like it was shot in a matter of hours rather than days, on sets constructed by underpaid carpenters between lengthy visits to the bar. Visually, it makes an average Brady Bunch episode look like a Mizoguchi movie. But the ramshackle nature of the enterprise is part of the point and crucial to Fields' act—everything, including the man himself, seems to be on the verge of falling apart and then falls back together again. The humor of this particular film is satirical in nature, and the targets are great white north rescue melodramas and the mid-19th century theatrical sensation The Drunkard.
To people with no knowledge of these reference points and no sense of Fields' popularity, The Fatal Glass of Beer might be as incomprehensible as Babylonian cuneiform. But I think that "accessibility," especially when it's "immediate," is a severely overrated attribute of movies or literature. In the case of many of the films that I love, I was intrigued or sparked by something within them before I fully understood them. In the case of The Fatal Glass of Beer and the other Fields shorts, I would suggest watching them for the first time with a child by your side, if at all possible.
**
Today, on a personal note, I want to remember someone who passed away this year, largely without notice. Robert Geisler, known to his friends and many acquaintances as Bobby, would have turned 69 yesterday. He and his old partner in life and business, John Roberdeau (who died in 2002), have three film credits to their names on IMDb, the last of which is The Thin Red Line. Bobby had many more projects that he tried mightily to get off the ground, for the stage and the screen, right up to the end. He was a dreamer, on an elaborate scale, and his dreams kept him alive. He was a true believer, and I never met anyone else quite like him. Yesterday, his mother Ann made a donation to The Film Foundation in his name. That would have made him smile.
- Kent Jones
Follow us on Instagram, and Twitter!

THE FATAL GLASS OF BEER (1933, d. Clyde Bruckman)
Preserved by UCLA Film & Television Archive with funding provided by The Film Foundation.
The Film Foundation
---