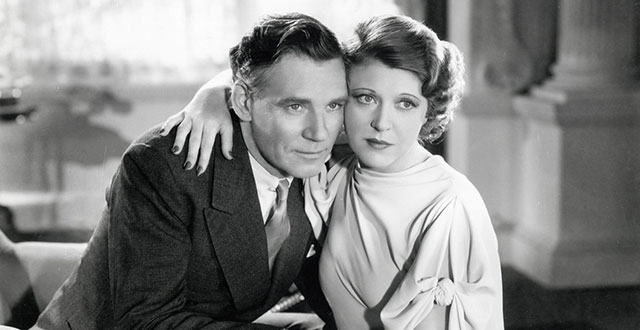 DODSWORTH Blu-ray Release
David Krauss 04/07/2020
An incisive examination of a disintegrating marriage and a top-flight production from beginning to end, Dodsworth stands as one of the best films of the 1930s. Director William Wyler's literate, absorbing adaptation of Sinclair Lewis's acclaimed novel paints a host of vivid character portraits while telling a timeless tale that addresses relatable themes. Walter Huston, Ruth Chatterton, and Mary Astor all contribute memorable performances, and a stunning restoration by the Academy of Motion Picture Arts and Sciences and The Film Foundation distinguishes Warner Archive's Blu-ray presentation, which comes very highly recommended.
Storyline: Our Reviewer's Take
4.5 Stars out of 5
Though they battled and bickered and butted heads for a decade, producer Samuel Goldwyn and director William Wyler forged one of the most fruitful creative partnerships in Hollywood history. This dynamic duo collaborated on seven prestigious films between 1936 and 1946, beginning with These Three (a code-friendly version of Lillian Hellman's controversial play The Children's Hour) and culminating with the Oscar-winning World War II homecoming classic The Best Years of Our Lives. In between, they mounted such unforgettable dramas as Dead End, Wuthering Heights, The Little Foxes, and a potent adaptation of Sinclair Lewis's acclaimed novel Dodsworth.
Far from flashy, yet packed with relatable themes and insightful observations about marriage, society, and aging, Dodsworth often flies under the radar in discussions of top Golden Age films. Maybe the story's focus on middle-aged characters awash in personal turmoil limits its appeal, but once you dive into this absorbing drama, you'll see why it stands out among its cinematic peers. More substantive and nuanced than most 1930s films, Dodsworth also boasts impeccable direction and performances, a literate script, and elegant production values, all of which help make it one of era's most enduring motion pictures.
As the movie opens, Sam Dodsworth (Walter Huston) wistfully bids farewell to a successful career as an automobile magnate. A lucrative merger sends him into retirement, and to kick off his new life of leisure, he and his wife of 25 years, Fran (Ruth Chatterton), embark on a lengthy European tour. The couple hails from Ohio, so hobnobbing among the snooty, cosmopolitan elite on their transatlantic cruise makes them feel a bit like fish out of water. Fran, though, quickly adapts and embraces the high-toned, frivolous lifestyle, flitting from party to party and flirting with an array of wealthy lotharios. Sam indulges her, but prefers the quieter pursuits of typical tourists. Soon, friction creeps into the Dodsworth marriage, and after a month in Paris, that friction becomes a rift.
The harder Sam tries to reel Fran back in, the more stridently she strays. Though she seems committed to her marriage in the long run, Fran wants one last fling while she's still young enough to enjoy it. "You're rushing at old age, Sam, and I'm not ready for that yet!" she snaps. Her fear of getting older and losing her looks makes her especially vulnerable to the attentions of dashing suitors who may or may not have honorable intentions. As he and Fran drift further apart, an increasingly lonely and melancholic Sam reconnects with Edith Cortright (Mary Astor), a free-spirited American expatriate living in Italy, and discovers just how different two women can be.
Most 1930s romances chronicle gooey young love or illicit affairs, but Dodsworth begins long after those movies end, making it instantly unique. Much like last year's Marriage Story, it paints a brutal portrait of a couple in crisis, and how their diverging interests, differing goals, and evolving personalities reveal problems in their relationship that most likely existed all along. Sam and Fran's 25-year union may seem road-tested and able to weather any potential storm, but due to his obsession with work and her domestic duties, they've never really spent much time together. Once they embark on their European odyssey, their respective personal journeys begin as well, and it's not long before both Sam and Fran begin to realize how little they have in common.
Drama transpired behind the scenes as well. Chatterton, who was nearing the end of a brief yet successful film career and ironically grappling with the same fear of waning youth as Fran, fought bitterly with Wyler over the interpretation of her role. She wanted to play Fran as an unadulterated bitch, while he demanded a more dimensional portrayal. Wyler prevailed, of course, and Chatterton's performance is much the better as a result. Though she deserved an Oscar nomination, sadly, she was snubbed.
Astor faced even more difficulties. Embroiled in a bitter child custody battle with her ex-husband, who threatened to expose her secret diary that supposedly contained explicit details of an extramarital affair with playwright George S. Kaufman, the actress toiled on the Dodsworth set during the day, then went directly to specially scheduled court proceedings in the early evening. The scandal was front-page news all over the nation for weeks, yet Astor never cracked under the pressure. Her relaxed, disarmingly natural performance is a tribute to her mettle and professionalism, and the part of Edith Cortright just might have saved her career. In her autobiography, My Story, Astor writes, "The character I played was a charming and gracious woman; the public could not match her with the luridly immoral woman the tabloids had painted."
Huston had played Sam Dodsworth on Broadway to great acclaim a couple of years earlier, and his film portrayal earned similar plaudits. The New York Film Critics Circle named him the year's Best Actor, and he nabbed an Oscar nod as well. Gruff yet tender, rigid yet indulgent, and always bound by a warped sense of duty, his Dodsworth is a fascinating, flawed, utterly human figure, and Huston - one of America's finest actors - brings him brilliantly to life.
Huston, Chatterton, and Astor, though, form only the tip of the cast iceberg. Paul Lukas, a young David Niven, Spring Byington, and Miracle on 34th Street's John Payne (billed here as John Howard Payne) in his film debut also contribute strong work. And then there's the always mesmerizing Maria Ouspenskaya, who received a Best Supporting Actress Oscar nomination in her first American film for her all-too-brief appearance as a dour and intimidating Austrian baroness who makes mincemeat of Fran. (In all, Dodsworth garnered seven Academy Award nominations, including Best Picture, Director, and Screenplay, and took home the prize for Best Art Direction.)
Dodsworth was a rarity in its day - a perceptive, sophisticated, and refreshingly adult film that didn't cow tow to Hollywood conventions. It may be a period piece today, but its themes remain relatable and its tone still feels contemporary 84 years after its initial release. Some things change, but marriage doesn't, and this timeless take on the imperfect institution continues to strike a chord, a nerve, and the fancy of discriminating movie fans.
Vital Disc Stats: The Blu-ray
Dodsworth arrives on Blu-ray packaged in a standard case. Video codec is 1080p/AVC-MPEG-4 and audio is DTS-HD Master Audio 2.0 mono. Once the disc is inserted into the player, the static menu without music immediately pops up; no previews or promos precede it.
Video Review
5 Stars out of 5
Dodsworth was lovingly restored last year by the Academy of Motion Picture Arts and Sciences Film Archive and The Film Foundation, in association with the Samuel Goldwyn Jr. Family Trust. Restoration funding was provided by the George Lucas Family Foundation. From the opening frames to the closing credits, exceptional clarity, pitch-perfect contrast, and a beautifully varied grayscale distinguish this glorious 1080p/AVC MPEG-4 transfer, which makes this 84-year-old film look almost brand new. Grain is seamlessly resolved, producing a wonderfully film-like, vibrant image punctuated by rich blacks, bright whites, and terrific shadow delineation. All the details of the ornate sets (the film received a well-deserved Oscar for its art direction) are crisp, costume textures are distinct, and sharp close-ups highlight fine facial features well. Best of all, the source material is free of any nicks, marks, or scratches. Dodsworth has never looked better, and few films of the period have made a more stunning transition to Blu-ray than this underrated classic.

Audio Review
4 Stars out of 5
The DTS-HD Master Audio 2.0 mono track also has been restored, and the results are quite good. Any age-related hiss, pops, and crackle have been meticulously erased, leaving a clean track that outputs well-modulated, full-bodied sound. A wide dynamic scale handles all the highs and lows of Alfred Newman's omnipresent score without a hint of distortion, but occasionally the music slightly obscures the dialogue, especially when Ruth Chatterton speaks. Her high-pitched voice often gets lost among the strings, rendering some of her lines indecipherable. A couple of palpable bass bursts lend the audio some welcome heft, and subtle atmospherics come through nicely, too. Despite the minor dialogue annoyance, this vintage track greatly exceeds expectations and enhances the enjoyment of this absorbing drama.

Special Features
1 Stars out of 5
The only supplement is a 60-minute radio adaptation of Dodsworth that aired as part of the popular Lux Radio Theater series on April 12, 1937. Walter Huston reprises his title role, with his wife Nan Sunderland taking over for Ruth Chatterton and Barbara O'Neil, best known for her portrayal of Scarlett O'Hara's mother in Gone with the Wind, assuming Mary Astor's role. Though the truncated plot shortens and omits various sequences, the story translates well to the audio medium, and all the performances are stellar. The broadcast is hosted by director Cecil B. DeMille and includes all the vintage commercials for Lux beauty products, as well as some scripted banter with the stars following the story's conclusion.
Final Thoughts
Dodsworth may not enjoy the same degree of renown as some Golden Age classics, but it remains one of the most adult, literate, and substantive films of the 1930s. Despite its age, director William Wyler's brilliant adaptation of Sinclair Lewis's novel tells an eminently relatable story that makes cogent observations about marriage, aging, and class. Terrific performances from Walter Huston, Ruth Chatterton, and Mary Astor distinguish this absorbing drama, while a truly stunning restoration brings this timeless tale and Best Picture nominee to life like never before. Dodsworth is a great film, and Warner Archive's Blu-ray release comes very highly recommended.
High-Def Digest
---