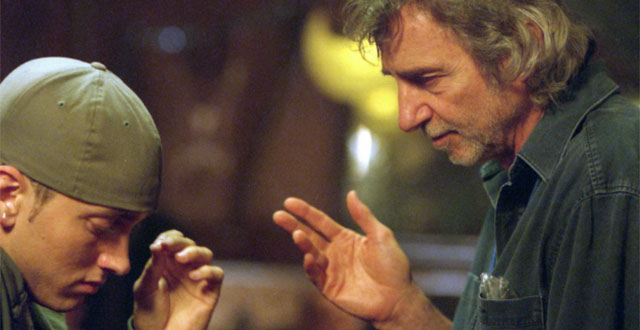 Critic's Notebook: Curtis Hanson, a Late Bloomer Worth Waiting For
Stephen Dalton 09/21/2016
Hitting his stride in the late '90s, 25 years into his career, the director of 'L.A. Confidential,' 'Wonder Boys' and '8 Mile' was an unpretentious all-rounder touched by occasional genius.
A late bloomer by fate, an all-rounder by necessity, Curtis Hanson (who died Tuesday at age 71) began his filmmaking career as a high-school dropout and Venice Beach surf bum. The future director of L.A. Confidential never went to film school, finding his way into Hollywood by a more scenic route that included decades of false starts and dead ends. But Hanson was persistent, and his dogged dedication finally paid him back. It makes a poetic kind of sense that he was drawn to stories about people "trying to find better versions of themselves," as he's been widely quoted as saying.
He first entered the outer fringes of the film industry by writing and editing his own movie magazine, Cinema. This brought him into personal contact with his directing heroes, single-minded American mavericks from an earlier age like John Ford, Howard Hawks and Don Siegel. "They had an independence about them," he once explained in an interview for The New York Times. "They weren't pretentious. They survived."
READ MORE: Curtis Hanson, Director and Oscar-Winning Writer on 'L.A. Confidential,' Dies at 71
Resilience was certainly key to Hanson's early career, which was hobbled by setbacks and scandals. Like so many of his generation, he started in movies by writing and directing pulpy quickies for Roger Corman's legendary low-budget outfit AIP. Greater opportunities seemed to knock when Roman Polanski, hot from his success with Chinatown, signed on to direct Hanson's adaptation of French novelist Romain Gary's anti-racist allegory White Dog. But the film fell apart when Polanski was charged with statutory rape and fled the country.
Paramount later revived White Dog as a collaboration between Hanson and his directing hero, the legendary Sam Fuller. However, the studio got cold feet again, suppressing the film's U.S. release in 1982 over fears it could be misinterpreted as racist. White Dog finished off Fuller's American career, though it later earned a cult following, and he remained on good terms with Hanson until his death in 1997.
Hanson's juvenile writing and directing efforts are mostly faceless genre exercises, but one early pointer to future greatness is his screenplay to Daryl Duke's The Silent Partner (1978), a Canadian heist thriller starring Elliott Gould, Christopher Plummer and Susannah York. Reviewers likened this taut crime caper to vintage Hitchcock and, indeed, Gould later screened it privately for the master of suspense himself. Hanson was aggrieved not to be invited, but placated when he heard that Hitch loved the movie.
Notable solely for launching Tom Cruise's career as a leading man, the lame sex comedy Losin' It (1982) was one of Hanson's handful of journeyman directing credits in the 1980s. But as before, he stoically persisted until his career-making break finally arrived with The Hand That Rocks the Cradle (1992), a roaring rampage of female revenge starring Rebecca DeMornay, Annabella Sciorra and Julianne Moore.
Further box-office success came with The River Wild (1994), a kinetic backwoods thriller starring Meryl Streep and Kevin Bacon. Grossing around $90 million each, these two films gave Hanson the financial leverage to move into more mainstream Hollywood fare, though both still stand on their own merits as superior and rare female-driven action vehicles.
The stars finally aligned for Hanson in his early fifties when he co-wrote, co-produced and directed his magisterial adaptation of James Ellroy's sprawling retro-noir novel L.A. Confidential (1997). Featuring an all-star ensemble cast, this sumptuous symphony of sleaze takes place in a meticulously recreated 1950s Los Angeles of treacherous fantasies and thwarted dreams.
Shooting in 45 locations, Hanson was obsessively keen to capture the precise texture of the post-war Los Angeles he remembered from childhood, a city of rapid urbanization and rampant corruption, where detectives were not Hollywood pretty boys but hard-drinking, chain-smoking, big-shouldered World War II veterans. He inspired his cast and crew by screening noir-era classics including Robert Aldrich's Kiss Me Deadly, Stanley Kubrick's The Killing, and Don Siegel'sThe Line-Up. He later called L.A. Confidential "my most personal movie."
A major critical and commercial success, L.A. Confidential won two Oscars, one for Hanson's joint screenplay with Brian Helgeland and another for Kim Basinger's indelible supporting role as the emotionally wounded femme fatale. The film also put Russell Crowe and Guy Pearce on the Hollywood map. Hanson brought these relative unknowns on board without informing producer Arnon Milchan that they were Australian.
Inundated with juicy offers after L.A. Confidential, Hanson's next project was Wonder Boys (2000), another all-star novel adaptation, this time Michael Chabon's bittersweet portrait of a washed-up English professor in a small New England college town. Michael Douglas gained weight and took a hefty pay cut to play the lead role alongside a stellar supporting cast including Frances McDormand, Robert Downey Jr., Katie Holmes and Tobey Maguire.
Wonder Boys performed poorly at the box office, but the reviews were almost universally positive, and Bob Dylan's theme song won an Oscar. It remains a classy piece of work, wise and compassionate, with the same exacting eye for character and location as L.A. Confidential. At the very least, it proved Hanson was no one-hit wonder boy himself.
In an incongruous career swerve, Hanson then tested his lucrative flexibility once more by helming 8 Mile (2002), a lightly dramatized Eminem biopic which scored both critical and commercial success. With Eminem at the peak of his infamy, directorial input was largely incidental to the film's box-office haul of over $240 million. Even so, Hanson elevates a rote rags-to-riches plot with high levels of artistry, capturing the urban fabric of Detroit in typically forensic detail. It is a rare kind of hip-hop movie, after all, that opens with a quote from John Updike.
Hanson's later films became steadily less sure-footed, effectively returning him to his roots as a versatile but faceless journeyman for hire. In Her Shoes (2005) is a formulaic but enjoyable dramedy starring Cameron Diaz and Toni Colette as squabbling siblings. But the strained Las Vegas gambling drama Lucky You (2007) was panned by critics and died at the box office.
Produced for HBO, Hanson's financial crisis drama Too Big to Fail (2011) is a solid and serious effort that picked up multiple Emmy and Golden Globe nominations. But his final directing credit, the teenage surfing drama Chasing Mavericks (2012), is an indifferent swan song that was overshadowed by bad luck and bad timing. The veteran British director Michael Apted was forced to finish the film when Hanson bowed out for health reasons.
A single-minded director for more than 40 years, Hanson's best work is full of heart, humanity and fine-grained Americana. He leaves us with at least one certified masterpiece, a few excellent dramas and a handful of superior experiments in genre. A late bloomer, yes, but when he finally bloomed it was worth the wait.
READ MORE: Hollywood Remembers Writer-Director Curtis Hanson
The Hollywood Reporter
---