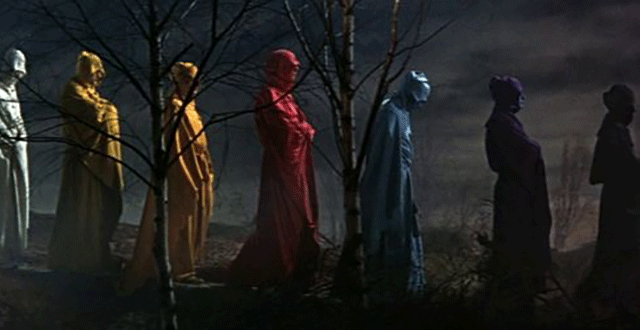 NOTES ON FILM & RESTORATION
02/24/2022
Back in the early 80s, I took a course in avant-garde cinema at NYU with the late Peter Wollen. We watched all of the films in the classroom, including Michael Snow's 270-minute Rameau's Nephew—I call attention to the running time because I remember Peter asking the projectionist to take a mid-afternoon break so that we could all get a quick bite to eat (we were undergrads, so that meant a slice and a Coke). Snow's film was impressive but exhausting, and we all staggered up after it was over, only to cross paths with my favorite professor, Nöel Carroll, in the adjoining classroom. "Come on in and watch a real movie," he said to Peter and those of us remaining, so I popped in and caught a few minutes of Roger Corman's X – The Man with the X-Ray Eyes. Nöel's passing remark wasn't meant as a knock on Snow (he was an admirer of the avant-garde and wrote about it often) as much as an expression of excitement that he was showing a Roger Corman movie.
Roger Corman will be 96 in April. As a producer and a cultivator of young talent, he had a massive effect on the American cinema of the 60s and 70s. As a distributor, he imported Bergman, Truffaut, Rosi, Schlondorff, Herzog, Kurosawa and Fellini. And as a director he made a torrent of films between 1955 and 1971 (he returned to directing to make one more film in 1981, Frankenstein Unbound) that did as much to re-orient and re-invent the idea of cinema and the role of the filmmaker as the work of Mekas, Warhol or Godard. He is best known as a director for a cycle of Poe adaptations, almost all of them starring Vincent Price, that he inaugurated in 1960. The series ended with two relatively lavish 1964 pictures shot in England, The Tomb of Ligeia and The Masque of the Red Death. Corman put off making the latter film, adapted from a story set in the time of plague in medieval Italy, for several years because he wanted to avoid comparisons to The Seventh Seal. The film is often noted as his greatest visual achievement as a director (it was shot by Nicolas Roeg), and it has been beautifully restored by the Academy with the support of The Film Foundation and the Hobson/Lucas Family Foundation. But for me Corman's work is all of a piece, a torrent of films made for low budgets on tight schedules with little if any fuss, as elemental as the first silents, grounded in a real love of the work of making films. I treasure the spirit of those films. It's no wonder he launched so much talent.
- Kent Jones
Follow us on Instagram, and Twitter!

https://www.youtube.com/watch?v=u_mHJ1pyZEU
https://www.youtube.com/watch?v=147iz2lO2kI
https://www.youtube.com/watch?v=ijAw7tOljEA
https://www.youtube.com/watch?v=ZxDRWuaHplM

THE MASQUE OF THE RED DEATH (1964, d. Roger Corman)
Restored by the Academy Film Archive and The Film Foundation, with funding provided by the Hobson/Lucas Family Foundation.
The Film Foundation
---