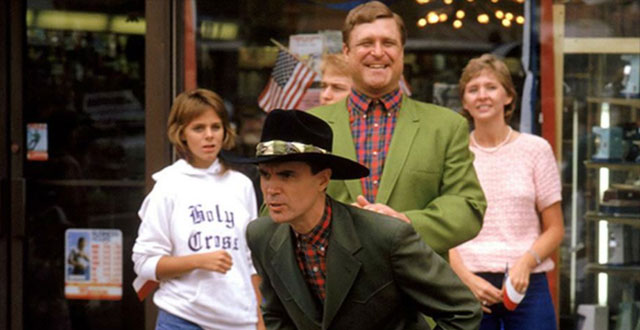 Celebrate Film Restoration with the Wexner Center
Hope Madden 02/19/2019
For the fifth consecutive year, the Wexner Center for the Arts celebrates the art and artistry of film restoration with its Cinema Revival festival. The program offers moviegoers the chance to see beautifully restored films — groundbreaking classics, blockbusters and underseen gems — while digging into the process that protects these treasures for viewers of today and tomorrow.
The five-day event kicks off Thursday, February 21 and runs through Tuesday, February 26, offering a docket of 16 films as well as conversations with some of the craftspeople who brought these cinematic gems back from the brink.
Among the lineup of highlights is a restoration of Taylor Hackford's 1985 Russian intrigue and dance film, White Nights.
"In 1985 when it was released, it was a really big film, but I feel like it's kind of fallen by the wayside," says Rita Belda, Vice President of Asset Management, Film Restoration and Digital Mastering for Sony. "Because the main characters are trapped in Russia and they're part of a political game, it felt like it was interesting to revisit now."
Belda's department is responsible for Sony's entire feature film and television catalog.
"Our job is to manage the assets," she says, "to preserve them, protect them and make sure that they last into the future. Our mission is to make sure that all of the films in the library are preserved and available for viewing."
She recalls a time when a request for White Nights drew her attention to the rough quality of the title in Sony's archive.
"A few years ago I got the request to send a DCP of White Nights to the Chicago Film Festival," she says. "I started looking into the materials and I was really unhappy with what we had. It didn't hold up to the artistry of the film."
She felt the film deserved better.
"The cast is amazing. The performances are incredible," she says. "And just the opportunity to see Gregory Hines and Mikhail Baryshnikov on the big screen is really powerful. When the material doesn't hold up to the original vision, it becomes a challenge to me for restoration, to get the material back to the quality that audiences would have seen in the original release."
When schedules aligned and funds became available, White Nights landed on Belda's restoration docket.
"We started with the original negative," she recalls. "It was dirty. So we scanned the negative at 4K and then we evaluated it further for dirt and scratch and did a full digital restoration, and then we pulled in the director, Taylor Hackford, who oversaw the color correction and audio restoration."
Says Belda, Hackford's collaboration on the project made for an incredible experience.
"He expressed to me that he was really thrilled that we were able to go back and do this in a major 4K restoration," she says. "He was very generous with his time and his stories."
She recalls one particular episode when Hackford was especially careful in guiding the color correction of a scene starring his wife, Helen Mirren.
"It was one of my favorite moments," she says. "There was a shot where the light fell off of her face, and that was a shot that he was particularly interested in making sure it was perfect. That was something I thought was really lovely."
A returning expert for Cinema Revival, Belda's excited to get the chance to participate again and learn from other speakers in the program.
"I am a really big fan of the Wexner Center and what they do," she says. "I think it's awesome that David (Filipi) and his team are exposing people to the art and artistry of both cinema and the people who are working so hard to preserve cinema. It's incredible to be a part of that."
She's also eager to premiere the newly restored White Nights with a Columbus audience.
"I am excited to present this film because I think a lot of people have not seen it, certainly not in a theatrical context," she says. "That's where the preservationist and the film fan in me come together. It's great to be able to preserve the film and it's even better to watch them with an audience. That's what I'm looking forward to, because it's a really excellent opportunity to visit with people in Columbus and show them this movie, but it's not much work."
Full Cinema Revival lineup:
Thursday, February 21
4:30 p.m. The War at Home (1979) 4K restoration
7:30 p.m. Filibus (1915), introduced by Amy Heller and Dennis Doros, Milestones Films
Friday, February 22
4:30 p.m. From 'Sunrise" to "Die Hard": The History of 20th Century Fox, presented by Shawn Belston, 20th Century Fox
7 p.m. True Stories (1986), introduced by Lee Kline, Criterion Collection
Saturday, February 23
12 p.m. Notorious (1946), Introduced by Eric Luszcz, Criterion Collection
2:30 p.m. Detour (1945), introduced by John Polito, Audio Mechanics
4:45 p.m. Prisoners of the Earth (1939), introduced by Margaret Bodde, The Film Foundation
6:30 p.m. Cinema Revival Reception
7:30 p.m. White Nights (1985), introduced by Rita Belda, Sony Pictures
Sunday, February 24
11:30 a.m. Laurel and Hardy X 4 (Helpmates [1932], County Hospital [1932], Busy Bodies [1933], That's That [1937])
1:30 p.m. Battling Butler (1926), introduced by Tim Lanza, Cohen Film Collection
3:30 p.m. That Brennan Girl (1946)
Monday, February 25
4:00 p.m. Les rendez-vous d'Anna (1978)
Tuesday, February 26
7 p.m. Claudine (1974) with postscreening conversation with Simone Drake
Festival passes are $30 for members, students and seniors, $35 for the general public.
Purchase festival passes or individual movie tickets at www.wexarts.org.
Columbus Underground
---