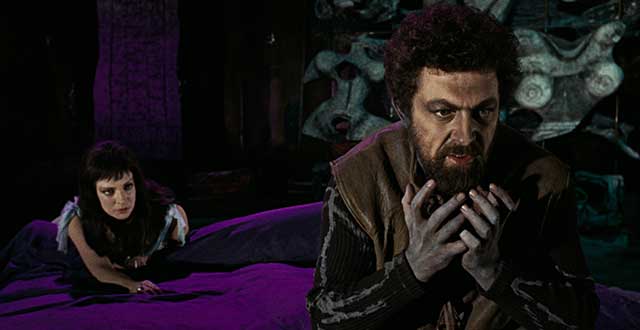 NOTES ON FILM & RESTORATION
09/24/2021
Michael Powell's glorious version of Béla Bartók's 1911 one-act opera began life with its star, the American operatic bass singer Norman Foster (not to be confused with the actor and director). Foster wanted to pair the opera with Bartók's equally compact ballet of 1916, The Miraculous Mandarin, and film them at a new studio in Salzburg, for German television. Foster came to Powell via production designer Hein Heckroth, one of the director's most cherished collaborators. Foster would sing and play the role of Bluebeard and the Uruguayan mezzosoprano Ana Racquel Satre would be Bluebeard's fourth wife Judith. Powell bought a recording with Dietrich Fischer-Dieskau as Bluebeard and he was sold (the ballet, on the other hand, left him non-plussed and that idea was dropped). He ordered a copy of the score and got to work on a script, and commenced to criss-crossing Europe in his red land rover for finance and production meetings, alighting in Vienna, then Heckroth's home base of Frankfurt, then Munich, then Salzburg, then Zagreb to meet with the conductor Milan Horvath. Shooting started while the studio was still being built, Powell and Heckroth conjured wonders out of color and lights and polystyrene forms and camera placement and movement, and the production wrapped in eight and a half days. "What did it matter that there was not enough money to pay everybody the fees that had been agreed?" wrote Powell in the second volume of his autobiography. "There is always something a little unreal about being paid for doing something that you love to do. All of us were artists, and all of us had a little of this feeling—fortunately for Norman. We ate well, we drank well, and we slept well, and we loved one another. We knew what we were doing, and we saw that it was good. We had made new friends, and no enemies. It was one of the most delightful experiences of my life in movies." After it was broadcast on German television (in black and white!), Bluebeard's Castle languished in obscurity for many years. It has just been restored by the BFI and The Film Foundation, and will be screened at this year's New York Film Festival.
I realize that since I started writing these posts, I've given a lot of attention to titles by Michael Powell, the majority of them made with Emeric Pressburger. For many reasons. On a personal note, I came to Powell's films through Martin Scorsese, the founder of The Film Foundation, and Thelma Schoonmaker, who was married to Powell in the last years of his life and who has devoted so much time and loving care to the meticulous restoration and preservation of his films and his writings. Margaret Bodde and I discovered a lot of these movies in a screening room with Marty and Thelma, and over the years I've come back to them again and again. And with every new viewing, they seem to become more wondrous—that's the way it is with all great films. There have been many great filmmakers, but only a very few like Michael Powell, the spirit of whose work is all but inseparable from the spirit of the art form itself.
- Kent Jones
Follow us on Instagram, and Twitter!
HERZOG BLAUBARTS BURG (BLUEBEARD'S CASTLE) (1963, d. Michael Powell)
Restored by the BFI National Archive and The Film Foundation in association with The Ashbrittle Film Foundation. Restoration funding provided by the BFI National Archive, The Louis B. Mayer Foundation and The Film Foundation.
The Film Foundation
---